Horse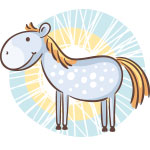 2014, 2002, 1990, 1978, 1966, 1954
---
Dec 6, 2022
Dec 7, 2022
Dec 8, 2022
---
Tuesday, December 6, 2022
Your ability to concentrate and focus on your work is very good now. This is a time to attend to details, take care of practical business, and to make your life more stable and secure. It would be beneficial to consult advisors on investments and long-range plans, and to put your affairs in order.
Horse Weekly Horoscope: Dec 5 to Dec 11, 2022
While the month of the Rat, with its focus on your relationships but also as your opposing sign how confronting this can be, the weekend has given this a softer and more empowering edge. It was a Dragon Moon over the weekend that not only created some positive days for friendship and relationship building, but the Dragon and the Rat are the best of friends. While the Horse and Rat are opposites and you find its energy hard to relate to, this gave you a better understanding of its mission to better understand your needs and priorities, even if that means challenging old excuses. However, it is during the last Horse Moon of 2022 and the Full Moon this will create on Thursday, that makes Wednesday to Friday the most empowering days of the week.
Horse Monthly Horoscope: December 2022
For the Horse, the month of the Rat can be a challenging month, but the timing positions you to end this year and to begin 2023 in the best place to take your personal power back. The Rat and the Horse are not only opposing signs, but at the halfway point in your current personal 12 month lunar cycle, it pushes the kind of buttons that force you to remember needs, intentions or priorities that you might have lost sight of. This comes with an opportunity for a reset, but without the Rat pushing those buttons you would remain asleep at the wheel. The month of the Rat will run its course on 23rd December when a New Moon will usher in the month of the Ox, which is all about change and transformation. Meanwhile, in a case of perfect timing, the last Tiger Moon of the adventurous Year of the Tiger will run from Christmas Day through to 27th December.
85

49

68

83

99

10

64

39

33
Power Numbers: 6, 14, 29, 31, 44, 64
Friendly Signs: Rat & Rooster
Beware of: Tiger
Colour of the day: Papaya Whip
Born Today: Evelyn Underhill, Lynn Fontanne, Ira Gershwin, Alfred Eisenstaedt, Dave Brubeck, Jobeth Williams, Cindi Wafstet
---
You may also like