Horse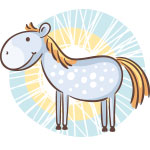 2014, 2002, 1990, 1978, 1966, 1954
---
Aug 12, 2022
Aug 13, 2022
Aug 14, 2022
---
Friday, August 12, 2022
You've spread yourself pretty thin today in your work area. Your heart's in the right place but you may simply not have the energy to support the workload you've planned today. Don't over do it--tomorrow is another day, and unrushed work is usually far better than work done under pressure anyway.
Horse Weekly Horoscope: Aug 8 to Aug 14, 2022
As well as bringing the lunar month to its halfway point and shifting the focus from building and expansion to waning and completion, Friday's Full Moon can bring things to a head. The Full Moon that sits in the middle of the month of the Monkey and its focus on communication and all things intellectual is perfect for pushing through communication barriers and can result in a communication breakthrough. For the Horse, the month of the Monkey is the Swizz army knife of any lunar year, with a tool for every occasion, with a call to call on its smart, intellectual and articulate influence.
Horse Monthly Horoscope: August 2022
Because the New Moons are currently falling towards the end of the month, this is giving the lunar months a lot more legroom. Instead of getting months of two halves, one lunar month is currently occupying the majority of one calendar month. That is the case this month, with the month of the Monkey running through to 27th August, giving you time to fully employ and enjoy what for the Horse is the Swizz army knife of any lunar year, with a tool for every occasion. Because the Monkey makes you smarter, more articulate and better able to think on your feet while keeping the communication lines open, this is a month that can benefit every aspect of your life. It is on 27th August that the month of the Rooster will shift the focus onto home and family matters.
71

10

18

85

4

100

99

98

48
Power Numbers: 7, 12, 15, 20, 49, 69
Friendly Signs: Monkey & Dragon
Beware of: Rat
Colour of the day: Blue
Born Today: Robert Southey, Jacinto Benavente, Christy Mathewson, Cecil B. De Mille, William Goldman, Pat Metheny
---
You may also like