Horse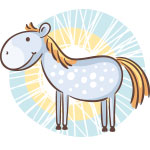 2014, 2002, 1990, 1978, 1966, 1954
---
Oct 2, 2023
Oct 3, 2023
Oct 4, 2023
---
Wednesday, October 4, 2023
Oh it feels like a lazy day doesn't it? You might like to ignore responsibilities and do some socializing, but realities may demand that you tend to business and forget your friends for the moment. As much as you'd like to go out and play it's best to get the things done that you're committed to.
Horse Weekly Horoscope: Oct 2 to Oct 8, 2023
On the other side of a Full Moon that only ran its course on Sunday, there is likely to be a lot less pressure, a drop in urgency and a rise in both confidence and wellbeing. This is partly because the pressure from the Full Moon itself is behind you and partly because the Moon is now in its waning phase, but mainly because the week begins under a nostalgic and reflective but also intuitive and imaginative Snake Moon. A Snake Moon will always invite you to slow down and make time to hear yourself think, but as the Snake and Rooster are part of the same triad of affinity, as you move into the second half of the month of the Rooster and its focus on home and family matters, there will be a sense of stillness that will be good for body, mind and soul.
Horse Monthly Horoscope: October 2023
An eclipsing New Moon on 15th October makes this a month of two halves and in more ways than one, with the influence of the Rooster very different to the influence of the Dog. The month begins at the halfway point in the month of the Rooster and its focus on not only home and family matters but in a way that leans towards keeping busy and taking responsibility. This is a good time for all aspects of housekeeping, both literally and figuratively. This is a chance to first give the month a firm foundation, before an eclipsing New Moon on 15th October ushers in the fun, playful, romantic and creative month of the Dog. As well as putting the focus on the more playful side of life's fence, the Dog and Horse are part of the same triad of affinity, with life likely to flow more smoothly.
Power Numbers: 4, 12, 37, 43, 59, 62
Friendly Signs: Snake & Dog
Beware of: Monkey
Colour of the day: Rosy Brown
Born Today: Millet, Frederic Remington, Buster Keaton, C. DeLores Tucker, Anne Rice, Susan Sarandon, Armand Assante, Rachael Leigh
---
You may also like