Horse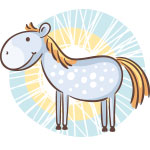 2014, 2002, 1990, 1978, 1966, 1954
---
Nov 30, 2023
Dec 1, 2023
Dec 2, 2023
---
Thursday, November 30, 2023
If you feel tempted to act on your passions and emotions rather than on reason and logic, think of the last time someone else has done that to you. Your relationship with an unstable older woman who cannot see the forest from the trees will become very tensed at this time.
Horse Weekly Horoscope: Nov 27 to Dec 3, 2023
With Monday's Full Moon bringing you to both the halfway point and the peak of the busy, industrious and work focused month of the Pig, the week is likely to get off to a busy start. Whether at work or with whatever it is that keeps you busy and occupies your time, this is when the Pig's influence will be at its height. On the other side of Monday's Full Moon and as the Moon moves into its waning phase the urgency and that constant need to stay busy will drop off, though with another two weeks under the Pig's influence in order to get things done. Meanwhile, the week not only begins under a Full Moon but as a Horse Moon and halfway through the last month of the Horse and the next, this is a valuable chance for a personal check in.
Horse Monthly Horoscope: November 2023
The New Moon on 13th November will make this a month of two halves and in more ways than one. It is the nature of the two halves of the month that makes them such distinct chapters. As you move into the new month you have just moved into the second half of the playful and creative month of the Dog, which is doing more than just putting the focus on the fun, playful, romantic and creative side of life's fence. The Dog and the Horse are the best of friends, so life in general will flow more easily. This could be a bit of a rude awakening then, when the New Moon on 13th November ushers in the busy, industrious and work focused month of the Pig. In one fell swoop, the most playful month of any lunar year will make way for the busiest.
19

61

49

85

46

52

32

70

29
Power Numbers: 17, 30, 38, 45, 55, 56
Friendly Signs: Dragon & Monkey
Beware of: Horse
Colour of the day: Dark Orange
Born Today: Jonathan Swift, Mark Twain, Winston Churchill, Virginia Mayo, Shirley Chisholm, Dick Clark, Abbie Hoffman, Billy Idol, Ben Stiller
---
You may also like