Horse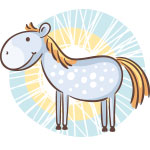 2014, 2002, 1990, 1978, 1966, 1954
---
Jan 30, 2023
Jan 31, 2023
Feb 1, 2023
---
Monday, January 30, 2023
Confront a situation that has been ignored for a while, causing others to avoid you in some way. Honesty is the best approach. As long as your intentions are kind, you will be able to resolve the issue and diffuse painful accusations.
Horse Weekly Horoscope: Jan 30 to Feb 5, 2023
While the Rabbit and the Tiger couldn't be more different, for another three years they are having to coexist and this could benefit you in the long run. In the second week of the competitive and professionally charged Year of the Rabbit you will be adjusting to its rhythm and influence, but with a leap month set to bring two back to back Rabbit months, things will become a lot busier over the coming months. Until then, the final three weeks of the adventurous month of the Tiger is helping to keep the spirit of adventure alive and especially as we transition out of the Year of the Tiger. By working with the Tiger and Rabbit you can find the right balance between work and play while it is still relatively easy.
Horse Monthly Horoscope: January 2023
Change is in the air and while some things will stay the same, for now anyway, there are also some major shifts. What will stay the same or at least for the next four weeks is the influence of the adventurous Tiger, even when the Year of the Tiger ends on 21st January. That is because the same New Moon that will bring the Year of the Tiger to an end will also usher in the month of the Tiger, giving you four weeks to transition out of its adventurous influence. And just as well, for this is the New Moon that will usher in the competitive and professionally charged Year of the Rabbit, which will dominate the rest of 2023 and into the early weeks of 2024. As a leap year this will be an especially long year, with plenty of opportunity for professional growth and expansion over the next 13 months.
1

53

91

35

15

98

12

65

54
Power Numbers: 18, 28, 30, 37, 42, 61
Friendly Signs: Ox & Dragon
Beware of: Rat
Colour of the day: Blue Violet
Born Today: Mohammed, Franklin Delano Roosevelt, Gene Hackman, Richard Brautigan, Phil Collins, Boris Spassky, Tammy Grimes, Shirley Hazzard
---
You may also like