Scorpio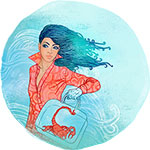 Oct 23 - Nov 21
---
Today's Horoscope
This week
This month
---
Scorpio Weekly horoscope for Jan 30 to Feb 5, 2023
A key player in getting this week off to a more empowered start than it already was is the Moon, which happens to be in the right place at the right time and especially on Monday. The Moon will leave your relationship sector on Monday, but not before ensuring you are emotionally engaged when it counts. It is just as the Moon leaves that as friendly aspect between Uranus here and Mercury in your communication sector peaks for the third time in just six weeks. This time with both in direct motion, with a chance to capture a wave that is moving things forward on the communication and relationship fronts. It is then that the Moon will not only return to your financial sector but just as an alignment with Mars here and the Sun on the home front also peaks. This is the Moon's first visit since Mars' direct turn, with a chance to sharpen your financial instincts and fire up your financial passions and fighting spirit, just as money matters have also been given the green light.
Love & Romance
As we move into the new week the Moon is just wrapping up its second visit for the year and with perfect timing. The Moon is here as a friendly aspect between Mercury and Uranus peaks, something that was always going to get the week off to a good start on the communication and relationship fronts. Thanks to the Moon, you are emotionally engaged as Mercury moves into his last full week in your communication sector and as the planet of communication's third friendly aspect to Uranus in your relationship sector in six weeks peaks. Mercury and Uranus are both still in their early days in direct motion and as the last time they met up on both the communication and relationship fronts the focus is on the past. Having the Moon in your relationship sector will make it easier to give your emotional responses and relationships a voice but in a way that is more about moving on. Meanwhile, in her first full week in your romantic sector Venus, the planet of love is working with dreamy Neptune to create some magic.
Business & Career
While the Moon left your work sector on Saturday, this is not just giving you an intuitive read on work and job matters from the start but as you move into the new working week this is something that you are still unpacking. With your subconscious able to download information faster than you can process it at the time but overthinking things slowing down the process, the more you can trust your gut the more the right insight will come to the surface at the right time. Meanwhile, a combination of the dwarf planet Ceres keeping an eye on how well you know when to keep your work hat on and when to take it off and the Moon not returning to your career sector until Saturday, gives you permission to pace yourself or to hold something back in reserve. For this won't be an ordinary monthly visit, but the lead up to the first Full Moon here in 12 years while you have Jupiter in your work sector at the time. This is something that over the weekend and into next Monday could act as a trigger on the job and career fronts.
Money
While when the Moon returns to your financial sector on Monday it will be for the second time this year and this is an ordinary monthly visit, it is the timing that is extraordinary. Less because this is a chance to ensure your financial instincts are sharp and you are emotionally and intuitively engaged from the start and more because this first visit since Mars' direct turn comes just as a friendly aspect to the Sun peaks. Mars has already found himself at a friendly aspect to Venus this year and to Saturn twice in the last four months of 2022. This time, the Sun will not only shine the solar spotlight on Mars' warrior and competitive spirit but with the brakes now off will confirm that the support in the past is still here and will be moving forward. It is the Moon's alignment with Mars on Tuesday that will bring your financial instincts, imagination, passions and fighting spirit together, just as Mars is ready to see you fight to take your financial power back.
Health
While the Moon left your health sector over the weekend, this first visit and first read on what your body is telling you for the year is something that you are still unpacking. With four planets already in your health sector and Venus now just three weeks away, more and more focus is shifting onto your health this year. The driving force is Jupiter, with the planet of luck and expansion helping you to feel more bulletproof and in the process, start taking your power back. This is something that is starting to get a competitive edge, with a need to watch that the only one you are competing with is yourself. Unless you are engaged in competitive sport, in which case embrace it.
---
You may also like