Scorpio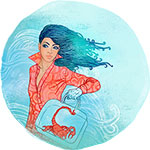 Oct 23 - Nov 21
---
Today's Horoscope
This week
This month
---
Scorpio Weekly horoscope for Jun 27 to Jul 3, 2022
There are some mixed messages this week but also a need to work to find a balance between the two. On the one hand, while Mars' last full week in your work sector was always going to make this a busy week, an alignment with the dwarf planet Eris on Monday and Tuesday could make this even more extreme. As the warrior prince and princess of the cosmos come together, this will fire up your warrior and competitive spirit while creating even more urgency. This gets a busy week off to a busy start but as things will ease back from next week, this is something you need to take advantage of. This will need to be balanced with the Sun's first full week in an adventurous part of your chart and Neptune's retrograde in a playful part on Tuesday. This will be further enhanced by Wednesday's New Moon. Yet with the Moon returning to your career sector on Friday, in time to make the most of Mars' last weekend in your work sector, your challenge will be to find a balance between work and play this week.
Love & Romance
Venus, the planet of love's departure from your relationship sector last Friday has left you with a better sense of what you want from your relationships while the Moon's departure over the weekend has left you more emotionally engaged. As you move into the new week there is a chance to let this settle before Mars returns early next week to fire things up again. This gives you a week to sit on everything the Moon and Venus have left you with, listening to your heart and your emotional responses before Mars returns to help you fight for what you want from your relationships and what they need from you. In the meantime, this gives you a chance to focus more on matters of the heart, with a growing mix of romance, adventure and nostalgia in the air. This is partly due to dreamy Neptune's retrograde turn on Tuesday, something that will open the doors to the past and second chances, just as a friendly aspect between forces on the romantic and adventurous fronts are working to bring the two together.
Business & Career
There is a need to prepare for what could be a busy week, with a potentially hectic start and an adrenaline ride that could make things a little manic. In the long term, this isn't sustainable but fortunately, that won't be required, with Mars on a mission to make his last full week in your work sector count. This is the tail end of what can be the busiest weeks of any year and the warrior planet of the cosmos was always going to make it hard to rest on your laurels, as he drives an urgent need to put everything you have into everything you do. What could get things off to a driven but potentially manic start is that Mars will spend Monday and Tuesday aligned with the dwarf planet Eris, something that every two years will bring the warrior prince and princess of the cosmos together. Knowing that Jupiter, the planet of luck and expansion will stay on and things will dial back from next week, this is a week for first gaining as much traction and motivation as you can. This is also a good week for getting things done.
Money
Having the Moon in your financial sector as you move into the new week will always be an advantage, allowing you to begin the week with your financial instincts and imagination fuelled and more emotionally and intuitively engaged from the start. That would be the case in any week but especially when this is Venus, the planet of money's first full week in your financial sector and Mercury's last. Venus has not only returned to capitalise on Mercury's smart head for money but the months of planetary activity on the financial front that he has been a witness to. With Venus less focused on financial housekeeping and more on capitalising on the gains or work already invested, this is a week where the torch is being passed. The Moon aligned with Venus shortly after returning over the weekend but an alignment with Mercury on Monday will bring your financial instincts and a smart head for money together, giving you a financially savvy edge from the start.
Health
This is likely to be a busy week and manically so at times, making you wonder if you are going to get a chance to catch your breath. This is something that could put your physical resources to the test, with the danger of burnout if you take this too far. Fortunately, as this will run its course early next week this pace won't be sustained but as Mars spends his last full week in your health sector this is a valuable chance to learn how far you can and can't push yourself. This s also a good time to use exercise to burn off any stress.
---
You may also like