Scorpio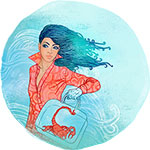 Oct 23 - Nov 21
---
Today's Horoscope
This week
This month
---
Scorpio horoscope for June 2022
When the Sun left your work sector in April this took the solar spotlight off your work situation and job matters. Because the Sun moves through at the same time each year and Venus and Mercury usually travel with him, this can make March and April the busiest months of any year on the job front or with whatever it is that keeps you busy. While that was still the case, what came next has taken things to a whole new level, with June likely to be the busiest month of 2022. Held back by a retrograde turn late last year, Venus was late to return to your work sector this year and she didn't return until early last month.
This has worked to your advantage, for while Venus left late last month it means that she was here, giving your heart a voice when Jupiter and Mars returned. Mars, who returned to your work sector every other year was also going to make these the busiest six weeks of the year. However, when Mars returned late last month it was to find Jupiter, planet of luck and expansion in the early weeks of his first visit in over a decade. Mars and Jupiter will begin the month aligned, with Mars fuelling your work passions, fighting and competitive spirit just as you move into the first full month of your biggest year for job growth and expansion in over a decade.
While this is good news professionally, it is important to balance this with time out to play, to focus on your relationships and on things close to home, all of which have plenty of planetary support and focus this month. With Mercury, the planet of communication in retrograde motion in your relationship sector until 3rd June, leaving on 14th June and Venus, the planet of love here until 23rd June it is important to make time for your relationships. While the planets that Jupiter and Mars left behind will work to maintain a balance between work and play, Saturn's retrograde turn in your home and family sector on 5th June is an opportunity to make up for lost time.
Love & Romance
While the Sun's departure from your relationship sector last month took the solar spotlight off your relationships Venus and Mercury, the planets of love and communication are making June one of the best months of the year on the relationship front. It is only coincidence that is putting Mercury and Venus here at all, as both should have moved through with the Sun long gone by now. Instead, a retrograde turn late last year meant that Venus was late to return and having just returned late last month, is just starting to work her magic as you move into the new month.
Meanwhile Mercury, who did leave your relationship sector at the end of April has retrograded back in for a second visit. Mercury returned two days after the Sun left and as the planet of communication, has returned with a second chance to give the past and unsaid words a voice. Mercury is still in retrograde motion as we move into the new month but only just, with a direct turn on 3rd June. Until leaving on 14th June Mercury will keep working on the communication lines though in direct motion will be more focused on moving forward. At the same time, until leaving on 23rd June Venus will be working to bring the magic into your relationships, as only the planet of love can.
In the meantime, after Venus, Jupiter and Mars all left your romantic sector last month things have dialled back on the romantic front, but they have not gone off the boil. Neptune and the asteroid Juno, one the planet of dreams and the other the queen of commitment are here for the rest of the year, committed to keeping the dream and the spirit of romance alive. Neptune's retrograde turn on 28th June will even open the doors to the past and second chances, something that Juno's retrograde turn next month will contribute to.
Business & Career
This is the point in most professional years when with the Sun and the faster planets been and gone from your work sector things are dialling back, with the dwarf planet Eris, the warrior princess of the cosmos keeping the wheels turning but with a long term focus. However, that is not the case and instead, your professional year has not only caught its second wind but in a way not seen in over a decade. Held back by a retrograde turn late last year, Venus is running behind schedule and by the time the Sun left she had yet to return. Venus did eventually return early last month and while she left in the final days of May her late return meant she was here when first Jupiter and then Mars' returned.
While Mars returns once every two years and his work passions, fighting and competitive spirit will make these the busiest six weeks of the year, Jupiter was last here in 2011. As you move into the new month Jupiter and Mars are not only still in your work sector but are aligned, with the start of your biggest 12 months for job growth and expansion in over a decade infused with Mars' warrior and competitive spirit. Because Mars is still in his early days here, he won't leave until early next month, so is here for the entirety of Jupiter's first full month in your work sector. This dwarfs anything so far this year or anything seen in over a decade.
This is likely to be the busiest month of the year and while Jupiter is on a journey that won't run its course until May 2023 and will eventually focus more on a slow and long term approach, Mars is getting off to a busy and impassioned start. With no planetary activity in your career sector, the Moon's return from 4th June to 6th June will be doubly important. As well as a chance to check in, this will ensure your professional instincts and imagination are fuelled as Jupiter and Mars begin to separate. Meanwhile, the Moon's visit to your work sector from 21st June to 23rd June will give you a more direct read on the planets of luck and drive.
Money
Because the Sun will always spend the first three weeks of June in your financial sector, the solar spotlight is always on your financial situation and money matters at this time of year. While the Sun is only here for a month and this is a time for having your eyes open and head out of the sand, a lot of water had already passed under the bridge before he arrived and even more will over the coming months, making this one step in an ongoing journey. The Sun returned on 21st May to find Mercury not only here but in retrograde motion, giving you a smart head for money and 20/20 hindsight from the start.
Mercury retrograded back out two days later but a direct turn on 3rd June will see him return for a do over visit on 14th June. Mercury will repeat his transit through your financial sector from the start, making this a complete do over, this time knowing now what you didn't then. This means that Mercury will stay on after the Sun leaves but will also be here when held back by her own retrograde phase, Venus will finally return on 23rd June. Unlike the Sun, whose focus is on keeping it real, Venus returns with a chance to fuel your financial confidence, update your expectations and bring the laws of attraction into play.
Meanwhile, while there is no planetary activity in your income sector, the Moon's monthly visit could have quite an impact. The Moon will move through your income sector from 13th June to 15th June, something that can sharpen your nose for money and act as a trigger. Even if this was an ordinary monthly visit, a friendly aspect to Jupiter and Mars in your work sector was going to have positive implications on both fronts. Instead, the Full Moon this will create on 14th June is set to energise both sides of the financial fence and could be a catalyst for income and job matters.
Health
As you move into the new month Mars, the planet of passion and the warrior planet of the cosmos has been in your health sector for seven days, something that you are still adjusting to. Mars is not only a planet that can encourage you to keep busy and moving, he rules the movements of the body itself. When Mars returns to your health sector, which he does every two years, he gives you the motivation to become more physically active. The downside is that here Mars will also make life itself busier so it is important to pace yourself, knowing when to rest and take a break. Mars won't do this for you, for he has no off switch and especially as he is being egged on by Jupiter.
---
You may also like