Pisces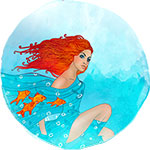 Feb 19 - Mar 20
---
Today's Horoscope
This week
This month
---
Pisces Weekly horoscope for May 29 to Jun 4, 2023
The Moon is always going to have a different impact at different times of the week, but this week they all seem to be a lot more significant. It starts on Monday, with the Moon not only aligned with the dwarf planet Ceres for the last time before she leaves your relationship sector but at odds with planets in Pisces while at a friendly aspect to those in your communication sector. As well as giving anything this might flush out a voice, this is helping with Ceres' mission to better understand your relationship needs and priorities. It is in the heart of the working week that the Moon will give you a better read on money matters, while adventurous lunar vibes from Thursday to Saturday will be a chance for some light relief before things come together across the income, work and career fronts over the weekend. This is thanks to the Moon's first visit to your career sector since Mars returned to your work sector and since Jupiter left your income sector being a Full Moon.
Love & Romance
Starting the week with the Moon in your relationship sector is not only putting the focus on your relationships from the start, but a mix of influences have come together at the right time. It is on Monday that the Moon's clash with planets in Pisces might push some buttons as it puts a balance between your personal and relationship needs to the test, while a friendly aspect to planets on the communication front can give this a voice. It is the timing that makes this significant, for this last visit before the dwarf planet Ceres leaves your relationship sector is a chance for a deep dive into your relationship needs and priorities. Meanwhile, it is at the other end of the week the spirit of romance will get a boost when the Moon moves through an adventurous part of your chart from Thursday to Saturday. As the only visit while Venus, the planet of love is in your romantic sector this will bring the spirit of romance and adventure together.
Business & Career
While things are a lot more settled on the job front than last week, with his first full week in your work sector under his belt Mars has become more settled and you will have an early sense of where his warrior and competitive spirit is drawing your attention. By the time you move into the new working week Mars has only been in your work sector for eight days, but in that time the Moon has moved through and he has clashed with Pluto, something that put how well you know when to keep your work hat on and when to take it off to the test. Considering that you have just moved into the busiest months of the year, this couldn't be more important. At the same time, as the Moon only left over the weekend this gives you an intuitive edge from the start. It is later in the week that the Moon will not only return to your career sector on Saturday but as a Full Moon that can energise things across the income, work and career fronts.
Money
With Jupiter gone from your income sector things have dialled back and with Mars in your work sector, Venus joining him early next week and a Full Moon in your career sector over the weekend, it is the professional gods that are now doing much of the heavy lifting. This kind of professional momentum wasn't there when Jupiter was here, with much of the income he created likely to manifest after he leaves. While there is still planetary activity on the income front these are planets that will stay in the background but as things progress professionally, they know where the money is. Meanwhile, with Jupiter gone the Moon's return to your financial sector from Tuesday to Thursday will be a valuable chance to check in on the other side of the financial fence. Without pushback or competition from Jupiter as it moves through, this could provide a lot more insight into money matters than in previous monthly visits.
Health
As you move into the new week Mars has only been in your health sector for eight days, but in that time the Moon has already moved through, giving you a read on what your body is telling you and of a new drive to become more active. Mars is a planet that is less focused on internal health and more on the external and especially the mechanical properties of the body in terms of movement and physical activity. The best time to join a gym is when Mars is in your health sector because you will be able to tap into his drive and enthusiasm. Yet anything that can get your limbs moving will scratch that itch.
---
You may also like