Pisces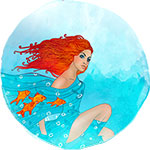 Feb 19 - Mar 20
---
Today's Horoscope
This week
This month
---
Pisces horoscope for January 2023
When Jupiter left Pisces just before Christmas, for the third time since his return in May 2021, it was less that something had come to an end and more that this was the start of a new journey, in more ways than one. In the literal sense, 22 months after returning for what is normally the 12 year foundation of a new Jupiter cycle of expansion you can finally embrace the journey itself. This also means that Jupiter himself has a new mission, as he spends his first full month back in your income sector. It was when Jupiter left Pisces in May 2022 that he returned to your income sector, only to retrograde back out and back into your sign in order to tie up loose ends.
Jupiter was only gone for less than eight weeks but this has had a big impact on both fronts. Jupiter nipped back into Pisces in order to spend a few more weeks with Neptune, the planet of dreams and the asteroid Juno, the queen of commitment who after returning to your sign last April for what is normally a three month visit will finally leave on 13th January. However, not before allowing you to begin 2023 ready to commit to your dreams, something that Venus will begin the process of making a reality when she returns on 27th January. At the same time Jupiter has returned to your income sector with a fresh sense of enthusiasm, along with a map to all the buried treasure.
Meanwhile, as is always the case the Sun will begin the year in your friendship sector before returning to a nostalgic and reflective part of your chart to begin the wind down of your old solar year on 20th January. The Sun will return to find standing room only, with Venus having returned on 3rd January to take your heart on a nostalgic trip down memory lane before returning to Pisces on 27th January and Saturn now in his final two months here. After three years Saturn is finally preparing to leave and join Neptune in Pisces for the first time in our lifetime. This is when the dreams that you are committing to now will have a chance to become reality.
Love & Romance
While there is no planetary activity in either your romantic or relationship sectors and you wouldn't expect any at this time of year, the Moon will visit both and Venus, the planet of love is making her presence felt. To begin with, as you move into the New Year it is business as usual, but the love gods will soon start to become more active. It begins with Venus' return to a nostalgic and reflective part of your chart on 3rd January, something that signals that she is drawing close to an early return to Pisces. Venus is returning to take your heart on a nostalgic trip down love's memory lane that will end with her return to your sign on 27th January, two months earlier than last year.
It is three days later that the Moon will return for its first visit to your romantic sector for the year, from 6th January to 8th January. While the Moon returns every four weeks and these can always be some of the most romantically charged days of any month, the difference this time is that this will play host to the first Full Moon of 2023 on 7th January. With no planetary activity in your romantic sector until Mars returns in March but Venus returning to Pisces on 27th January, this brings an early promise that this could be a good year for love, matters of the heart and all things romantic.
While the Moon is only here for two days, this will give Venus something to work on as she takes your heart on a nostalgic trip down love's memory lane. It is just a few days later that the Moon will make its first visit to your relationship sector for the year from 11th January to 13th January. This is a more typical monthly visit and while this can push some buttons and evoke some strong emotional responses, support from planets in your communication sector will give this a voice. With the chaos of Christmas and the New Year behind you, this is a chance to reassess what you want from your relationships and what they need from you at the start of a brand new year.
Business & Career
For the first time since October, there will be no planetary activity in either of your two professional houses but with a lot still to unpack, process and play out. It was just before Christmas that the Sun left your career sector, something that will always take the solar spotlight off your career situation and matters at the same time each year. By then every planet that was going to visit your career sector in 2022 had already been and gone, had made their mark and set their agenda in motion before leaving. It was up to the Sun to tie up loose ends, but it is what happens just before he left that could have a lasting legacy.
It was during the Sun's last full day that he was not only joined by the Moon, something that ensured your professional instincts were sharp and you were emotionally engaged as he left, but Jupiter returned to your income sector. It was a friendly aspect between the Moon and Jupiter while the Sun was still in your career sector that created a temporary bridge between the three. As Jupiter returned to begin a five month period of income growth and expansion this gave him a sense of professional direction from the start, while it allowed the professional gods to hitch their wagon to his.
The Sun and Moon are gone but Jupiter is just starting to flex his muscles, with what can be a lucrative year yet owning much to what has already been invested professionally. Meanwhile, the Moon will play a pivotal role this month as it makes its first visits to your two professional houses for the year. It begins with the Moon's return to your work sector from 8th January to 10th January. As well as sharpening your instincts and giving you an intuitive edge, a friendly aspect to Jupiter as it moves through will make these some especially good days for income and job matters. It is a week later that the Moon will make its first visit to your career sector for the year from 18th January to 20th January. As well as fuelling your professional instincts and imagination, the Moon will once again connect with Jupiter as it moves through.
Money
What a way to begin the new financial year with Jupiter, the planet of luck and expansion in his early days back in your income sector. Yet while Jupiter only returned just before Christmas it was less than eight weeks after retrograding back out, something that was an important circuit breaker. The planet that returned late last year is not the same planet that retrograded back out at the end of October. Jupiter had returned last May but he was already slowing down by then and ended up spending most of his time here in retrograde motion. While Jupiter will retrograde once a year, normally he will stay where he is.
Instead, by retrograding back out and then returning, this was a chance for a take two, a complete do over and as he started building up speed before he returned, the planet of luck and expansion was able to hit the ground running. Jupiter will have his foot on the gas until leaving in May, as he works to make the first five months of the year all about income growth and expansion. While this is still early days and things like the faster planets returning and even a rare and timely eclipse that will all contribute to the growth ahead are still months away, the year is ripe with promise and potential from the start.
It is the dwarf planet Eris' direct turn on 12th January that will release the final brake holding things back while unleashing the warrior princess of the cosmos' fighting spirit. The Moon is just wrapping up its last visit to your income sector of 2022 and the first since Jupiter's return as we move into the New Year, with its return from 26th January to 28th January likely to see a lot of progress. Meanwhile, the dwarf planet Ceres is spending her first full month in your financial sector, with her first deep dive into your financial needs and priorities in four years underway. Ceres is less focused on the money so is not a threat to Jupiter, but she will make it easier to maintain a balance between money coming in and money going out.
Health
Jupiter's departure from Pisces just before Christmas has left you with a lot of energy and enthusiasm but without the urgency. This gives you the energy you need to move into the New Year with confidence but without a need to reinvent the wheel. There is no planetary activity in your health sector, but starting the year with the asteroid Juno, the queen of commitment in Pisces allows you to set New Year's resolutions but without buying into the hype of having to have New Year's resolutions. The Moon will make its first visit to your health sector for the year from 8th January to 11th January, making this an important time for checking in with what your body is telling you.
---
You may also like