Leo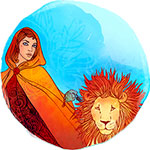 Jul 23 - Aug 22
---
Today's Horoscope
This week
This month
---
Leo Weekly horoscope for Jun 27 to Jul 3, 2022
A combination of factors might take the wind out of your sails this week but in a way that needs to be embraced and enjoyed. The first full week of the month long wind down of your old solar year will always bring a call to slow down, making time to hear yourself think. A combination of Mars' last full week in an adventurous part of your chart and Venus' departure from your career sector last week has seen the professional urgency drop back and a passion for adventure rise. The latter will be further fuelled by an alignment between Mars and the dwarf planet Eris on Monday and Tuesday. However, what you have on the professional front is only a lull, with Mars' return to your career sector next week not only firing things up on the career front but on the job front as well. There might be a bit of a lull this week but this is a valuable chance to catch your breath ahead of some much busier times ahead. In the meantime, the Moon's return to Leo on Friday will be a valuable chance to check in.
Love & Romance
While it will be several weeks before she moves into a friendly aspect to Saturn in your relationship sector, Venus will be watching with interest as both the Moon and Mercury do. With Venus, the planet of love spending her first and Mercury, the planet of communication his last full week in your friendship sector, there is a lot of focus on connecting. As Venus works with the laws of attraction and synchronicity to put you in the right place at the right time, Mercury allows you to seize the moment. You also start the week with the Moon here, increasing the potential for serendipitous moments and/or encounters and especially when you trust your heart and gut. This will see the Moon form a friendly aspect to Saturn, in retrograde motion in your relationship sector before leaving on Tuesday, something that Mercury will do over the weekend. This creates positive conditions for friendship and relationship building and with Venus staying on, is also a taste of things to come.
Business & Career
On both the job and career fronts there is a chance this week to pause and catch your breath, as the professional gods do the same. While the Moon's departure from your career sector over the weekend allows you to begin the week with your professional instincts and imagination fuelled from the start, this was also a chance to regroup after Venus left last week. In the same way that Venus had spent her final days in your career sector at a friendly aspect to Pluto, in retrograde motion in your work sector the Moon had done the same during its final hours here over the weekend. As things dial back on the career front, this leaves you with a lot to unpack and process but with a strong link between new career and untapped job potential already established. However, while experience suggests that it is time to tie up loose ends, this is more a chance to catch your breath before Mars returns to your career sector early next week to fire things up again.
Money
While the first planetary activity in your income sector for the year doesn't begin until early August, the tide is starting to turn on this financial year and the first steps towards a shift away from money matters takes place this week. Until now, all the planetary activity has been in your financial sector, the side of the financial fence where the focus is on your financial situation and money matters and especially when it comes to what you do with and how you manage the money you have. There has been a huge amount of focus on money matters this year, including the nearly five months that Jupiter spent here and Mars' first visit in two years. So much so that as Neptune turns retrograde on Tuesday there is a chance to pause. The money gods are starting to move money matters into review mode, something that will create a space for the planets on their way to your income sector and the start of the most lucrative months of 2022.
Health
In the first full week of the month long wind down of your old solar year, there is a chance to slow down. While life won't always oblige, it comes just as this professional year has reached a temporary lull, with the pace having just dropped back over the weekend before picking up again next week. It is during this small window of opportunity that the Moon will join the Sun in a nostalgic and reflective part of your chart to create Wednesday's New Moon. This will make it easier to pace yourself and make the most of a chance to rest and repair when you can.
---
You may also like