Gemini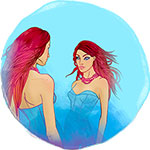 May 21 - Jun 20
---
Today's Horoscope
This week
This month
---
Gemini Weekly horoscope for Nov 27 to Dec 3, 2023
By the time Mercury, the planet of communication leaves your relationship sector over the weekend he will have been here for just over three weeks, but it is just now that the time invested in getting the communication lines open can be appreciated. Especially in the early part of the week, when the Moon not only returns to Gemini on Monday as a Full Moon but just as the Sun, Mars and the dwarf planet Ceres are spending their first full week in your relationship sector. It is the clash between the Sun and Moon that will create Monday's Full Moon. This will put a balance between your personal and relationship needs to the test, but you not only have Mars on hand to ensure the communication lines are open but this will give matters of the heart a boost. While this will see the Moon clash with the Sun and all three planets in your relationship sector, it will also form a friendly aspect to Venus, the planet of love just as she moves into her last full week in a fun, playful, romantic and creatively charged part of your chart.
Love & Romance
Since his return to your relationship sector earlier in the month Mercury has been on his own, but all that changed within the space of just 48 hours last week. As you move into the new week it is with Mercury, the planet of communication getting ready to leave over the weekend while the Sun, Mars and the dwarf planet Ceres are just settling in. This is the point in each year when the solar spotlight will always shift onto your relationships, with Mars returning for his first chance in two years to help you fight for what you want from your relationships and what they need from you. The last to arrive was Ceres, with her return over the weekend beginning her first deep dive into your relationship needs and priorities in four years. The Sun is only here for a month, but Mars and Ceres are not only here for the rest of the year but after leaving over the weekend, Mercury will retrograde back before Christmas. Monday's Full Moon in Gemini might push some buttons but with a chance to flush out any issues from the start.
Business & Career
All of a sudden, after some active and busy months on the job front, as you move into the new working week your work sector is empty. It was on Saturday that the dwarf planet Ceres' departure wrapped up a game changing 48 hours that began with the Sun's departure two days early and continued with Mars' departure a day later. In the space of 48 hours, the Sun took the solar spotlight off your work situation and job matters, Mars ended a six week drive to fire up your warrior and competitive spirit and Ceres ended her last deep dive into your needs and priorities on the job front for another four years. With your work sector not only empty but some of the busiest weeks of the year over there is a chance to catch your breath, though with more than enough momentum to bring this professional year home. However, this is far from the end of the story and instead a chance to pause ahead of Venus' return to your work sector early next week and Neptune's direct turn in your career sector a day later.
Money
There is some new energy on both the income and financial fronts this week, but in a way that is going to give each its turn. There has been no planetary activity on the income side of the financial fence since the Sun left in July, with the Moon's monthly visits key to not only staying on track but with a chance to act as a trigger for income potential and opportunities. While the Moon's return on Wednesday is an ordinary monthly event, in the heart of the working week this can sharpen your nose for money and act as a trigger. This is something that will see the Moon clash with Pluto in your financial sector, but as this is something that has happened nearly every four weeks since his return in 2008 this is more the chance that you get to check in on a balance between money coming in and money going out. It is just as the Moon is leaving that on Saturday Mercury will return to your financial sector, joining up with Pluto to give you the smart head for money needed to get your head in the game, think on your feet and to start bringing this financial year home.
Health
Within the space of just 48 hours the Sun, Mars and the dwarf planet Ceres all left your health sector last week and as the last only left on Saturday, this is something that you are still processing. This has left your health sector empty for the first time in nearly three months but also a chance to take a break and process things so far. The Sun has left you with a more objective look at where things stand, Mars with the motivation to take the next step and Ceres with a better sense of your health needs and priorities. It is Venus who will bring everything together when she returns next week.
---
You may also like