Gemini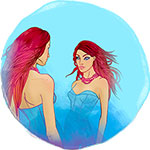 May 21 - Jun 20
---
Today's Horoscope
This week
This month
---
Gemini Weekly horoscope for Nov 28 to Dec 4, 2022
As the Sun spends his first and Venus and Mercury their last full week in your relationship sector, you will encounter the first implications of having Mars in Gemini. There is rarely any planetary activity in your sign at this time of year and at the halfway point in this current solar year and at the furthest point in any year from your birthday month, it is all about your relationships. The first sign of not so much trouble but that Mars is refusing to let your own needs suffer, is when he moves into an opposition with Mercury on Wednesday and Venus a day later. Fortunately, Mercury is the planet of communication and Venus is the planet of love, making it easier to keep the communication lines open while making this a chance to better understand what you want from your relationships and what they need from you. By then Mars will also be at a friendly aspect to Saturn, something that allows you to see this as an opportunity to raise the bar on both the personal and relationship fronts.
Love & Romance
With the Sun spending his first full week in your relationship sector and both Venus and Mercury, the planets of love and communication their last, this is another important week on the relationship front. Where last week was dominated by an alignment between Venus and Mercury and a New Moon just two days after the Sun's return, there is a chance this week to build on from that. The Sun has only just returned and will continue to keep the solar spotlight on your relationships until just before Christmas. Until he leaves early next week Mercury will be working to ensure the communication lines are open and the timing couldn't be better. It is a day after Mercury leaves next week that not only a Full Moon in Gemini but a clash between the Sun and Mars will put a balance between your personal and relationship needs to the test, something that makes having the communication lines open crucial. Fortunately, Mercury's clash with Mars on Wednesday and Venus' a day later will give the planet of communication something to work with.
Business & Career
Whether it is Jupiter in his first full week in direct motion in your career sector or Neptune in his final days in retrograde motion before turning direct over the weekend, they are both at a standstill as you move into the new working week. Yet while things are paused now, something that is giving you a chance to stay in the moment, as the Moon returns on Wednesday the planet of luck and expansion will also move into his final 21 days here. While Jupiter won't get up to speed again before leaving, by the time the Moon leaves on Friday he will be starting to inch forward and knowing that once he leaves he won't be back for another decade, will be determined to bring this professional year home. Thanks to the Moon your professional instincts will be sharp and you will be emotionally and intuitively engaged as things start to move forward but while Neptune is still giving you access to the rear view mirror.
Money
While the Moon will leave your financial sector on Monday and this is more the tail end of a visit over the weekend grazing the early hours of the new week, this would always be an advantage. At the very least this will leave you with your financial instincts and imagination fuelled and feeling more emotionally and intuitively engaged. Even the Moon's alignment with Pluto just before leaving is a monthly event but not the impact this could have. By this point Pluto has been in direct motion for nearly two months, with the planet of change and revolution getting restless, something that a sense of anticipation will add fuel to. What your financial instincts will be picking up on is the approach of Venus and Mercury, who having both begun the year in your financial sector are returning next week to bring it home. After 14 years Pluto is leaving in March, so this is something he is more than ready for.
Health
When the Sun left your health sector last week this not only took the solar spotlight off your health needs, situation and matters but ended all planetary activity on the health front for the year. Fortunately, the Moon returned just before the Sun left and stayed on for another two days, giving you a chance to both get a read on what your body is telling you and process all the insight and information from the previous month. It was while the Sun was here that Venus and Mercury moved through, leaving you a desire to look and feel good along with all the information and knowledge needed to get started.
---
You may also like