Gemini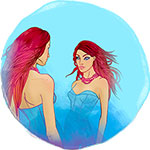 May 21 - Jun 20
---
Today's Horoscope
This week
This month
---
Gemini horoscope for March 2023
Of all the big changes this month, the one that has the most personal impact on you will be Mars' departure from Gemini on 25th March. It was last August that Mars returned for what is normally a six week visit and the launch of a new two year Mars cycle. Mars will return with a lot of energy, enthusiasm and motivation and the drive to throw yourself into the things that excite you, your passions, warrior and competitive spirit, something that can set the parameters and your course for the rest of this new two year cycle. Instead, those six weeks came and went and instead of moving on, a retrograde turn has kept Mars here ever since. While Mars turned direct in January, it is not until 16th March that he reaches the point where he turned back, so he is crossing the same ground for the third time.
It is not until Mars moves into his final 10 days that a sense of urgency is likely to set in, especially when it comes to the things that excite you. This also means that when Mars finally leaves on 25th March his return to your income sector that has been put on hold will finally happen and with perfect timing. Last year saw Mars form a strong partnership with Saturn in your sector of adventure, travel, learning and discovery and while he leaves there on 8th March, that partnership will evolve. Saturn's return to your career sector will see them form a new partnership, with a friendly aspect just days after Mars' return to your income sector on 25th March helping to cement this.
However, while Saturn's departure from an adventurous part of your chart on 8th March will leave it empty and the dwarf planet Ceres will leave a playful and creative part of your chart on 23rd March, life is unlikely to become all work and no play. It is just a day after Ceres leaves and a day before Mars' return to your income sector and the start of his alliance with Saturn in your career sector that Pluto will return to your sector of adventure, travel, learning and discovery on 24th March, for the first time in our lifetime. Pluto will take over from where Saturn left off, but as the planet of change and revolution he won't settle for simply going through the motions.
Love & Romance
Until the dwarf planet Ceres retrogrades back out of your romantic sector on 23rd March, she will continue her deep dive into your heart's needs and priorities. However, knowing that once she returns direct, she will return for a do over though not until June, takes away the urgency and brings a chance to enjoy the journey. This is creating a sense of romantic nostalgia, but nothing compared to when Venus, the planet of love returns to a nostalgic part of your chart on 17th March, just five days before Ceres is due to retrograde back out.
This will mark the start of a nostalgic trip down love's memory lane that will end with Venus' return to Gemini next month, much earlier in the year than is normally the case. Venus is racing through the heavens this year, something that will eventually see her have to turn retrograde in order to let the Sun catch up. Until then, you are benefiting from Venus' return before Ceres leaves, both because of the romantic nostalgia this is already creating and because as she returns to update your romantic and relationship desires and expectations you will already have a better sense of your heart's needs and priorities.
The Moon will make its last visit to your romantic sector before Ceres leaves and before Venus returns to a nostalgic part of your chart from 9th March to 11th March, making these some of the most romantically charged days of the month. Venus will still be in a social and serendipitous part of your chart at the time, where working with the laws of attraction and synchronicity she will be working to put you in the right place at the right time. Venus will still be there when the Moon moves through your relationship sector from 13th March to 16th March and into a friendly aspect. With no planetary activity in your relationship sector, this will be a valuable chance to check in, while benefiting from support from the planet of love.
Business & Career
Because the Sun will always spend the first three weeks of March in your career sector, the solar spotlight is always on your career and professional situation, matters and options and on your professional game in general at this time each year. However, this year you have a mix of the familiar and the truly game changing, to the point that events this month will shape the professional landscape for years to come. The familiar is to have the Sun here until 21st March and while Venus has already been and gone, her time with dreamy Neptune has already helped to update your professional dreams, desires and expectations for the coming year.
The only thing different about Venus' return this year is that she was earlier than last year, but this is still part of the annual pattern. So too is Mercury's return from 3rd March to 19th March, with this smart and intellectually savvy planet making it easier to work smarter, get your head in the game, ideas on the table and to work smarter. Mercury can turn the Sun's observations, Venus' desires and expectations and Neptune's professional dreams into reality. Also par for the course is that any planet moving through your career sector will at some point connect with Neptune, with the planet of dreams here since 2012 and not leaving until 2026
The Sun's departure on 21st March should leave Neptune on his own and things should revert to normal, except by then there will be a new sense of normal. The game changer comes on 8th March, when for the first time in three decades Saturn will return to your career sector and the implications from this. Saturn is the hard taskmaster of the cosmos, giving you the resolve to do whatever it takes for as long as it takes and while he only returns to your career sector every three decades, he will spend nearly three years here. The difference this time is that Saturn is joining up with Neptune for the first time here in our lifetime, where they will spend the next three years working to turn professional dreams into reality. This is what Neptune has been preparing for since his return in 2012.
Money
Within the space of less than 48 hours, the whole dynamics of this financial year will completely flip on its heels, shifting the focus from one side of the financial fence to the other in the most dramatic way seen in decades. Since Pluto returned to your financial sector in 2008, while the faster planets in the solar system have not only come and gone from here but your income sector as well, there has been continuous planetary activity here for nearly 15 years. No matter what was happening on the other side of the financial fence this always had to work around Pluto's ongoing focus on money matters.
When the faster planets moved through your financial sector this put even more focus on your financial situation and money matters, making this the continuously dominant side of the financial fence. As you move into the new month that is still the case and even when the Moon moves through your income sector from 1st March to 4th March, as is always the case it will clash with Pluto as it moves through. Then, two weeks later when the Moon moves through your financial sector from 16th March to 18th March it will align with Pluto, with a chance to check in while giving money matters a boost.
This has been your normal since Pluto returned to your financial sector in 2008 but it is all about to change. It begins with Pluto's departure on 24th March, which in itself is a major event, ending nearly 15 years of planetary activity and dominance on the income side of the financial fence. As the Sun doesn't return to your income sector until June and with Pluto dipping back in to tie up loose ends by then, this shouldn't have any direct impact on the income side of the financial fence, other than when the Moon returns to your income sector on 31st March. However, this will have a massive impact when less than 48 hours after Pluto leaves Mars will return to your income sector on 25th March. This is Mars' first visit in two years and the first planetary activity in nearly 15 years that won't have pushback or competition from Pluto on the other side of the financial fence. This kicks off the most lucrative months of 2023 and there will be roadblocks.
Health
While there is no planetary activity in your health sector and there won't be until the second half of the year, you not only have the South Node here but the Moon will return every four weeks. Together, this is enough to keep you informed and on track, while in partnership the lunar nodes will work to keep things nicely balanced. Since January 2022, the lunar nodes have been all about balance and especially a balance between being physically active and having time to rest and repair. You will get a better read on this and on what your body is telling you when the Moon moves through from 11th March to 13th March, something that will see it cross the lunar nodes and highlight anything out of balance.
---
You may also like