Dragon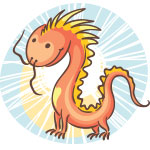 2012, 2000, 1988, 1976, 1964, 1952
---
Jun 4, 2023
Jun 5, 2023
Jun 6, 2023
---
Monday, June 5, 2023
You may be interested in improving the dietary habits, nutrition, and general well-being of those in your care at present. You must learn, however, to share the decision making and authoritative role in your home and find other creative outlets to release your powerful energy during this coming cycle.
Dragon Weekly Horoscope: May 29 to Jun 4, 2023
As you settle into the lucrative month of the Snake you will start to notice that it is not just about the money. For the Dragon, the Snake likes to enrich your life and give you the kind of confidence that allows you to attract what you believe you deserve. However, that includes across all the currencies in your life. In saying that, beginning the week under a busy, industrious and work focused Rooster Moon will get the week off to a good start on the income and job fronts. Yet the same enthusiasm that you can put into income and job matters you can also put into anything else that you care about.
Dragon Monthly Horoscope: June 2023
With the leap month that slowed things down now well and truly in the rear view mirror, the pace of the year is speeding up and that is just the way that the Dragon likes it. This month also offers the right mix of opportunities, with time to exploit the lucrative month of the Snake before it runs its course on 18th June, while still leaving you time to start getting the most out of the month of the Horse. For the Dragon, while the month of the Snake can be a lucrative month it is not just about the money, with the Snake working to enrich all the currencies in your life. Meanwhile, for the Dragon the month of the Horse is the Swizz army knife of any lunar year, with a tool for every occasion and especially when it comes to communication, thinking on your feet and having your head in the game.
29

59

90

74

48

57

95

78

68
Power Numbers: 5, 15, 24, 33, 53, 63
Friendly Signs: Pig & Rooster
Beware of: Ox
Colour of the day: Green Yellow
Born Today: John Maynard Keynes, Federico Garcia Lorca, Alfred Kazin, Bill Moyers, Laurie Anderson
---
You may also like