Dragon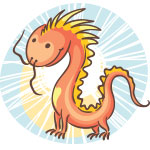 2012, 2000, 1988, 1976, 1964, 1952
---
Sep 26, 2022
Sep 27, 2022
Sep 28, 2022
---
Tuesday, September 27, 2022
You may be challenged today by a lack of time and the need to essentially make important decisions on the fly. While these are not in the best circumstances to make hard choices, your instincts are good and your assessment of the situation is accurate, so go with what you sense is right and all should be well. Be prepared to face some opposition to your ideas from unexpected sources.
Dragon Weekly Horoscope: Sep 26 to Oct 2, 2022
Monday's New Moon not only gets the week off to a good start but is a chance for a reset as this also ushers in the month of the Dog. There is something about starting a new lunar month on a Monday that allows you to give this your full focus and for the Dragon, moving into the month of the Dog this couldn't be more important. As well as putting the focus on your relationships, this brings you to the halfway point in your current personal 12 month lunar cycle and over the next four weeks, this will be a chance to revisit some of the intentions and resolutions committed to during the month of the Dragon six months ago.
Dragon Monthly Horoscope: September 2022
As you move into September, the month of the Rooster is still in its early days, but it has been going long enough to have a feel for its busy and industrious influence. For the Dragon, the month of the Rooster can be a busy but also a productive month, as it not only looks for something to do but in a way that is productive. The Rooster doesn't like to waste time or procrastinate, preferring to roll up its sleeves in order to get things done. The Rooster runs a tight barnyard and expects you to do the same, whether at work or with any tasks or projects. It is on 25th September that a Dog Moon will usher in the month of the Dog and with it, will shift the focus onto your relationships while bringing you to the halfway point in this current personal 12 month lunar cycle.
94

47

5

82

20

79

31

28

48
Power Numbers: 4, 7, 8, 12, 27, 47
Friendly Signs: Horse & Snake
Beware of: Goat
Colour of the day: Medium Sea Green
Born Today: Sofia Milos, Samuel Adams, William Paley, Mary McCarty, Shaun Cassidy, Avril Lavigne
---
You may also like