Dragon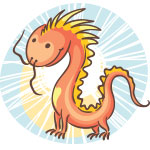 2012, 2000, 1988, 1976, 1964, 1952
---
Jan 30, 2023
Jan 31, 2023
Feb 1, 2023
---
Tuesday, January 31, 2023
During this period, you may feel a sense that there is something you forgot, something missing that used to make you happy and has somehow been left behind. That often happens when you move on to the latest promises and developments and inadvertently leave the reasons we used to have fun in cold storage. It may be time to trade some of the new in for the old, to revisit what worked before as well as what might be the wave of the future. There are some things money can't buy (or, you forgot you already bought it), so don't spend unnecessarily when you can fall in love again with what you already have.
Dragon Weekly Horoscope: Jan 30 to Feb 5, 2023
As you move into the second week of the Year of the Rabbit you will be starting to get a feel for its influence and more importantly, how you are coping with its slower and more relaxed pace. For the Dragon that always wants to be on the go, the Rabbit's slower approach to things can be frustrating but is also just what you need and especially after the busy Year of the Tiger. With the month of the Tiger still in effect for another three weeks life will remain busy, but there will be a greater appreciation of when you need personal space and how empowering time out to hear yourself think can be. Yet the Tiger will also keep you socially connected, giving you the best of both worlds.
Dragon Monthly Horoscope: January 2023
There are some big changes this month, with not just one lunar month coming to a close but the lunar year itself and it all happens at the same time. It is the New Moon on 21st January that will bring the competitive and professionally charged month of the Ox to a close while ushering in the social and serendipitous month of the Tiger. However, this is where there is some crossover, for this is the New Moon that will also bring the Year of the Tiger to an end. This means you have another four weeks to transition out of the Tiger's focus on your social life, friendships, teamwork and networking. However, this is also when the nostalgic and reflective Year of the Rabbit begins and with it, the beginning of the wind down of your current personal 12 year lunar cycle.
Power Numbers: 14, 25, 27, 31, 34, 42
Friendly Signs: Horse & Tiger
Beware of: Ox
Colour of the day: Magenta
Born Today: Tallulah Bankhead, John O'Hara, Jackie Robinson, Norman Mailer, Suzanne Pleshette, Minnie Driver, Justin Timberlake
---
You may also like