Cancer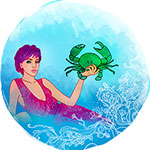 Jun 21 - Jul 22
---
Today's Horoscope
This week
This month
---
Cancer Weekly horoscope for Jan 30 to Feb 5, 2023
The week begins with two friendly aspects not only in play but both peaking on Monday, getting the week off to a good start. Thanks to the Moon you will have an intuitive read on both, allowing you to get the most out of the motivation and momentum this can create. It is during the Moon's final hours in your friendship sector that a friendly aspect between Uranus here and Mercury in your relationship sector will peak. While this gets the week off to a good start when it comes to personal and professional networking, friendship and relationship building, this is the third time they have come together in just six weeks but the first time while in direct motion. This makes this a good chance for a fresh start or a do over. It is then that the Moon will return to an intuitive and imaginative part of your chart, just as a friendly aspect between Mars here and the Sun in your financial sector peaks. This can fuel your financial confidence, instincts and imagination just as there is a growing chance to take your financial power back.
Love & Romance
The week not only gets off to a good start on the relationship front but with perfect timing. By the time we move into the new week Mercury, the planet of communication has been in direct motion in your relationship sector for 11 days and due to finally leave later next week, he is on a mission to get the communication lines open. Having returned in early December for what is normally a 14 to 15 day visit, you have everything needed to make these final days count. However, things get an additional boost when a friendly aspect between Mercury and Uranus not only peaks on Monday but for the third time in three months. This is something that will not only give the communication lines a boost but can help put things in perspective. Meanwhile, in her first full week in an adventurous part of your chart and of her mission to bring the spirit of romance and adventure together Venus, the planet of love has the support of the Moon and the South Node in your romantic sector.
Business & Career
While the Moon left your career sector on Saturday, this not only allows you to begin the new working week with your professional instincts sharp from the start but having had time to start unpacking a download of information, insights and messages. As your subconscious can download information faster than you can process it at the time and as overthinking things slows down the process, the more you can simply trust your gut the more the right insight will come to the surface at the right time. This was not just the Moon's first visit for the year but the first since Eris' direct turn gave Jupiter's quest for professional growth and expansion the green light. Jupiter has been here for six weeks but with Venus still three weeks away from bringing the laws of attraction into play, this is something that doesn't need to be rushed. It is later in the week that work/life balance could become an issue, though not if you make this a priority from the start.
Money
With no planetary activity in your income sector but a growing amount of focus and attention on money matters, it is no surprise that this is where your attention is being drawn at the start of the week. However, while you will have to wait until the end of the week, the income side of the financial fence will get its turn. The week gets off to a good start with a friendly aspect between the Sun in your financial sector and Mars in an intuitive and imaginative part of your chart peaking on Monday. This is just three days after Venus left and with the Moon also returning to an intuitive and imaginative part of your chart on Monday, this will add to a chance to fuel your financial confidence, instincts and imagination. Meanwhile, it is at the other end of the week that the Moon will not only return to your income sector on Saturday but to begin the lead up to a Full Moon that could lead to not just a breakthrough on the income front but professionally as well.
Health
While Mars is still in a nostalgic and reflective part of your chart and won't return to Cancer until towards the end of March, the longest wind down of a two year Mars cycle in eight decades has moved into a new phase. There is still a need to pace yourself, but after months in retrograde motion the warrior planet of the cosmos is back in direct motion and is hungry for his return to Cancer and a chance to become more active. This takes away the pressure of having to set New Year's resolutions while giving you time to prepare for a more active but also busier time ahead.
---
You may also like