Cancer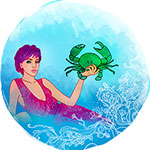 Jun 21 - Jul 22
---
Today's Horoscope
This week
This month
---
Cancer horoscope for June 2023
This is the one month where you might finally find the balance that you not only crave but need, with the stars providing the kind of variety that allows you to have it all. It was Mars' return to your income sector last month, just a few days after Jupiter ended his 12 month visit to your career sector that has not only changed the dynamics of this financial year but in time to capitalise on the professional momentum and efforts of the past year. Mars will spend the whole of June in your income sector, giving you the drive and the confidence to fight for what you deserve. Even a clash with Pluto in your financial sector when he returned was able to turn any financial tension into motivation.
With Pluto retrograding back out of your financial sector on 11th June and leaving it empty for the rest of the year, this will give income potential room to spread out and spread out it will when Venus joins Mars in your income sector on 6th June. With a Full Moon in your work sector on 4th June and with Jupiter having created so much momentum on the career front, this is the start of what should be some of the most lucrative weeks of 2023. Instead, while Venus will normally spend 24 days in your income sector and spending all of them with Mars will give the planet of money more resources, she is instead here for the next four months.
This makes June not only a lucrative month but a gateway into the lucrative months ahead, with a lot of positive energy across the income, work and career fronts from the start. Yet with the South Node in its last full month in a fun, playful, romantic and creatively charged part of your chart and Saturn and Neptune still in an adventurous part of your chart, life doesn't have to be all work and no play. Another important event this month is Pluto's return to your relationship sector on 11th June, in time to capitalise on the dwarf planet Ceres' final 10 days in your communication sector before leaving on 21st June. It is a day later that the Sun will return to Cancer to begin your birthday month and new solar year.
Love & Romance
There is change in the air on both the romantic and relationship fronts, but not all of it happening this month. It is next month that the South Node will leave your romantic sector, where for the last 178 months it has been keeping the spirit of romance alive and in real time helping you to understand and process the journey as it continues. While there will be no planetary activity on the romantic front before the South Node needs and won't be for several months, there is a lot of support. A lot of that support came from Mars during his recent two month visit to Cancer and to Venus, who until leaving on 6th June is working with the planets in an adventurous part of your chart to bring the spirit of romance and adventure together.
It is when the Sun and Juno returned to Cancer on 22nd June and Mercury six days later on 27th June that they will all form a friendly aspect to the South Node, for the last time before it leaves next month. This will continue to shine a light on the romantic journey that this has taken you on and especially when it comes to the understanding gained, since returning in January 2022. The Moon will move through your romantic sector from 1st June to 3rd June and as the only visit while Venus, the planet of love is in Cancer this will get the month off to a romantically charged start. It is later in the month that the Moon will return on 28th June for its last visit before the South Node leaves.
In the meantime, there is change this month on the relationship front or at least there will be when less than three months after leaving, Pluto will retrograde back into your relationship sector on 11th June. Pluto is back now for the rest of the year and until leaving in January will travel back over ground already covered and after no planetary activity on the relationship front for nearly three months, in hindsight put things in perspective. Because Venus will leave Cancer on 6th June they won't clash, nor will the Moon when it moves through your relationship sector from 5th June to 7th June. However, with the Moon here as she wraps up her mission to update your romantic and relationship desires and expectations for the coming year the timing couldn't be better.
Business & Career
While things have dialled back since Jupiter left your career sector last month, the only thing missing is the pressure and the urgency. Jupiter's 12 month push for professional growth and expansion is over but not the momentum or the potential that this has created. Even if this had left your career sector empty, that would still be the case, setting you up for the rest of this professional year. However, this didn't leave your career sector empty and for most this is something you have yet to experience, for the dwarf planet Eris has been here since 1926 and she is here for another three decades. As the warrior planet of the cosmos, when the other planets move through she stays on, always there in your corner helping to keep the momentum going.
Eris won't be doing this on her own, with Mars' return to your income sector just four days after Jupiter left and Venus' on 6th June kicking off the most lucrative months of 2023. While Mars won't form a friendly aspect until just before leaving next month and Venus until just before wrapping up her longest visit in our lifetime in October, they are working in harmony and as the pressure and urgency dial back on the career front, the focus is shifting to the income potential that Jupiter's 12 month visit has created. Meanwhile, getting the month off to an exciting start is the Moon's visit to your work sector from 3rd June to 5th June.
This is something that was always going to see the Moon form a friendly aspect to Eris in your career sector and Mars in your income sector and as they are the warrior prince and princess of the cosmos, this was always going to energise things across the income, work and career fronts. However, it is the Full Moon this will create on 4th June that will see the Moon contribute just as much. These will not only be a positive few days across the income, work and career fronts but this could lead to some real breakthroughs. It is a week later that the Moon will make its first visit to your career sector since Jupiter left from 12th June to 14th June, by which time Venus will be in your income sector as well.
Money
With the Sun not returning to your income sector until towards the end of July each year, while it is not uncommon to have planetary activity here in June it is usually later in the month and not from the start, which is what you have this month. Nothing about what is happening on the income front this month or over the coming months could be considered typical, bringing you into unchartered but also exciting territory, making it important to go into this with an open mind. The month begins with Mars in your income sector though still in his early days here. It was late last month that Mars returned for his first visit to your income sector in two years, with the warrior planet already declaring war on glass ceilings, roadblocks and barriers.
This is something that can give you the confidence and drive to fight for what you deserve, but it is what happens next that turns everything already. What happens next is Venus, who on 6th June will return for her annual visit to your income sector. Even had this been the 24 day visit that Venus makes each year this would be a game changer, for it brings the planets of money and war together, making June the most potentially lucrative month of the year. However, Venus' early return is a sign that this won't be an ordinary visit, for returning this far ahead of the Sun she will be forced to wait. This will see Venus turn retrograde next month and instead of leaving in 24 days, she won't leave until October.
While Venus has spent time in retrograde motion in your income sector before, she either retrograded back in after leaving or retrograded back out, in either case only spending part of her retrograde time here. This time Venus will not only spend her whole retrograde phase in your income sector, but this will make this an exceptionally long visit, her longest in 210 years. What is significant is that Pluto will retrograde back out of your financial sector on 11th June, leaving it empty for the rest of the year and for the first time since 2020. This will give Venus and Mars room to spread out, taking you and the income potential this could create into unchartered territory. Pay attention as the Moon moves through from 21st June to 23rd June, for this can act as a trigger for all that Venus and Mars are creating.
Health
With no planetary activity in your health sector, the Moon's monthly visits are key to not only checking in with what your body is telling you but for addressing anything that needs addressing. While the Moon will only spend a few days in your health sector, when it moves through from 3rd June to 5th June it is a lot more likely to get your attention this time. This is because while this is the chance that you get every four weeks to check in with what your body is telling you, a clash with the Sun will create a Full Moon on 4th June that will make this hard to ignore. This is a Full Moon that will always fall at some point during the month long wind down of your old solar year, putting your physical resources to the test.
---
You may also like