Cancer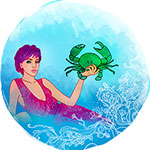 Jun 21 - Jul 22
---
Today's Horoscope
This week
This month
---
Cancer horoscope for October 2023
What is going to make October such an exciting month and the antidote that we are all in need of, is that things are no longer stuck. The fastest planets in the solar system, those that create an ever changing landscape against a more permanent backdrop are no longer stuck. It also helps that this is not only opening up new areas in your life but also the variety. The downside or the price that you will have to pay for this is no longer being able to pay lip service to a need for the right work/life balance. It helps that the lunar nodes are now policing this, but even if they weren't, this would be something you would need to take responsibility for.
Why that is so important is that while Venus will leave your income sector on 9th October and the asteroid Juno on 18th October, this and the powerful start to the month that you get on the career front is making this a good month on both fronts. At the same time, while the Sun will always spend the first three weeks of October in your home and family sector and this year there is even more focus on things close to home, the playful, creative and adventurous side of life's fence is also opening up. You have already had a small taste of this when the dwarf planet Ceres, in her early days in a playful and creative part of your chart formed a friendly aspect to Saturn in an adventurous part last month.
Mars will do the same when he returns to a playful and creative part of your chart for the first time in two years on 12th October, Mercury on 22nd October and the Sun a day later. With all three spending their early days at a friendly aspect to Saturn and then going on to form the same aspect to Neptune in an adventurous part of your chart before leaving next month, this is something that will only strengthen. Meanwhile, in a case of perfect timing, Venus will return to your communication sector on 9th October to begin her mission to give your heart and your relationships a voice, just two days before Pluto's direct turn in your relationship sector on 11th October.
Love & Romance
There is a mix of the expected and the unexpected on both the romantic and relationship fronts this month and all of it is good news. On the romantic front, the unexpected is the early start that things have had. The Sun's return to your romantic sector on 23rd October is the point in each year when the solar spotlight will always shift onto matters of the heart and all things romantic. However, the month not only begins with the dwarf planet Ceres here and her first deep dive into your heart's needs and priorities in four years already underway, but she will be joined by Mars on 12th October.
This is the planet of passion and the warrior planet of the cosmos' first visit to your romantic sector in four years and he will just be warming up with Mercury returns on 22nd October to begin his mission to give your heart a voice and to put heart and mind on the same page. By the time the Sun returns a day later your romantic sector will be a crowded place. By the end of the month, the only planet yet to return will be Venus, who held back by a retrograde phase won't return until 5th December. However, with Mars not leaving until 24th November, he will keep the seat warm for as long as he can, making this just the start of the most romantically charged months of 2023.
Meanwhile, what is expected is that this is the month when Pluto will be turning direct and coming out of hibernation in your relationship sector. This has been the case since he returned in 2008 but having already left for a few months earlier in the year and then due to leave again in January, these trips into the past are ending. Pluto's direct turn on 11th October marks the point where the focus shifts away from the past. What is not expected is the level of support from the communication gods with Venus, the planet of love in your communication sector until 9th October and the asteroid Juno, the queen of commitment and especially commitment to your relationships until 16th October.
Business & Career
While the Moon will leave your career sector on 1st October, just beginning the month here was going to be an advantage, ensuring your professional instincts and imagination are fuelled and you are emotionally and intuitively engaged from the start. However, it goes beyond that for these are the final hours of a visit that began two days earlier with a powerful Full Moon, something that could have a surprise in its tail. This is the first Full Moon since the North Node returned to your career sector, so should have been a lunar eclipse but they were too far apart at the time. However, the Moon will cross the North Node before leaving on 1st October, providing an outlet for anything this might have triggered.
As it can take the four weeks until the Moon comes full circle for what is triggered to fully manifest, there could also be some unexpected developments when it moves through from 26th October to 28th October, in what is a case of 'watch this space'. Meanwhile, at the start of the month the Moon will not only be wrapping up a Full Moon but the last visit to your career sector before Venus leaves your income sector on 9th October and the asteroid Juno on 18th October. With the planet of money and the queen of commitment starting the month aligned and the Moon moving into a friendly aspect to both as it moves through, this could bring unexpected income developments as well.
Also important in more ways than one will be the Moon's return to your work sector from 18th October to 20th October. As well as giving you an intuitive read on work and job matters and acting as a trigger, a friendly aspect to the North Node and both planets in your career sector will also provide an additional nudge for anything that the Full Moon may have triggered or acted as a catalyst for. These will be a positive few days for job and career matters but as the last visit before the first planet to reach your work sector this year arrives early next month, there will also be clues to what you are lining up for.
Money
For the fourth time in as many months, you will move into the new month to find Venus, the planet of money in your income sector, something that considering that she will normally only spend 24 days here shouldn't be possible. By the time Venus returned to your income sector in early June Mars was already here, with his return in May having got the planetary activity on the income front off to an early and impassioned start. At the time, while returning earlier in the year than she normally would, for Venus this was an ordinary visit, with a chance to raise the bar on your expectations while working with the laws of attraction to attract what you deserve.
However, as time went on that changed for instead of leaving Venus started applying the brakes and while Mars left and eventually even the Sun and Mercury moved through, she instead turned retrograde. The six weeks that Venus spent in retrograde motion in your income sector has kept her here and by the time she finally leaves on 9th October this will have been her longest visit here in our lifetime and something that will have ongoing implications. As we move into the new month Venus is not on her own, with the asteroid Juno, the queen of commitment here until 18th October. Venus and Juno not only start the month aligned but have been empowered by a Full Moon in your career sector that is just running its course on 1st October.
While Venus will be working to make her final days as lucrative as possible, as the queen of commitment Juno is helping you set the kind of resolutions that can keep the momentum and the income potential going long after they leave. Helping to capture this is the Moon's visit to your income sector from 8th October to 11th October, ensuring your nose for money is sharp as Venus leaves on 9th October. With Juno ending all planetary activity on the income side of the financial fence on 18th October, this will be an important and timely visit. Meanwhile, with no planetary activity on the other side of the financial fence, the Moon's return from 22nd October to 24th October will be a valuable chance to check in on money matters.
Health
While there is no planetary activity in your health sector this month and there has been none all year that will change when the Sun, Mercury and Mars all return next month. This makes this the last month this year where there are no external influences but when there is also a chance to prepare for a more proactive period ahead. While the Sun will always return to your health sector at the same time each year, this will be Mars' first visit in two years and as he will be here then for the rest of the year, this is a chance to start working on your New Year's resolutions without the pressure of having to take action just yet. In the meantime, with no planetary activity here, the Moon's return from 18th October to 20th October will be a valuable chance to check in and especially with what your body is telling you.
---
You may also like