Aquarius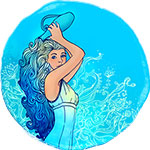 Jan 20 - Feb 18
---
Today's Horoscope
This week
This month
---
Aquarius Weekly horoscope for May 29 to Jun 4, 2023
It was last week that both the Moon and Mars clashed with Pluto, creating the first real challenge since his return to Aquarius in March and the timing couldn't be better. With the planet of change and revolution leaving at the end of next week but then returning in January to spend the next 20 years here, this has both challenged old excuses and woken you up to what matters. with Mars in your relationship sector and Venus returning next week, this not only saw your personal and relationship needs clash but has made you more aware of them, at an important time for both. While Mars already has the support of the planets in your communication sector and a Full Moon in your relationship sector will give your relationships even more support, it is adventurous lunar vibes and their friendly aspect to Pluto that will boost your personal confidence. This might have to compete with the working week but a friendly aspect to the Sun in a playful and creative part of your chart will make this a fair match.
Love & Romance
When the Moon left your relationship sector over the weekend this not only left you more emotionally engaged but with a chance to let the fog of war clear after what had been a roller coaster ride of a week. It was Mars' return to your relationship sector the weekend before that began the first planetary activity on the relationship front this year but like the Moon when it returned later last week, he moved straight into an opposition with Pluto in Aquarius. While this may have flushed out any issues while policing a balance between your personal and relationship needs from the start, it was the Moon's friendly aspect to planets in your communication sector as it moved through that has also given this a voice. With the Moon gone so too is the tension, but ahead of Venus' return next week this has also left you with a better sense of what you want from your relationships and what they need from you.
Business & Career
As she moves into her final week in your work sector, Venus is both capitalising on the path that Mars had cleared when he moved through and setting things up for the Sun and Mercury to bring home, when they return. Last year Venus was the last planet to move through, so not only did this give her little say in what way you wanted things to go, but she was also charged with tying up loose ends. This time, Venus is free to fuel your job confidence, attract opportunities and steer things in a lucrative direction knowing that the Sun and Mercury will return to bring things home. However, it is in Venus' final days before leaving early next week that things are set to come together across the income, work and career fronts. This is partly thanks to the Moon coming full circle from an eclipsing Full Moon in your career sector on Thursday and Venus' friendly aspect to Neptune in your income sector over the weekend.
Money
The Moon will have an impact on both sides of the financial fence this week, though at either end of the week and in different ways. The week begins with the Moon not only in your financial sector but aligned with the dwarf planet Ceres for the last time before she leaves. As well as fuelling your financial instincts and imagination this will be a chance to look beyond the money and into a deep dive into your financial needs and priorities. It is later in the week that the Moon will not just return for its only visit to your career sector while Venus, the planet of money is in your work sector on Thursday but will come full circle from an eclipsing Full Moon. This comes just as Venus is moving towards a friendly aspect to Neptune in your income sector, something that will peak over the weekend. With Venus leaving early next week, this will bring things together across the income, work and career fronts just as she has her eye on the money.
Health
With the Sun still three weeks away from your health sector, as she reaches her last full week here and especially as she is on her own, Venus can make it all about her own agenda. When Mars moved through the focus was on physical activity while when the Sun and Mercury return it will be more about reality checks, being informed and making choices, decisions and plans. Until then, as the planet of beauty Venus is fuelling a desire to look and feel good, which can provide the motivation to take better care of yourself while keeping Mars' call to keep moving alive.
---
You may also like