Capricorn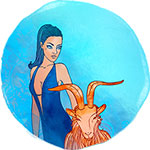 Dec 22 - Jan 19
---
Today's Horoscope
This week
This month
---
Capricorn Weekly horoscope for Oct 2 to Oct 8, 2023
From the start, there is a chance to benefit from any work/life balance reminders that a Full Moon that only just ran its course on Sunday may have brought. Falling in your home and family sector, this is a Full Moon that will always fall at some point during the Sun's month long visit to your career sector, putting your work/life balance to the test as things take off professionally. With Mars' last full week in your career sector likely to be one of the busiest, this was the right reminder at the right time. Helping you to put this into practice is not only starting the week with the Moon in a playful and creative part of your chart but during Mercury's final days in an adventurous part. These playful and creative lunar vibes have the backing of Jupiter, the largest and most powerful planet in the solar system and easing into an important week professionally, this is a chance to put those work/life balance reminders into practice from the start.
Love & Romance
Love is in the air from the start, with the Moon not only in your romantic sector until Tuesday but amplifying and expanding an already strong mix of romance, adventure and nostalgia. This is the Moon's first visit to your romantic sector since Jupiter turned retrograde here and the second since Uranus' turned retrograde there and it comes just as Mercury, moving into his final days in an adventurous part of your chart is separating from a friendly aspect to both. While Mercury is in direct motion and will be until leaving on Thursday, he has already spent weeks in retrograde motion while the Moon will also form a friendly aspect to Pluto, in his last full week in retrograde motion in Capricorn. This will amplify a now familiar mix of romance, adventure and nostalgia. Meanwhile, with no planetary activity on the relationship front, the Moon's return to your relationship sector will be a chance to check in, become more emotionally engaged and draw on support from the communication gods, especially on Friday and Saturday.
Business & Career
While the Moon left your home and family sector on Sunday, ending the Full Moon there and in the process relieving any work/life balance tension, the timing couldn't be better. With Mars not only moving into his last full week in your career sector but knowing that once he leaves next week he won't be back until 2025, he was always going to have his foot on the gas as he fights to pack as much into his final days as possible. This has been a timely reminder to pace yourself, for while Mars is wrapping up his last visit for another two years and is on a mission to fire up your professional passions, fighting and competitive spirit, this is not the end of all planetary activity on the career front. It is Mercury's return on Thursday that will make it easier to work smarter while the Moon's return to your work sector on Tuesday will put it back in harmony with the Sun and Mars, right in the heart of the working week.
Money
Four months after returning for what is usually a 24 day visit, Venus finally moves into her last seven days in your financial sector on Monday and of her longest mission to fuel your financial confidence, update your financial desires and expectations and work to turn those desires into reality in our lifetime. This is something that can not only have an impact now but has the ability to forever change your expectations moving forward. However, Venus isn't gone yet and this final week could be one of the best. The week begins with an alignment between Venus and the asteroid Juno just starting to separate, but with the planet of money and the queen of commitment staying united all week. Adding to the confidence and the resolve this is creating, support from the North Node and from the dwarf planet Eris, the warrior princess of the cosmos is giving you a chance to look to the future with confidence and to come out fighting when it comes to turning desires into reality.
Health
With no planetary activity in your health sector, the Moon's return each month is always a valuable chance to check in, but it is the timing that will make this month's visit more effective. Moving through from Tuesday to Thursday, the Moon will be here in the heart of the working week and when the demands on your physical resources are likely to be at their highest. This will be both a read on what your body is telling you and of the demands that life is putting on it. At the same time a friendly aspect to the Sun and Mars as it passes through is going to boost your confidence and motivation.
---
You may also like