Capricorn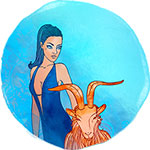 Dec 22 - Jan 19
---
Today's Horoscope
This week
This month
---
Capricorn horoscope for October 2023
While October is a month where there is a lot of change and movement, there is also a lot of variety and that is going to make having the right work/life balance more important than ever. With the Sun always spending the first three weeks of October in your career sector, this is always an important point in any professional year and especially as you have had Mars here since August. Until leaving on 12th October, Mars will continue to fire up your professional passions, fighting and competitive spirit, with Mercury returning on 5th October with a chance to get your head in the game and gain more control on where to channel this.
Mercury will also be here when the Moon not only aligns with the Sun to create a New Moon on 15th October, but because of its close proximity to the South Node here this will not only be a solar eclipse, but a powerful one at that. With Mercury leaving on 22nd October and the Sun a day later, this is going to create a lot of momentum and it has the potential to be a wildcard. This makes this one of the more important months of this professional year, but it comes just as the playful, creative and adventurous side of life's fence is also getting a boost.
Mercury will leave an adventurous part of your chart empty when he leaves on 5th October but not for long, with Venus returning four days later on 9th October and the asteroid Juno, the queen of commitment nine days later on 18th October. Both will be here for the second eclipse this month, this time a lunar eclipse in a playful and creative part of your chart on 29th October. With Jupiter and Uranus in their first full month in retrograde motion here and Venus and Juno moving into a friendly aspect to both as they move through, things won't be going off the boil on the playful, creative and adventurous side of life's fence anytime soon.
Love & Romance
The love gods are dialling up something special this month, with a bit of magic in the air, the promise of both new beginnings and second chances and even the element of fate coming into play as well as the element of the unexpected. It was last month that both Jupiter and Uranus turned retrograde in your romantic sector and they will stay in retrograde motion for the rest of the year. Uranus, as he has done at this time each year since he returned in 2019 and will do until leaving in 2026 but for Jupiter, for the first time in 12 years and for the last time for another 12 years.
Your luckiest year for love in over a decade began in May and won't end until May 2023, but this is when the focus shifts more to the past and second chances. With no other planets in your romantic sector, apart from the Moon's monthly visit, you shouldn't expect anything more than what you see at the start of the month, with a strong sense of romantic nostalgia, the doors open to the past and second chances but no other significant changes. However, the love gods have some wildcards up their sleeves that are set to turn this into something magical.
The first is Venus, the planet of love's return to an adventurous part of your chart on 9th October, with a chance to finally begin her mission to bring the spirit of romance and adventure together. Until leaving on 8th November Venus will be working in harmony with Jupiter and Uranus in an adventurous part of your chart and will move into a friendly aspect to both, something that will bring the spirit of romance and adventure even closer. What will add to this is the Moon's two visits to your romantic sector, first from 1st October to 3rd October and again from 29th October to 31st October. However, it is the second visit that holds the real magic for it will not only return as a Full Moon but as a lunar eclipse.
Business & Career
Because the Sun will always spend the first three weeks of October in your career sector, the solar spotlight is always on your career and professional situation, matters and options at this time of year. However, the difference this year is just how much water had already passed under the bridge before the Sun returned last month or how far it will extend out the other side. By the time Mars returned in August to begin his first visit in two years, the dwarf planet Ceres had already been here for months, with her last deep dive into your professional needs and priorities for another four years giving you a sense of where to channel his professional passions, fighting and competitive spirit from the start.
Ceres left a week before the Sun returned but by the time the solar spotlight shifted onto your career situation and matters it was with a clear sense of your needs and priorities from the start. Especially when it comes to professional satisfaction and a sense of purpose, something that has made it easier to target or channel Mars' warrior and competitive spirit. Mars will leave on 12th October but the momentum he has created will be in safe hands, with Mercury returning from 5th October to 22nd October to help you get your head in the game and become more mentally focused.
It is while Mercury is here that the Moon will not only move through from 13th October to 16th October but will create a solar eclipse here on 15th October. It is having the South Node here that is turning an ordinary New Moon into a powerful solar eclipse, one that has the potential to create major new beginnings or set things in motion that will have an impact months down the line. Having the South Node here will also keep the seat warm after the Sun leaves on 24th October and before Venus can return early next month in order to take over from where he leaves off. What Mars began with his return in August won't run its course until Venus leaves in early December.
Money
There is reason for confidence and everything you need on both sides of the financial fence this month, even though by the end of the month there will be no planetary activity in either. The month not only begins with Venus and the asteroid Juno, one the planet of money and the other the queen of commitment not only still in your financial sector but aligned, giving you the resolve and the confidence to take your financial power back. However, this is also the beginning of the end, both of Venus' extraordinary visit and to all planetary activity on the financial front for the year.
It was Mars' return in May that began the planetary activity here, with his first visit in two years a chance to fire up your financial passions and fighting spirit as he brought a chance to take your financial power back. It was just a few weeks later that Venus returned for what is normally a 24 day visit that gives the planet of money a chance to fuel your financial confidence, update your financial desires and expectations and work to turn those desires into reality. However, those 24 days came and went and while Mars left and both the Sun and Mercury moved through, instead of leaving a six week retrograde phase means that Venus is still here. By the time Venus leaves on 9th October this will have been her longest visit to your financial sector in our lifetime, something that will have long term implications.
It is nine days later that the asteroid Juno will leave on 18th October, ending all planetary activity in your financial sector and her last visit for another four years. The Moon's return from 8th October to 10th October will ensure your financial instincts are sharp and you are emotionally and intuitively engaged as Venus leaves, with a chance to capture both her desires and expectations and Juno's sense of resolve. It is two weeks later that the Moon will not only move through your income sector from 22nd October to 24th October but in time to ensure your nose for money is sharp and to act as a trigger during the Sun's final days in your career sector.
Health
With no planetary activity in your health sector and none due until the Sun and Jupiter return in May, it is the Moon's monthly visits that are key to staying on track and up to date with what your body is telling you. The Moon will move through from 3rd October to 5th October, something that in the early part of the month and in what will be the heart of the working week will give you a read on what your body is telling you during life's real time demands. This is an ordinary monthly visit, with no challenges but where a friendly aspect to Venus, the planet of beauty could fuel your confidence and motivation. The Moon will come full circle on 31st October, allowing you to end the month in touch with what your body is telling you.
---
You may also like