Taurus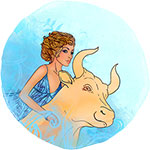 Apr 20 - May 20
---
Today's Horoscope
This week
This month
---
Taurus Weekly horoscope for Jun 27 to Jul 3, 2022
Venus' departure from Taurus last week, over a month after your birthday month ended, has brought you to the point in most years when you are ready to tie up loose ends as your focus turns to the journey that this new solar year will take you on. With most of your options on the table and Venus having already given your heart a voice, there shouldn't be anything more that you are waiting for. However, this year that is not the case, with Mars' return to Taurus next week opening the doors to a whole new raft of possibilities. Until then, there is a chance to let things settle as you focus instead on Venus' first and Mercury's last full week in your income sector. Starting the week with the Moon in your income sector will be an advantage, sharpening your nose for money just as you move into what could be some of the most lucrative weeks of the year. Meanwhile, Wednesday's New Moon can give the communication lines a boost in the heart of the Sun's first full week in your communication sector.
Love & Romance
The Moon's departure from Taurus over the weekend was always going to leave you feeling more emotionally engaged along with a better sense of what you want from your relationships and what they need from you. This was the Moon's first visit to Taurus since Venus, the planet of love left just a few days earlier, amplifying the romantic and relationship desires and expectations for the coming year that she has left you with. It is the Moon's monthly visits to your sign that will also see it cross the lunar nodes, which for the rest of this year are policing a balance between your personal and relationship needs. As the Moon can act as a trigger, this can flush out any balance issues. This is something that the Moon can help you give a voice to when it returns to your communication sector on Tuesday. This first visit since the Sun's return to your communication sector, with a friendly aspect to the South Node in your relationship sector will turn things around.
Business & Career
While starting the week with the Moon in your income sector is good news financially and especially with Venus in her first and Mercury his last full week here, this is also good news professionally. It was just before the Sun left your income sector last week that he spent his final days at a friendly aspect to Saturn, still in his early weeks in retrograde motion in your career sector. This is something that the Moon will repeat before it leaves your income sector on Tuesday but also that Mercury will repeat over the weekend. In the first full week of her mission to make the coming weeks as lucrative as possible, Venus will be watching with interest the bond that is forming between new income and untapped professional potential. This is something that will deepen further in the second half of the year, with positive conditions on both fronts this week just a taste of things to come.
Money
Starting the week with the Moon in your income sector is always an advantage, giving you a sharp nose for money and a lucrative sense of direction from the start while also potentially acting as a trigger. Even more so when this is Venus, the planet of money's first and Mercury's last full week in your income sector. Venus has returned to begin what can be the most lucrative weeks of any year just days after the Sun left last week and in time to take advantage of Mercury's smart head for money and access to everything that has passed under the bridge over recent months. The Moon aligned with Venus shortly after returning over the weekend but an alignment with Mercury on Monday will bring a sharp nose and head for money together, just as you move into one of the most defining weeks of the year on the income front. The Moon's friendly aspect to Saturn before leaving on Tuesday and Mercury's over the weekend will further cement a bond between new income and untapped professional potential.
Health
While there is a call to pace yourself this week there is also a sense of change in the air. Mars, the planet that gives us our get up and go and especially when it comes to being physically active, has come to the last full week of this current cycle, a point in a two year period when you could be running on empty. However, with Mars due to return to Taurus with a fresh load next week, your sixth sense will already be preparing for more active times ahead. For now, the mind might be willing but the body not so much but it will soon catch up.
---
You may also like