Taurus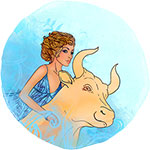 Apr 20 - May 20
---
Today's Horoscope
This week
This month
---
Taurus horoscope for June 2022
While the Sun left Taurus on 21st May, bringing your birthday month to a close, you have yet to explore all your options for the coming year, something that will have an especially long tail this year. Held back by a retrograde turn late last year, Venus is running behind schedule and didn't return until late last month, eight days after your birthday month ended. Mercury, who not only returned to Taurus in April but left in the early days of your birthday month retrograded back in two days after the Sun left and will also begin the month here. Until turning direct on 3rd June, Mercury brings a chance to spend time back at the drawing board.
While Mercury will leave Taurus on 14th June and Venus on 23rd June, even then you haven't fully explored all your options for the coming year, with Mars returning early next month for his first visit in two years. Meanwhile, it is then that Venus and Mercury will follow the Sun into your income sector. Mercury is returning for the second time this year, giving you the smart head for money needed to get your head back in the game but this time with 20/20 hindsight and an opportunity for a do over. As the planet of money, it is Venus' return that will begin what can be the most lucrative weeks of any year.
It is while the Sun and Mercury are here that the Moon will move through your financial sector, with a Full Moon on 14th June energising both sides of the financial fence. Meanwhile, at the same time that Mars is spending the whole month in a nostalgic and reflective part of your chart where he is bringing home your current Mars cycle, Jupiter is spending his first full month here. This has begun the 12 month wind down of your current 12 month Jupiter cycle of expansion as you prepare for the planet of luck and expansion's return to Taurus in May 2023. This is adding to a lack of urgency and a sense that you have time to explore your options as you move into this new solar year.
Love & Romance
This is one time when better late than never really is an advantage. Held back by a retrograde turn late last year, Venus has been running behind schedule and by the time the Sun left Taurus last month, bringing your birthday month to a close, the planet of love was still a no show. However, that changed in the final days of last month, with Venus still in her early days in your sign as you move into the new month. Not leaving until 23rd June and with the more mundane job of getting your new solar year off the ground over, she can focus more on not just updating your romantic and relationship desires and expectations but on turning desires into reality.
It is the Moon's monthly visits to your romantic and relationship sectors that will help with this, with the planet of love not only adding her magic touch but drawing on a chance to become more emotionally engaged. The Moon's return to your romantic sector from 6th June to 9th June will make these some of the most romantically charged days of the month, with their friendly aspect to Venus amplifying her influence. This will leave you with a much better sense of what you want from love moving forward.
While the Moon will form a friendly aspect to Venus as it moves through your romantic sector, they will clash when it makes its monthly visit to your relationship sector from 11th June to 13th June. Coming full circle from last month's eclipsing Full Moon this will once again put a balance between your personal and relationship needs to the test. However, this time with the planet of love using this to get to the heart of what you want from your relationships and what they need from you. As it moves through the Moon will form a friendly aspect to the dwarf planet Ceres in your communication sector, something that will help to keep the communication lines open.
Business & Career
As he is still the only planet in either of your two professional houses, to have Saturn at a standstill in your career sector as you move into the new month is putting the brakes on. While the breakneck pace of this professional year did dial back once Venus and Mars left your career sector in April, it wasn't until Saturn started slowing down that the brakes started to come on, giving you a much needed chance to move into the slow lane. Saturn has come to a standstill as he prepares for his retrograde turn on 5th June, something that will give you a chance to pull right back and over the coming months, go back over ground already covered.
So much has happened in such a short time since Jupiter left at the end of last year that at the time all you could do was gloss over things, do what you could at the time and hope that you would have a chance to come back for a closer look once the pace dropped back. Saturn's retrograde turn is that chance and while he will soon start moving again, instead of moving forward he will be moving back over ground already covered. While this won't affect day to day work and job matters, it does mean that for now the overall focus of this professional year will be on what is already on the table.
The Moon will make its first visit to your career sector while Saturn is in retrograde motion from 17th June to 19th June. As well as fuelling your professional instincts and imagination, this will be a valuable chance to check in and get a sense of the impact this has had. Meanwhile, with no planetary activity in your work sector, the Moon's return from 9th June to 11th June will give you an intuitive read on work and job matters and potentially act as a trigger. This will put the Moon at a friendly aspect to Saturn but also to the Sun in your income sector, making these some especially good days across the income, work and career fronts.
Money
Because the Sun will always spend the first three weeks of June in your income sector, the solar spotlight is always on your income situation, matters and options at this time of year. With none of the outer or major planets in your income sector and just the Sun and the faster planets passing through each year, this can be a short, standalone period where there is one chance to exploit income potential. In some years, the planetary activity on the income front can be condensed into a period of less than five weeks. That is not the case this year.
Even before the Sun returned on 21st May a lot of water had passed under the bridge. Last month began with Mercury in the early days of what is normally a 14 to 15 day visit and Ceres in the final weeks of what is normally a three month visit. Except Ceres had been here since July 2021, with a 10 month deep dive into your income needs and priorities just coming to an end as Mercury returned with a chance to get your head in the game. However, like Ceres, a retrograde turn kept Mercury here and while he did retrograde back out two days after the Sun's return, a direct turn on 3rd June will see him return on 14th June.
Held back by a retrograde turn late last year, Venus will finally return to your income sector on 23rd June, missing the Sun by two days but joining forces with Mercury to begin what could be the most lucrative weeks of the year so far. However, with Mars returning in August to begin a seven month visit, planetary activity in your income sector will not only continue for the rest of this year but will continue to expand. This makes starting the month with the Moon here an advantage and while it leaves on 1st June, wrapping up a New Moon late last month it will come full circle from 26th June to 28th June. June is just one link in an ongoing chain but a pivotal one, with the Sun making everything more transparent.
Health
While your new solar year is underway and this is usually a time of year when there is a lot more energy and heightened enthusiasm, you may find that something is holding you back. Instead of fighting this or feeling that there is something wrong with you if you feel unmotivated or lethargic at times, lean into and embrace this. This is coming from the fact that you are coming to an end of a two year Mars cycle, with the planet that gives us our get up and go instead encouraging you to recharge your batteries ahead of his return to Taurus early next month. The Moon's return to your health sector from 9th June to 11th June will give you a better read on what your body is telling you and especially when it comes to its needs.
---
You may also like