Taurus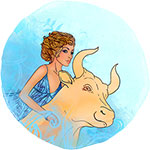 Apr 20 - May 20
---
Today's Horoscope
This week
This month
---
Taurus horoscope for January 2022
There are some big changes underway that are set to make 2022 a very different year to 2021 but without taking away from the advantages already gained. This is less a letting go of the past and more a case of branching out. A case in point is on the professional front, where Jupiter's departure from your career sector in the closing days of 2021 ended his 12 month focus on professional expansion but where things will continue to develop. Saturn is not only staying on until 2023 with the determination to do whatever it takes for as long as it takes but help is on the way.
It begins with Mercury's return to your career sector on 2nd January, with the Sun's return on 20th January something that will always turn the solar spotlight onto your career and professional situation, matters and options at this time of year. At the same time, in his first full month in your sector of friendship, teamwork and networking, Jupiter has joined forces with Neptune to make this a major theme in 2022. The North Node's return to your relationship sector on 19th January will set in motion what is set to be an important year for personal and professional networking, friendship and relationship building.
At the same time, while the Sun will always spend the first three weeks of January in an adventurous part of your chart, even his departure and return to your career sector on 20th January won't shift the focus away from life's more adventurous aspects. After leaving on 2nd January, Mercury will retrograde back in to find the Sun gone and Mars here in his place. After spending until 25th January fuelling your financial passions and fighting spirit, Mars will join not only Mercury but Venus and Pluto in an adventurous part of your chart, where he will spend the next six weeks fuelling a passion for adventure.
Love & Romance
Beginning the year with Venus, the planet of love not only in an adventurous part of your chart but in retrograde motion is creating a strong mix of romance, adventure and nostalgia from the start and this will only deepen as the month progresses. While Venus won't turn direct until 29th January, she will need to come to a standstill and as the month progresses will begin slowing down. The slower the planet the more potent it becomes and so too will a mix of romance, adventure and nostalgia. Adding to a sense of nostalgia is the fact that you also have the dwarf planet Ceres in retrograde motion in Taurus until 15th January.
The Moon will make its first visit to your romantic sector for the year from 21st January to 23rd January, just as Venus is slowing down ahead of her retrograde turn a week later. A friendly aspect to Venus as it passes through will see these romantically charged lunar vibes add even more fuel to a mix of romance, adventure and nostalgia. It is just a few days before the Moon returns that an event that will make 2022 a very different year to 2021 happens and it will have a big impact on your relationships throughout the coming year. What I am talking about is a shift in the lunar nodes on 19th January.
For the first time in 18 years, the North Node will return to Taurus and the South Node to your relationship sector and for the next 18 months, they will police a balance between your personal and relationship needs. This is something that the Moon will put to the test when it returns to both each month, starting with the Moon's first visit to your relationship sector for the year from 25th January to 27th January. This makes the first Full Moon of 2022, falling in your communication sector on 18th January a valuable chance to go into this with the communication lines open from the start.
Business & Career
While Jupiter, the planet of luck and expansion left your career sector at the end of December, not only will career matters continue to evolve but they have moved into a brand new chapter. When Jupiter and Saturn both returned to your career sector in December 2020 it had been the first time that they were here at the same time in six decades. Jupiter is a planet that is all about possibilities, bold thinking and until he left just days before the New Year, his focus was on the impossible dream. This has allowed you to move into this new professional year with high expectations but also with a not so secret weapon.
Had this been any of the visits that Jupiter will make every 12 years, high expectations and some momentum is all that you would have been left with. Instead, while Saturn might be the hard taskmaster of the cosmos, here now until 2023 he is giving you the resolve and the discipline needed to do whatever it takes for as long as it takes. Where 2021 was a year for establishing what's possible, 2022 is the year for making this happen. In the meantime, while Saturn and Jupiter are big picture planets, things are about to become a lot more real and very soon, with Mercury's return ushering in a more practical phase on 2nd January.
This is the start of the process of getting this professional year up to speed in a hands on, real time way that won't fully peak until March and into April. However, it starts with Mercury's return for what should be a 14 to 15 day visit aimed at giving you the intellectually savvy edge and articulation needed to work smarter, get your head in the game, ideas on the table and the communication lines open. Instead, a retrograde turn on 15th January will see Mercury retrograde back out on 26th January, only to return next month and then not leave until March, which is when Venus and Mars will return. By the time the Sun returns on 20th January, you will already have a lot of new options on the table. It is just days later that the Moon will make 23rd January to 25th January good days for work and job matters.
Money
For the last 20 months, the lunar nodes have been policing a balance between money coming in and money going out, with the Moon's return to your income and financial sectors each month putting this to the test. On 19th January the lunar nodes will leave, with the North Node's departure from your income sector leaving you with a lucrative sense of direction while the South Node's departure from your financial sector will leave you with a deeper appreciation of the past. This will end the tension between both sides of the financial fence though not before the Moon puts this to the test twice more before they leave.
The year not only begins with not only the Moon in your financial sector but Mars as well, fuelling your financial instincts, imagination, passions and fighting spirit from the start. As has been the case for the last 20 months, this will see the Moon align with the South Node while opposing the North Node in your income sector. This will put a balance between money coming in and money going out to the test, though from a financial perspective. It is two weeks later that the Moon's first visit to your income sector for the year will do the same again from 13th January to 16th January, this time from an income perspective.
This has happened every two weeks, swinging from one side of the financial fence to the other for the last 20 months but will end when the lunar nodes leave on 19th January. You will get the full impact from this when the Moon returns for its second visit to your financial sector for the year from 27th January to 29th January. With the lunar nodes gone and Mars having left your financial sector two days earlier on 25th January, there will be no competition or tension and simply a chance to listen to your financial instincts and imagination. Mars' departure will end all planetary activity on the financial front, with the Moon bringing a chance to tie up loose ends.
Health
If you are not brimming with energy from the start, ready to hit the ground running without missing a beat then you can thank the stars for that. And that really is a case of thank rather than blame, for this is one year when holding back will work to your advantage. You may even find that any New Year's resolutions are half hearted or non existent, as you look to make life as easier on yourself as possible. This is something that you need to lean into for this is a month for recharging your batteries and not for running them down. That should change in the second half of the month, with a lot more energy and motivation by the time the Moon returns for its first visit to your health sector for the year from 23rd January to 25th January.
---
You may also like