Sagittarius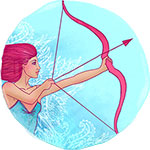 Nov 22 - Dec 21
---
Today's Horoscope
This week
This month
---
Sagittarius Weekly horoscope for May 29 to Jun 4, 2023
The Moon is set to be a pivotal influence this week and because of its rapid pace through the heavens, this means across several areas of your life. The week begins with the Moon not only in your career sector but making its first visit since the Sun left and Jupiter returned to your work sector. This will not only ensure you move into the new working week with your professional instincts sharp from the start, but with a window into the changing dynamics of this professional year. It is in the heart of the working week that the Moon will join forces with the Sun in your relationship sector to make Tuesday to Thursday especially good for all aspects of personal and professional networking, friendship and relationship building. However, the most important will be the Moon's return to Sagittarius over the weekend, creating the Full Moon that brings you to the halfway point in this current solar year and with it a chance for a reset.
Love & Romance
With the Moon already in your relationship sector when the Sun returned and not due to come full circle as a Full Moon until just before he leaves and Mercury, the planet of communication not returning until later next week, there is little if any urgency. By the time you move into the new week the Sun has been here for just over a week, with the solar spotlight on your relationships but with little pressure or urgency. This might become more heated when the Moon not only returns to Sagittarius on Saturday but as a Full Moon, but long before that there is a chance to prepare for any buttons this might push. It is the Moon's return to your friendship sector from Tuesday to Thursday that will not only see it form a friendly aspect to the Sun but to Pluto in your communication sector, with a chance to get the communication lines open ahead of time. This is a Full Moon that will always fall at some point during the Sun's month long visit to your relationship sector and is key to understanding what you want from your relationships and what they need from you.
Business & Career
Moving into the new working week with the Moon in your career sector is always an advantage and at any time of year, this would ensure your professional instincts and imagination are fuelled and you are emotionally and intuitively engaged from the start. However, this comes at a pivotal point in this professional year, giving you the right insight at the right time. It was just 12 days earlier that Jupiter returned to your work sector to begin your biggest year for job growth and expansion in 12 years, with the Moon having already moved into a friendly aspect when it returned over the weekend. This is not just the Moon's first visit since Jupiter's return, since the Sun left and the last before Mercury leaves your work sector later in the week but before the dwarf planet Ceres leaves your career sector. This will bring things together across the job and career fronts while giving you a better read on your professional needs and priorities.
Money
While Venus will be spending her last full week in your financial sector alone, she will get a little help from the Moon in the final days of her four week mission to fuel your financial confidence, update your financial desires and expectations and works to turn those desires into reality. Venus won't leave until early next week, but with the Sun and Mercury returning after she leaves to tie up loose ends, her mission to focus on the 'what' rather than on the when, where and how will get an additional boost towards the end of the week. It starts with the Moon's return to an intuitive and imaginative part of your chart on Thursday, something that will see it form a friendly aspect to the planet of money as it moves through. This is enough to fuel your financial confidence, instincts and imagination but what will take this to a whole new level is Venus' friendly aspect to dreamy Neptune over the weekend.
Health
While there is still a lot of focus on your health from the stars, this is starting to separate into two different approaches or areas of focus. As you move into the new week Jupiter has only been in your health sector for 12 days and is focused more on setting the kind of goals that you will have the next 12 months to work towards. At the same time, leaving your health sector at the end of next week Mercury is focused on the information and knowledge gathering that can help you make short term choices, decisions and plans.
---
You may also like