Sagittarius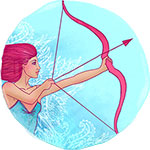 Nov 22 - Dec 21
---
Today's Horoscope
This week
This month
---
Sagittarius horoscope for June 2022
Even though this is a good month for work and job matters and for untapped income potential as well, this is being balanced by stars that will make it all but impossible to make this a month that is all work and no play. While the Sun left your work sector last month, it was just two days later that Mercury, who had left at the end of April retrograded back in. This came just as Venus, held back by her own retrograde turn late last year finally returned at the end of last month. Mercury will turn direct on 3rd June, pushing the pause button just long enough to ensure you don't rush into the new month.
With Mercury here until 14th June, Venus until 23rd June and Mars returning next month, this will be a good month for work and job matters but without any urgency. Instead, as Venus is the planet of money and she and Mercury will both work with Pluto, in retrograde motion in your income sector this has the potential to be a lucrative month as well. Yet while the stars on the income and job fronts aren't demanding any urgency or an all or nothing approach, what is stopping that from even being a consideration is Mars and Jupiter.
Mars and Jupiter not only begin the month in a fun, playful, romantic and creatively charged part of your chart but aligned, having come together for the first time here in over a decade. While Mars will leave early next month, apart from a short break later in the year, Jupiter is here until May 2023. This is making a balance between work and play not only achievable but the natural default, something that other areas of your life will benefit from. In particular your relationships, with the Sun always spending the first three weeks of June in your relationship sector. With Mercury returning on 14th June and Venus on 23rd June, the planets of communication and love will end the month here.
Love & Romance
Because the Sun will always spend the first three weeks of June in your relationship sector, the solar spotlight is always on your relationships at this time of year. The month begins with the Sun and Moon both in your relationship sector and with the New Moon this had created in the closing days of May just running its course. The Moon will leave on 1st June but in the process, this allows you to begin the month emotionally engaged and with the opportunity for a fresh start that a New Moon provides. By this point, a huge amount of water has already passed under the bridge.
It was earlier last month that the dwarf planet Ceres left, wrapping up a 10 month deep dive into your relationship needs and priorities while Mercury, the planet of communication was already here when the Sun returned. Mercury retrograded back out last month but will return on 14th June, in time to ensure the communication lines are open during the Sun's final seven days here, as only the planet of communication can. While the Sun will leave on 21st June, Mercury will stay on while Venus, the planet of love will make a belated return next month. The Moon will come full circle from 26th June to 28th June, bringing another chance to check in.
Meanwhile, while things are usually dialling back on the romantic front by this time of year they are instead surging. While Venus left your romantic sector late last month, the month not only begins with Mars and Jupiter here but aligned. This is the first full month of your luckiest year for love in over a decade and while Venus has moved on, she was here when Mars returned. Mars will spend the whole of June here, working throughout that time to fuel your romantic passions and fighting spirit. This will get a boost from the Moon when it moves through from 21st June to 23rd June, returning within hours of the Sun's departure from your relationship sector.
Business & Career
While the Sun left your work sector on 21st May, you not only begin the month with Venus and Mercury here but with yet another wave beginning early next month. The only reason why Venus and Mercury are even here is due to their retrograde turns, one historic and the other current. While Venus turned retrograde late last year and has been in direct motion for over four months, it has put her behind schedule, making this a late return to your work sector. Normally Venus has been and gone by now but instead, will continue to fuel your job confidence, attract opportunities and steer things in a lucrative direction until leaving on 23rd June.
Mercury did leave at the end of April, but a retrograde turn last month saw him retrograde back in for a second visit just two days after the Sun left. Mercury is still in retrograde motion as we move into the new month, with your head in the game but more focused on where you have been rather than where you have going. This is a valuable chance to return to the drawing board but also to retrace your steps, arming you with a lot more insight by the time he turns direct on 3rd June. Mercury will leave on 14th June and Venus on 23rd June, giving you a chance to catch your breath before Mars returns early next month.
Mars is not associated with the annual update that the Sun, Mercury and Venus give work and job matters each year but returning just 12 days after Venus leaves to begin the busiest two months of the year on the job front, he will benefit from their time here. This makes June a continuation of recent months but also a stepping stone to even bigger developments on the job front in July and August. The Moon will return to your work sector on 23rd June, the same day that Venus leaves and until leaving on 26th June will offer a chance to both check in and tie up loose ends before Mars returns to begin a new wave.
Money
While the dynamics of this financial year are shifting and by the end of the month money matters will be more dominant, at the start of the month both sides of the financial fence are balanced in a way that they haven't been until now. Until just a few weeks ago, all the planetary activity was in your income sector and there had been no planetary activity in your financial sector since the Sun left last July. It was at the end of January that Pluto, now on his own in your income sector, turned retrograde and moved income matters into review mode, with enough banked to keep the wheels moving without the stars having to invest anything new.
This is something that you will benefit from as Venus and Mercury both work to make their final weeks in your work sector count. Before Mercury leaves on 14th June and Venus, the planet of money on 23rd June they will both form a friendly aspect to Pluto, exploiting his access to untapped income potential as they open new doors on the job front. This is something that the Moon's return to your income sector from 15th June to 17th June will help you exploit, with a chance to sharpen your nose for money and act as a trigger.
In the meantime, it was the dwarf planet Ceres' return to your financial sector last month that began the first planetary activity on this side of the financial fence since the Sun left last July. Because Ceres is less focused on the money and more on understanding your financial needs and priorities, this is fairly low key. However, this will prove to be a huge advantage when the Sun returns to your financial sector on 21st June, turning the solar spotlight onto your financial situation and money matters as it does at this time each year. The Moon's return on 28th June and the New Moon this will create on 29th June will give this new financial chapter a boost and a chance for a fresh start.
Health
While the Sun left your health sector last month, taking the solar spotlight off your health needs, situation and matters, there is still a lot of focus. However, instead of the Sun's reality checks, the focus is more on Venus' desire to look and feel good and Mercury's focus on communication and information gathering. Mercury is here until 14th June and as this is a repeat visit, there is a chance to revisit things, reschedule appointments or make better sense of things in hindsight. Venus is here until 23rd June, continuing to provide motivation until she leaves. It is just a few days later the Moon will return, with a chance to check in with what your body is telling you from 23rd June to 25th June.
---
You may also like