Libra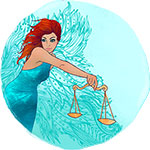 Sept 23 - Oct 22
---
Today's Horoscope
This week
This month
---
Libra horoscope for October 2023
With the Sun always spending the first three weeks of October in Libra, whether you are a late September or an October born Libran, this is your birthday month and the launch of a new solar year. This year you have the advantage of not only being more ready for this than in most years but having the means to grab this by the horns and run with it. Because the Sun returned to Libra on the September equinox, as it does at this time each year and even before Mars returned in August to begin a new two year Mars cycle, you were already developing a sense of what you want from this new solar year.
It began as far back as last December when the dwarf planet Ceres returned for her first visit to your sign and her first deep dive into your needs and priorities in four years. Ceres did leave in March but then retrograded back in three months later. Ceres was still here when Mars returned and only left a week before your birthday month and new solar year began, giving you a sense of purpose from the start. While Mars will leave Libra on 12th October he is giving you the drive to embrace the future head on, with Mercury returning from 5th October to 22nd October to give you a better sense of where to channel this.
Mercury will be here when a New Moon on 15th October will not only bring an opportunity to draw a new line in the sand but as a solar eclipse will bring an opportunity for major new beginnings. Meanwhile, it is on 12th October that Mars will join up with Ceres again, this time in your income sector as he returns with the drive to fight for what you deserve and as she takes you on a deep dive into your income needs and priorities. Mercury will return on 22nd October with the smart head for money needed to keep your head in the game and to think on your feet, while the Sun will return a day later. This time all four will be meeting up in the same place at the same time.
Love & Romance
The month begins with the Moon in its final hours in your relationship sector and while it will leave on 1st October, this will do more than just allow you to begin the month emotionally engaged from the start. What you have is the tail end of a Full Moon two days earlier and within hours of the Moon's return. While this is the first Full Moon since the North Node returned to your relationship sector and it is the lunar nodes that turn an ordinary New or Full Moon into an eclipse, this one wasn't close enough. It is not until just before the Moon leaves on 1st October that it will align with the South Node, stretching out the potency of this Full Moon to the very end.
This is a Full Moon that will always fall at some point during your birthday month and as the Sun and Moon clash, this can stress test a balance between your personal and relationship needs. However, with the lunar nodes policing that balance until they leave in early 2025, this is just making things more transparent. The Moon will leave but with the North Node and both planets in your relationship sector staying on, this is a chance to start the month with a better sense of what you want from your relationships and what they need from you.
The Moon will come full circle from 26th October to 29th October to find the Sun gone and a lot less pushback. Meanwhile, with no planetary activity on the romantic front, the Moon's return to your romantic sector from 22nd October to 24th October is going to give the spirit of romance a boost. The Moon will return to find that Venus is now in a nostalgic part of your chart, with the planet of love finally beginning her long overdue nostalgic trip down love's memory lane that will end with her return to Libra on 8th November.
Business & Career
While both planets in your work sector are still in retrograde motion and will be for the whole of October, there are signs of change in the air. Both in terms of a sense that there is a turnaround ahead and because of an increased level of confidence. While Neptune won't turn direct in your work sector until early December, Saturn is already slowing down ahead of a direct turn on 4th November, something that by the end of the month will be just a few days away. Saturn does have the brakes on and things might be slowing down, but it is in order to prepare for a turnaround ahead.
With the Moon making its last visit to your work sector while Saturn is in retrograde motion from 24th October to 26th October, you will get a better read then of both the turnaround ahead and of when to hold back and when to push on. This is also when confidence that has been building all month is likely to spike, thanks to the growing amount of planetary activity on the income front. As was the case when the dwarf planet Ceres returned to your income sector last month, when Mars returns on 12th October, Mercury on 22nd October and the Sun on 24th October, they will all spend their first few days at a friendly aspect to Saturn.
Having the Moon in your work sector during the Sun's first few days will make this especially timely. This will put the Sun, Moon and Saturn in harmony while making these a powerful few days on the income and job fronts. Meanwhile, while there is no planetary activity in your career sector, when the Moon moves through from 6th October to 8th October this will do more than just fuel your professional instincts and imagination. As the Moon moves through it will form a friendly aspect to Ceres in your income sector and to both planets in your work sector, making these a positive few days across the income, work and career fronts.
Money
The dynamics of this financial year are changing and while this began last month, as the month progresses this will become a lot more obvious. Until now all the planetary activity has been in your financial sector, the side of the financial fence where the focus is on your financial situation and money matters and especially when it comes to what you do with and how you manage the money you have. With Jupiter making this a big year for financial growth and expansion, this was and still is the side of the financial fence where the power lies. It is not that money matters are about to lose their power and more that the income side of the financial fence is about to find its power and with perfect timing.
Both Jupiter and Uranus turned retrograde in your financial sector last month and they will remain in retrograde motion for the rest of the year, putting money matters into review mode. This means that while things are about to move on the income side of the financial fence and there will be clashes, with money matters now more focused on the rear view mirror, everything forward looking can now be occupied by income matters. The month begins with the dwarf planet Ceres in your income sector but as she makes her first visit in four years, she is less focused on the money and more on understanding your needs and priorities.
It is on 12th October that everything will change. With your income needs and priorities starting to take shape and both planets in your financial sector settled into their retrograde phase, this is the perfect moment for Mars to return for his first visit to your income sector in two years. As the warrior planet of the cosmos Mars means business, with his return a chance to start fighting for what you deserve as he kicks off the most lucrative months of 2023. The Moon's return from 16th October to 18th October might see early signs of this, as it returns to sharpen your nose for money and act as a trigger. With Mercury returning on 22nd October and the Sun here by 22nd October, once unleashed there will be no stopping the momentum on the income side of the financial fence.
Health
As Saturn, the hard taskmaster of the cosmos spends his last full month in retrograde motion in your health sector and as he prepares for a direct turn on 4th October, this makes this a month for learning from the past or even taking responsibility for the past. However, there is also the support that can not only help you maintain your confidence but to see this as a chance to take your power back. Neptune will continue to provide the motivation and can promote wishful thinking, while Saturn can give you the resolve to do whatever it takes for as long as it takes in order to make this a reality. The Moon's return to your health sector from 24th October to 26th October will give you a better read on their influence and also on what your body is telling you.
---
You may also like