Snake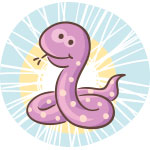 2013, 2001, 1989, 1977, 1965, 1953
---
Nov 30, 2023
Dec 1, 2023
Dec 2, 2023
---
Thursday, November 30, 2023
Love and friendship will flourish today. Your creativity allows you read people and understand them on a profound level, making you indispensable to those around you. Make sure you keep a secret you may initially be tempted to share with someone close.
Snake Weekly Horoscope: Nov 27 to Dec 3, 2023
For the Snake, the month of the Pig can be a challenging month, for not only are you opposites but at the halfway point in your personal 12 month lunar cycle this can bring the challenges and wakeup calls needed to take advantage of the opportunity for a reset that this is. However, as you move into the new week a Snake Moon is just running its course. If the Snake the Pig were going to butt heads this is when it would have been and with Monday's Full Moon bringing you to the halfway point in the month of the Pig, things will start defusing from this point. If this does flush out any issues, a Goat Moon from Wednesday to Friday will help to give this a voice.
Snake Monthly Horoscope: November 2023
Chances are the month will get off to a busy start and with a need to embrace this as much as possible. Until the busy, industrious and work focused month of the Dog runs its course on 13th November there is a chance to tap into its work ethic and willingness to get stuck in and get the task at hand done. The Dog doesn't like to take on more responsibility than it needs to or to keep busy for the sake of it, but if there is a job that needs to be done it won't shy away from it. Meanwhile, the same New Moon that will bring the month of the Dog to a close will usher in the month of the Pig, bringing you to the halfway point in this current personal 12 month lunar cycle. The Pig and Snake are opposing signs so this won't be the easiest of months, but it will be important for taking your power back.
60

96

66

11

89

88

86

54

25
Power Numbers: 30, 40, 61, 62, 63, 66
Friendly Signs: Monkey & Pig
Beware of: Rat
Colour of the day: Light Gray
Born Today: Jonathan Swift, Mark Twain, Winston Churchill, Virginia Mayo, Shirley Chisholm, Dick Clark, Abbie Hoffman, Billy Idol, Ben Stiller
---
You may also like