Snake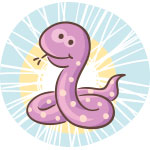 2013, 2001, 1989, 1977, 1965, 1953
---
Nov 28, 2022
Nov 29, 2022
Nov 30, 2022
---
Wednesday, November 30, 2022
You could make a great impression on the people you work for just now. Your peer group will start to see aspects of your personality that they've overlooked before.Expect a cycle of increased popularity and happiness.As you become more popular, there are additional demands.Don't forget that.Get ready to fill up your calendar with engagements.
Snake Weekly Horoscope: Nov 28 to Dec 4, 2022
The first full week of any lunar month is full of enthusiasm and hope, with the Moon still embracing its growth or waxing phase. For the Snake, this has been especially exciting because the New Moon that welcomed in the month of the Rat, with its focus on change and transformation last weeks, also brought the month of the Pig to a close. For the Snake, the month of the Pig can be one of the more challenging months of any lunar year, when halfway between the last month of the Snake and the next and at the halfway point in this current personal 12 month lunar cycle, this can put your needs and priorities to the test. Yet it is those wakeup calls that the Rat is using as a chance to usher in a month for change and transformation.
Snake Monthly Horoscope: November 2022
The month of the Pig has brought you to the halfway point in your current personal 12 month lunar cycle. While the Pig and Snake are opposing signs, it is where this jars with your own personal truth that you will find that you are waking up to needs and priorities that may have been forgotten or neglected. The Pig can confront old excuses but at a time when there is an opportunity for a reset. As the Pig can also put the focus on your relationships, any conflict between your personal and relationship needs can again wake you up to those needs and priorities. The month of the Pig will run through to 24th November, when the month of the Rat and its focus on money matters but also on change and transformation will take over.
Power Numbers: 1, 13, 17, 19, 30, 59
Friendly Signs: Horse & Ox
Beware of: Tiger
Colour of the day: Chocolate
Born Today: Jonathan Swift, Mark Twain, Winston Churchill, Virginia Mayo, Shirley Chisholm, Dick Clark, Abbie Hoffman, Billy Idol, Ben Stiller
---
You may also like