Snake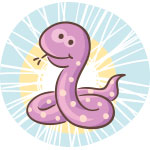 2013, 2001, 1989, 1977, 1965, 1953
---
Sep 26, 2022
Sep 27, 2022
Sep 28, 2022
---
Tuesday, September 27, 2022
Your drive for personal power, achievement, or control over your life is very strong at this time. You battle anyone or anything that is an obstacle to your individual freedom of action, and ego conflicts or a furious power struggle may ensue. Also, you can be unmerciful with yourself and your own weaknesses. You are likely to push yourself much too hard.
Snake Weekly Horoscope: Sep 26 to Oct 2, 2022
Starting the week under a busy and industrious Dog Moon was always going to get the new working week off to a good start but as a New Moon, this also brings us to the start of the month of the Dog. For the Snake, this can be the busiest and most productive month of any lunar year and is an especially good month for work and job matters or for anything that keeps you busy. However, while the month of the Dog comes around every 12 months, this is the first time that this has fallen during the competitive and professionally charged Year of the Tiger in 12 years.
Snake Monthly Horoscope: September 2022
For the Snake, the month of the Rooster is one of the best months of any year and not just because this puts the focus on matters of the heart and all things fun, playful, romantic and creative. The Rooster and the Snake are part of the same triad of affinity so life will flow more smoothly under its influence and as it will run through to 25th September, this will influence the majority of the month. This also makes it important to make a balance between work and play a priority, for when the month of the Snake ends this will not only usher in the busy and industrious month of the Dog but for the first time in 12 years, during the competitive and professionally charged Year of the Tiger. This will be good news professionally but life will become busier.
33

40

88

87

65

61

71

44

66
Power Numbers: 15, 21, 27, 56, 66, 68
Friendly Signs: Goat & Dragon
Beware of: Dog
Colour of the day: Light Steel Blue
Born Today: Sofia Milos, Samuel Adams, William Paley, Mary McCarty, Shaun Cassidy, Avril Lavigne
---
You may also like