Snake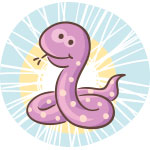 2013, 2001, 1989, 1977, 1965, 1953
---
Jun 4, 2023
Jun 5, 2023
Jun 6, 2023
---
Monday, June 5, 2023
Communications are excellent now. You come across clearly and present yourself articulately. Public speaking, interviews, and other transactions with the public are favored. Conversations you have at this time go smoothly, and an agreement can be reached.
Snake Weekly Horoscope: May 29 to Jun 4, 2023
In the lead up to the weekend's Full Moon the lunar month is in its full growth phase and the most expansive point in any lunar month. When that month is the month of the Snake, this is a lot more empowering and before the Moon goes into its waning phase, is a chance to get as many options on the table as possible. While the month of the Snake will only run for four weeks, as the first month of a personal 12 month lunar cycle this is just the start of a new journey. It is not until the Moon starts to move into its waning phase that you can start tying up loose ends and start narrowing down your choices, decisions and plans for the coming year. Until then you are still exploring your options.
Snake Monthly Horoscope: June 2023
With the month of the Snake not running its course until 18th June, this is giving you plenty of time to get your bearings and to set this new personal 12 month lunar cycle on an authentic course. The month of the Snake is not just a chance to return to your native energy but as you move into a new 12 month lunar cycle there is a chance to push the reset button, with an opportunity for new beginnings and a fresh start, all in line with your personal truth. Meanwhile, the New Moon that will bring the month of the Snake to an end on 18th June will also usher in the lucrative month of the Horse. For the Snake, this can be the most lucrative month of any lunar year, but the Horse also works to enrich all the currencies in your life.
70

35

1

47

52

61

30

39

78
Power Numbers: 5, 32, 43, 45, 48, 61
Friendly Signs: Rat & Snake
Beware of: Goat
Colour of the day: Light Sea Green
Born Today: John Maynard Keynes, Federico Garcia Lorca, Alfred Kazin, Bill Moyers, Laurie Anderson
---
You may also like