Snake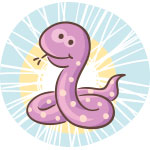 2013, 2001, 1989, 1977, 1965, 1953
---
Jun 28, 2022
Jun 29, 2022
Jun 30, 2022
---
Wednesday, June 29, 2022
You are feeling sober and realistic about love at this time, and are interested in being with people you respect and can depend upon - your oldest, true-blue friends. Also, reaching out to an older relative or another mature, experienced person can mean a lot to you and be mutually beneficial now.
Snake Weekly Horoscope: Jun 27 to Jul 3, 2022
A Horse Moon on Monday and Tuesday will make it easier to squeeze the most out of the final days of the lucrative month of the Horse. While this could get the week off to a lucrative start, a double dose of Horse energy is going to boost your confidence and raise the bar on your expectations across all the currencies in your life. As you can't attract what you don't believe you deserve, this could have positive implications. Meanwhile, Wednesday's New Moon will usher in the month of the Goat, which for the Snake is the Swizz army knife of any lunar year, with a tool for every occasion. The Goat makes you smarter, better able to think on your feet, more articulate and will make it easier to find the right words at the right time.
Snake Monthly Horoscope: June 2022
Because the month of the Snake came to an end in the final days of last month its influence is over by the time you move into the new month but not its ongoing impact. This was the first month of a new personal 12 month lunar cycle and as it dominated the majority of May, this has allowed you to lay down some firm foundations for this new lunar cycle. More importantly, this has been a chance to align yourself with your personal truth. Meanwhile, starting the month under a Horse Moon and with the month of the Horse just getting underway is a powerful chance to draw a new line in the sand. This ushers in the month of the Horse, which for the Snake can be a lucrative month but also for attracting what you deserve across all the currencies in your life.
21

45

94

62

24

1

43

70

37
Power Numbers: 1, 2, 8, 27, 29, 68
Friendly Signs: Pig & Monkey
Beware of: Rooster
Colour of the day: Peru
Born Today: Ed Gardner, Nelson Eddy, Gary Busey, Nicole Scherzinger, Richard Lewis
---
You may also like