Snake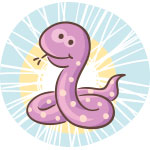 2013, 2001, 1989, 1977, 1965, 1953
---
Dec 1, 2021
Dec 2, 2021
Dec 3, 2021
---
Thursday, December 2, 2021
Impatience, sudden outbursts of emotions, and the need to break free from stifling, uncomfortable situations are key issues now. During this time period you periodically become overwhelmed with the feeling that you need to make changes and make them NOW.
Snake Weekly Horoscope: Nov 29 to Dec 5, 2021
The early days of the week will see the tail end of a playful Rooster Moon compete with a busy and industrious Dog Moon that will take over from there. This sends a message at the start of the week that life can't be all work and play but a balance between the two. This comes just as the final days of the month of the Pig is putting the focus on your relationships while bringing the review that happens at the halfway point in every personal 12 month lunar cycle to a close. It is on Saturday that an eclipsing New Moon will usher in the month of the Rat, with its focus on money matters, change and transformation.
Snake Monthly Horoscope: December 2021
For the Snake, the month of the Pig can be the most challenging but also the most important month of any lunar year. As your opposing sign, you will not only find the Pig combative and that life could be an uphill struggle at times, at the halfway point in your current personal 12 month lunar cycle its job is to play devil's advocate. This is waking you up to both the intentions made during the month of the Snake six months earlier as well as your personal truth. This is an opportunity for a reset and especially once the month of the Pig ends on 4th December and the month of the Rat begins. This will take the pressure off but as the Rat's focus is not only on money matters but on change and transformation, this is when you can start putting new intentions into practice.
Power Numbers: 2, 8, 38, 42, 59, 62
Friendly Signs: Ox & Goat
Beware of: Monkey
Colour of the day: Pale Violet Red
Born Today: Georges Seurat, Nikos Kazantzakis, Ruth Draper, Maria Callas, Julie Harris, Lucy Liu, Britney Spears
---
You may also like