Snake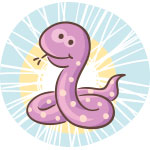 2013, 2001, 1989, 1977, 1965, 1953
---
Dec 5, 2023
Dec 6, 2023
Dec 7, 2023
---
Wednesday, December 6, 2023
Ohh my, you want to do what you want today. Fortunately you are able find ways to be yourself and even be a little "crazy" without offending or upsetting others. Take advantage of any unusual offers or opportunities from others.
Snake Weekly Horoscope: Dec 4 to Dec 10, 2023
The final week of the month of the Pig might call for some compromise, but it is by better understanding the needs of others that you are also getting a better understanding of your own needs. The Snake and Pig are opposing signs and that not only means that things, people or situations that aren't a natural fit are going to be more obvious, but that you are now at the halfway point in your current personal 12 month lunar cycle. Where other months will have given you a free pass, the Pig will stand in your way at a time when there is an opportunity for a reset, opening your eyes to what you need to be aware of.
Snake Monthly Horoscope:
Power Numbers: 6, 8, 12, 16, 56, 68
Friendly Signs: Tiger & Snake
Beware of: Rabbit
Colour of the day: Light Cyan
Born Today: Evelyn Underhill, Lynn Fontanne, Ira Gershwin, Alfred Eisenstaedt, Dave Brubeck, Jobeth Williams, Cindi Wafstet
---
You may also like