Snake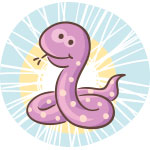 2013, 2001, 1989, 1977, 1965, 1953
---
Jan 30, 2023
Jan 31, 2023
Feb 1, 2023
---
Tuesday, January 31, 2023
Someone's pride has been damaged, which isn't your responsibility to fix, but it wouldn't hurt for you to say a few kind words in this person's favor.An impressive offer comes your way out of the blue - too good to pass up and hardly something you would want to share.
Snake Weekly Horoscope: Jan 30 to Feb 5, 2023
The second week of both the month of the Tiger and the Year of the Rabbit is going well for both and with no reason why you can't combine the two. While the competitive and professionally charged month of the Tiger is helping to keep the momentum of the Year of the Tiger going but in a way that allows for an easier transition rather than a sudden drop off, the Rabbit has the focus on your social life, friendship and on both personal and professional networking. Whether connecting personally or professionally there are plenty of opportunities for the Rabbit and Tiger to work side by side. While a lucrative Horse Moon from Monday to Wednesday will favour the Tiger, a Goat Moon and its focus on communication from Thursday to Saturday will favour both.
Snake Monthly Horoscope: January 2023
With the New Moon on 21st January not only bringing one lunar month to a close while beginning the next but the lunar year itself, there are some big changes ahead. Yet while there will be a crossover on one front and the start of something that will continue on another, the only thing that is really coming to an end is the adventurous month of the Ox and its focus on the more adventurous side of life. Not ending until 21st January, this is something that needs to be embraced from the start. Especially as while the competitive and professionally charged Year of the Tiger will end on 21st January, this is the New Moon that will usher in the month of the Tiger, with a chance to keep the momentum going. This is also the New Moon that will usher in the social and serendipitous Year of the Rabbit.
Power Numbers: 2, 8, 31, 37, 49, 52
Friendly Signs: Tiger & Dog
Beware of: Monkey
Colour of the day: Indian Red
Born Today: Tallulah Bankhead, John O'Hara, Jackie Robinson, Norman Mailer, Suzanne Pleshette, Minnie Driver, Justin Timberlake
---
You may also like