Snake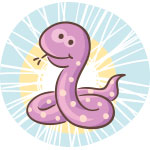 2013, 2001, 1989, 1977, 1965, 1953
---
Oct 2, 2023
Oct 3, 2023
Oct 4, 2023
---
Find out more about Snake
The Snake is the master seducer of the Chinese Zodiac. Always well-liked, Snakes are sociable yet introverted as well as intuitive and blessed with a keen aptitude for business. Although Snakes may not consider money that important, their luck and tendency to be a bit tight with their purse strings ensure they will have more money than they need. Snakes are far more mentally active than they are physically. They tend to analyze events before joining in. Overall Snakes have reserved dispositions and probing minds that make intellectual pursuits far more attractive to them than physical activity.
At their core, Snakes are a little insecure, and can be very jealous and possessive, which can estrange both their friends and family. Despite their imperfections, Snakes can be alluring, munificent and loving. Snakes tend to trust their own intuition over the advice of others.
While sometimes they are seen as lazy, Snakes will work very hard when the need arises. They are not quitters and expect the same commitment from their partners in any venture.
Snakes could often be a little less arrogant, and develop a stronger sense of self.
Snake in love
Thoughtful, Wise, Shrewd, Intuitive, Guarded, Independent, Sometimes Lazy.
Famous Snakes Include
Kim Basinger, Randy Crawford, Bob Dylan, Greta Garbo, Art Garfunkel, Audrey Hepburn, Paul Hogan, Liz Hurley, Carole King, Dean Martin, Robert Mitchum, Mike Oldfield, Ryan O'Neal, Dorothy Parker, Brad Pitt, Brooke Shields, Paul Simon, Dionne Warwick, Oprah Winfrey, Virginia Woolf, Susannah York.
Ideal Jobs
Professor, Linguist, Teacher, Psychiatrist, Psychologist, Astrologer, Clairvoyant, Personnel officer, Public relations executive, Interior designer.
Lucky Numbers
1, 2, 4, 6, 13, 24, 42 and 46.
Equivalent Western Sign
Taurus
Most Compatible With
Rooster or the Ox.
---
You may also like