Rooster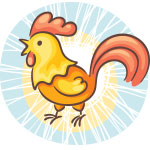 2017, 2005, 1993, 1981, 1969, 1957
---
Mar 21, 2023
Mar 22, 2023
Mar 23, 2023
---
Wednesday, March 22, 2023
Do not be surprised if you are not able to bring up the verve to do something meaningful. A lot of ideas are going through your head but you do not feel like pursuing any of them. Of course, you will not get ahead with your work. That way a lot of assignments will remain you will have to make up for painstakingly in the next days. You should look ahead a little at least.
Rooster Weekly Horoscope: Mar 20 to Mar 26, 2023
For the Rooster, while the month of the Rabbit isn't the easiest of months it is one of the most important of any lunar year and the most empowering. The reason that this might not be an easy month is that the Rabbit and Rooster are opposing signs, sitting opposite each other on the zodiac wheel. However, this also means that when you reach either the month or the Year of the Rabbit you are halfway through a current 12 month or 12 year personal lunar cycle and right now you are not only at both but at the start of the week at the halfway point of a shorter four week lunar cycle. With a second Rabbit month beginning on Wednesday, you will be under the Rabbit's influence for a while, which is giving you more time for a reset.
Rooster Monthly Horoscope: March 2023
It wasn't until four weeks after the Year of the Rabbit began in January that the month of the Rabbit began and as we move into the new month, this has been underway for just over a week, so is something you are still adjusting to. However, this could already be leading to some self questioning, as you reach both the halfway point in a 12 year and now a 12 month lunar cycle. The Rabbit and Rooster sit on opposite sides of the Chinese zodiac wheel, so when you come to the Rabbit, whether the month or the year you are at the halfway point in a current cycle. This time, for the first time in 12 years you have reached the halfway point of both your annual cycle and a much larger 12 year cycle. As this is a leap month, when the month of the Rabbit ends on 21st March another will begin, giving you more time for reflection, self evaluation and for the chance for a reset this brings.
Power Numbers: 12, 22, 24, 28, 62, 68
Friendly Signs: Ox & Dog
Beware of: Dragon
Colour of the day: Light Coral
Born Today: Chico Marx, Marcel Marceau, William Shatner, Andrew Lloyd Webber, Stephanie Mills, Reese Witherspoon
---
You may also like