Rooster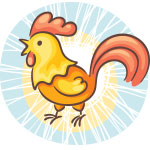 2017, 2005, 1993, 1981, 1969, 1957
---
Jan 30, 2023
Jan 31, 2023
Feb 1, 2023
---
Tuesday, January 31, 2023
Cross-purposes, crossed wires, and conflicting energies may have left you drained of late, but realignment is now underway that will allow you to get back in tune with things. You will find yourself better able to take charge of your daily routine and let it energize you rather than drag you down. Experimentation with various alternatives now leads to the choice of a single path that both conserves your inner resources and brings you dividends in the process. Put aside time-wasting diversions and go with what -- and who -- really make you feel alive and glowing.
Rooster Weekly Horoscope: Jan 30 to Feb 5, 2023
While an adventurous Snake Moon might run its course on Monday, a sense of wanderlust or Mondayitis could linger and especially if it is nurtured. This is helping to remind you that life can't be all work and no play after the busy, industrious and work focused Year of the Tiger ended just over a week ago, only for the month of the Tiger the begin. This will only run for another three weeks, allowing for a smoother transition out of its busy influence. Monday's adventurous Snake Moon is just one of many reminders and especially as this will soon be replaced by a competitive and professionally charged Horse Moon that will run through the heart of the working week.
Rooster Monthly Horoscope: January 2023
Whether working through the holiday period or not, the final weeks of the busy, industrious and work focused Year of the Tiger will keep you busy. While this will tail off to a certain degree things are likely to remain busy, for the New Moon that will bring the Year of the Tiger to a close on 21st January will also usher in the month of the Tiger, something that in the short term could make life even busier. This makes it important to also embrace the final weeks of the playful and creative month of the Ox, which also comes to an end on 21st January, but with a chance to begin 2023 with the right balance between work and play. This is the same New Moon that will usher in the Year of the Rabbit, bringing you to the halfway point in your current personal 12 year lunar cycle while putting more focus on your relationships.
98

38

29

39

100

17

47

79

18
Power Numbers: 14, 30, 31, 57, 58, 66
Friendly Signs: Pig & Rabbit
Beware of: Horse
Colour of the day: Plum
Born Today: Tallulah Bankhead, John O'Hara, Jackie Robinson, Norman Mailer, Suzanne Pleshette, Minnie Driver, Justin Timberlake
---
You may also like