Rabbit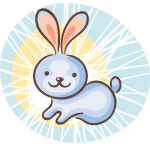 2011, 1999, 1987, 1975, 1963, 1951
---
Nov 30, 2023
Dec 1, 2023
Dec 2, 2023
---
Thursday, November 30, 2023
Your career has lately just taken off. Regardless of what plans and projects you undertake today, you will ultimately succeed in accomplishing every one of them. Equally however, this could also a good time to take a day off or at least stop working overtime. This would allow you time to consider different options, plan new projects, or just plain get your thoughts in order.
Rabbit Weekly Horoscope: Nov 27 to Dec 3, 2023
Monday's Full Moon brings you to the halfway point in the adventurous month of the Pig and while this is also when a sense of wanderlust, curiosity and adventure is likely to peak, it also means that its days are numbered. With the competitive and professionally charged month of the Rat just two weeks away and getting closer by the day, the final days under the Pig's influence will become more and more precious. Especially as the month of the Rat will not only continue for the rest of 2023 but into the first two weeks of 2024. Because this is a busy time of year and you can't always answer the spirit of adventure when you want to, this is a good time to work on your bucket list.
Rabbit Monthly Horoscope: November 2023
A New Moon on 13th November was always going to make this a month of two halves and for you, it is also saving the best until last. You have just reached the halfway point of the month of the Dog and its focus on change and transformation as you move into the new month, with a chance to get the most out of these final weeks. After the wakeup calls that the month of the Rooster brought, this is a chance to make the course directions that this drew your attention to. This is also a good time for getting on top of money matters. However, this month will take an exciting turn when the New Moon on 13th November ushers in the adventurous month of the Pig. As well as putting the focus on the adventurous side of life's fence the Rabbit and Pig are part of the same triad of affinity and in the Year of the Pig, this is going to have a lot more influence.
60

53

24

76

50

69

47

91

58
Power Numbers: 9, 13, 22, 27, 30, 53
Friendly Signs: Dog & Monkey
Beware of: Dragon
Colour of the day: Bisque
Born Today: Jonathan Swift, Mark Twain, Winston Churchill, Virginia Mayo, Shirley Chisholm, Dick Clark, Abbie Hoffman, Billy Idol, Ben Stiller
---
You may also like