Rabbit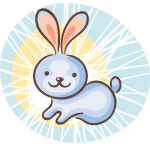 2011, 1999, 1987, 1975, 1963, 1951
---
Jan 30, 2023
Jan 31, 2023
Feb 1, 2023
---
Tuesday, January 31, 2023
Positive elements today are the little things in life, so invest in the small for the long haul and you'll be sure of a return. Look to get dividends, not a big turnover, and you'll be right in the flow as they grow. Creativity and a talent for new approaches are the keys to your success, so don't hold back, go with the flow.
Rabbit Weekly Horoscope: Jan 30 to Feb 5, 2023
If you are still finding your feet as you move into the second week of the Year of the Rabbit and of a new personal 12 year lunar cycle, then you have permission to take all the time that you need. It is in another three weeks that you will not only move into the month of the Rabbit, giving a new 12 month lunar cycle an empowered start but a better feel for where this opportunity for new beginnings is drawing your attention. The second month of any new lunar year is always a Rabbit Moon but it is only once every 12 years that this will be during the Year of the Rabbit. A leap year will bring two back to back Rabbit months, with a better chance then to cut your teeth on the new opportunities opening up.
Rabbit Monthly Horoscope: January 2023
Throughout the month there is an overlapping of the past, present and future and while that will continue all month, the nature of that focus will change and start to shift more towards the future than the past. While the social and serendipitous month of the Ox doesn't end until 21st January and this will allow you to stay in the present and remain socially connected, these are also the final three weeks of the nostalgic and reflective Year of the Tiger and of a personal 12 year lunar cycle. This will end when the New Moon on 21st January will usher in the Year of the Rabbit, ending one 12 year lunar cycle and starting the next, opening the doors to major new beginnings. Yet the same New Moon will also usher in the month of the Tiger and the start of the four week wind down of this current personal 12 month lunar cycle.
68

55

3

42

65

40

43

75

50
Power Numbers: 12, 22, 31, 42, 48, 56
Friendly Signs: Goat & Monkey
Beware of: Rabbit
Colour of the day: Fuchsia
Born Today: Tallulah Bankhead, John O'Hara, Jackie Robinson, Norman Mailer, Suzanne Pleshette, Minnie Driver, Justin Timberlake
---
You may also like