Rabbit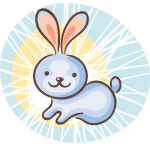 2011, 1999, 1987, 1975, 1963, 1951
---
Dec 1, 2021
Dec 2, 2021
Dec 3, 2021
---
Thursday, December 2, 2021
Your spirits are high at this time, and you feel optimistic, self-confident, generous, and good-natured. You greet life with a fresh attitude, and it is easy for you to forget the mistakes of the past and envision bright new avenues for growth and fulfillment.
Rabbit Weekly Horoscope: Nov 29 to Dec 5, 2021
This is not only a week of two halves but in a way a back to front week. The working week is dominated by the final days of the adventurous month of the Pig, with a Pig Moon on Thursday and Friday likely to see its influence spike. What the Pig is working to do is ensure you don't forget its influence, especially as Saturday's eclipsing New Moon will usher in the professionally charged and competitive month of the Rat. However, while the Rat Moon that ushers in the month of the Rat will run its course next Monday, the month of the Rat will run for the next four weeks, taking you through the rest of this professional year and into the early days of 2022.
Rabbit Monthly Horoscope: December 2021
Weeks before the holiday period begins the adventurous month of the Pig will run its course on 4th December, making this something that needs to be embraced and held onto. The key to holding onto the Pig's focus on adventure, travel, learning and discovery is to turn this into a bucket list that will not only ensure its influence lives on but where the Rat's influence can work to its advantage. The same eclipsing New Moon that will bring the month of the Pig to a close will also usher in the competitive and professionally charged month of the Rat. While this is good news for the final weeks of this professional year, the Rat's competitive influence can turn your bucket list into resolutions for the New Year. However, you need a bucket list because the spirit of adventure itself will wane.
22

97

86

51

41

78

48

87

3
Power Numbers: 2, 16, 31, 40, 66, 68
Friendly Signs: Dog & Horse
Beware of: Goat
Colour of the day: Navajo White
Born Today: Georges Seurat, Nikos Kazantzakis, Ruth Draper, Maria Callas, Julie Harris, Lucy Liu, Britney Spears
---
You may also like