Monkey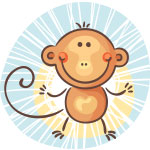 2016, 2004, 1992, 1980, 1968, 1956
---
Aug 12, 2022
Aug 13, 2022
Aug 14, 2022
---
Friday, August 12, 2022
Optimism brings out your extravagant side, as you throw caution to the wind. You feel as nothing could possibly go wrong and you will be tempted to overeat, overspend, or overdo things. Your confidence may help you make an important contact.
Monkey Weekly Horoscope: Aug 8 to Aug 14, 2022
The Full Moon that falls at the halfway point in any lunar month can be both opportune and challenging, normally in equal measures. Friday's Full Moon, falling at the halfway point of the month of the Monkey is no exception. This is a Tiger Moon and as your opposing sign, this can create tension. The Tiger can push your buttons and challenge old excuses but just as there is a chance to take your power back and embrace the future. These are the right wakeup calls at the right time, with the Tiger able to play devil's advocate in a way that wakes you up to where you have been asleep at the wheel.
Monkey Monthly Horoscope: August 2022
While moving into any new calendar month is an opportunity for a reset and a fresh start, even more so this time. It was only three days earlier that a New Moon ushered in the month of the Monkey and with it the start of a new personal 12 month lunar cycle, with a chance for a fresh start and a reset. However, this is not something that you need to be on top of from the start, for as the month of the Monkey only began three days ago and won't run its course until 27th August, this is just the start of a journey of discovery. The first step is being back in your native energy and the chance this brings to align with your personal truth. It is then that you will have a chance to set new intentions and resolutions for the journey ahead.
63

46

22

49

86

60

33

34

61
Power Numbers: 12, 33, 40, 47, 61, 64
Friendly Signs: Rat & Dragon
Beware of: Goat
Colour of the day: Light Goldenrod Yellow
Born Today: Robert Southey, Jacinto Benavente, Christy Mathewson, Cecil B. De Mille, William Goldman, Pat Metheny
---
You may also like