Monkey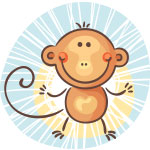 2016, 2004, 1992, 1980, 1968, 1956
---
Jun 28, 2022
Jun 29, 2022
Jun 30, 2022
---
Wednesday, June 29, 2022
Today you seek adventure and find refuge from routine in some sort of creative outlet. Don't get involved in projects that demand cooperation between two or more team members. Your energy is best used for an individual project right now.
Monkey Weekly Horoscope: Jun 27 to Jul 3, 2022
A Horse Moon on Monday and Tuesday will not only make it easier to embrace the final days of the social and serendipitous month of the Horse but its partnership with the Year of the Tiger and its focus on your relationships. This gets the week off to a good start when it comes to friendship and relationship building while adding to the vibrancy, with places to go and people to see. It is on Wednesday that there will be a significant shift, with a New Moon ushering in the nostalgic and reflective month of the Goat. This brings you to the final month of your current personal 12 month lunar cycle and with it a chance to start closing old doors as you prepare for the month of the Monkey and the start of a new cycle next month.
Monkey Monthly Horoscope: June 2022
While the competitive and professionally charged month of the Snake ended in the closing days of May, the pressure is gone but not the momentum. This sets the scene for a month where you can benefit from the momentum already gained but without having to put in as much effort. Instead, the social and serendipitous month of the Horse, which is just getting underway as we move into the new month will dominate the next four weeks. This will always put the focus on your friendships, teamwork and networking but during the Year of the Tiger, is especially auspicious for all aspects of friendship and relationship building. Meanwhile, it is a nostalgic and reflective Goat Moon that will usher in the month of the Goat on 29th June and with it the start of the month long wind down of your current personal 12 month lunar cycle.
11

15

1

25

76

63

81

85

78
Power Numbers: 18, 29, 33, 48, 52, 64
Friendly Signs: Snake & Rat
Beware of: Rooster
Colour of the day: Thistle
Born Today: Ed Gardner, Nelson Eddy, Gary Busey, Nicole Scherzinger, Richard Lewis
---
You may also like