Aries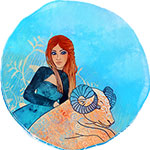 Mar 21 - Apr 19
---
Today's Horoscope
This week
This month
---
Aries Weekly horoscope for Jun 27 to Jul 3, 2022
There is a lot of activity in the heavens this week but for you, Monday and Tuesday are not only the most pivotal days of the week but potentially of the year. As Mars moves into his last full week in Aries he catches up and aligns with the dwarf planet Eris, something that every two years will bring the warrior prince and princess of the cosmos together and for the last nine decades, always in your sign. This will give your warrior and competitive spirit a boost just as you are working to make Mars' last full week in your sign count but also a better sense of what you are fighting for. With Jupiter staying on and with the launch of a new 12 year Jupiter cycle of expansion continuing, this makes this week all about what you start rather than what you finish. Meanwhile, Wednesday's New Moon is a chance to capitalise on and embrace the Sun's first full week in your home and family sector.
Love & Romance
Starting the week with the Moon in your communication sector is always an advantage and especially when Venus, the planet of love is spending her first and Mercury, the planet of communication his last full week here. Until leaving on Tuesday, the Moon will make it easier to wear your heart on your sleeve and to give your emotional responses a voice. This comes just as Mercury is on a mission to get the communication lines open across the board while Venus is focused on giving your heart and your relationships a voice. It is on Friday that the Moon will return to your romantic sector, just in time to create a romantically charged weekend. This is the Moon's last visit before it returns four weeks later as a New Moon and to find that the most romantically charged months of the year have finally begun. Whether it is starting the week in your communication sector or ending it in your romantic sector, the Moon is giving both matters of the heart and your relationships a boost this week.
Business & Career
While things dial back on both the income and career fronts this week, both the money and professional gods are using this as a chance to pause before things pick up across the income, work and career front next week. It was last week that Venus spent her final days in your income sector at a friendly aspect to Pluto, in retrograde motion in your career sector. This is something that the Moon repeated before it left your income sector over the weekend, adding to an already growing connection between new income and untapped professional potential. This is something that Mars will not only continue when he returns to your income sector early next week but this will see the planets of war and revolution join forces to promote income and career potential through most of July and August. This is something that will just be starting to come together when the Moon returns to your work sector early next week. Until then, there is a chance to pause.
Money
Venus' departure from your income sector last Thursday and the Moon's over the weekend, allows you to begin the week with a sharp nose for money, emotionally and intuitively engaged but having just begun to process the desires and expectations this has left you with. This was always going to be an important week for regrouping but unlike other years, there is no call to tie up loose ends. Normally, once the Sun, Mercury and Venus have moved through each year and the focus shifts onto the forces that will remain in play all year, it is time to tie up loose ends and lock things into place. Instead, this is more a chance to process the desires and expectations this has left you with, along with the lucrative sense of direction this has left you with as you wait for Mars' return next week. This is when this financial year will not only catch its second wind but could turn July and August into the most lucrative weeks of the year.
Health
There could be some mixed messages this week, with one part of the heavens urging you to keep your foot on the gas and the other half urging you to keep it firmly on the brake. This could be especially noticeable on Monday and Tuesday but the timing couldn't be better. As Mars spends his last full week in Aries he is creating an almost manic sense of urgency, which left unchecked could lead to burnout. Helping to balance this out is dreamy Neptune's retrograde turn in an already nostalgic and reflective part of your chart on Tuesday.
---
You may also like