Aries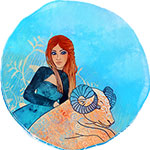 Mar 21 - Apr 19
---
Today's Horoscope
This week
This month
---
Aries horoscope for January 2022
As you move into the New Year you might find that you are spending just as much time looking back as you are looking to the future, with a lack of urgency giving you time to pause. With the dwarf planet Eris still in retrograde motion in Aries, Jupiter not only in his first full month in a nostalgic and reflective part of your chart but having just returned on 29th December, Venus in retrograde motion in your career sector and Uranus in your income sector, there is an almost universal call to hold back. Even Mercury, who will help to get this professional year off to a good start will retrograde back into your career sector on 26th January.
However, these are not roadblocks and are instead speedbumps, lowering the speed in a way that will give you better control, stopping the year from running away from you from the start. While Eris will turn direct in Aries on 11th January, Uranus in your income sector on 19th January and Venus in your career sector on 29th January, Jupiter is not only in a nostalgic and reflective part of your chart to stay but along with dreamy Neptune is making daydreaming a new occupation. This has brought you to the start of what is normally the 12 month wind down of your current 12 year Jupiter cycle.
Instead, Jupiter is racing through and in May will return to Aries to begin a new 12 year Jupiter cycle. This makes 2022 a year of endings but also for major new beginnings. Meanwhile, life goes on and the year gets off to a busy but also potentially lucrative start, with career and income matters set to evolve in tandem both this month and over the coming months. There is also a growing focus on your social life, friendship, teamwork and networking, even though Jupiter left your friendship sector at the end of last month. Meanwhile, until leaving an adventurous part of your chart on 26th January, Mars will continue to fuel a passion for adventure and a hunger for life's richer experiences.
Love & Romance
Because the Moon made its last visits to your romantic and relationship sectors for 2021 in the days on either side of Christmas, you will have to wait until later in the month for its return. This gives you time to get on with the business of adjusting to and getting your head around this brand new year and the very different dynamics in play. With no planetary activity in either your romantic or relationship sectors, the Moon's monthly visits have become a lot more important, making these days that need to be ring fenced and where this needs to be your number one priority.
Equally important is the Moon's return to your communication sector each month, making it easier to give your emotional responses and relationships a voice and therefore keep the communication lines open. The Moon will make its first visit to your communication sector for the year from 13th January to 16th January and with the North Node leaving on 19th January the timing couldn't be better. Since May 2020 the North Node has quietly kept the communication lines open, with the Moon's return each month giving this a boost.
The Moon will make its first visit to your romantic sector for the year just two days later, with romantically charged lunar vibes from 18th January to 20th January making these some of the most romantically charged days of the month. As the Moon's last visit of 2021 ended on Christmas Eve, this could bring back some of the holiday spirit as well. It is just a few days later that the Moon will make its first visit to your relationship sector for the year. Moving through from 23rd January to 25th January, the Moon will bring a chance to become more emotionally engaged and connected.
Business & Career
Because the Sun will always spend the last 10 days and the first three weeks of every year in your career sector, the solar spotlight is always on your career and professional situation, matters and options as you move into the New Year. This year the Sun has an entourage of planets travelling with him that are so diverse that there are resources for almost every option you might choose. You have Pluto's call for change, the asteroid Juno's sense of commitment, Mercury's intellectually savvy edge and you even have Venus, who in retrograde motion here is holding the doors open to the past, second chances and untapped professional potential.
Even the Moon will get involved, with its return on 2nd January beginning the first New Moon of 2022 less than 24 hours after returning, with a chance for a fresh start in the early days of the year. Mercury will leave just as the Moon returns but a retrograde turn will bring him back for a double dip visit on 26th January. With Venus not turning direct until 29th January, there will be a few days where heart and mind are back on the same page and both focused on the past, second chances and untapped potential. Mercury will return to find the Sun gone but not before keeping the solar spotlight on your career and professional situation, matters and options until leaving on 20th January.
Mercury will also return to find in the Sun's place is Mars, who on 25th January will return for his first visit to your career sector in nearly two years. With Venus and Mars not leaving until March, what is usually a three week boost that the new professional year gets each January is turning into something that could have ongoing momentum for months to come. It is during this time that income potential will get the green light from 19th January and the Moon will make its first visit to your work sector for the year from 21st January to 23rd January. The latter will be an especially good point in the month across the income, work and career fronts.
Money
While it is business as usual on both sides of the financial fence to start with or at least a continuation of last month, developments this month will not only have an impact on the rest of this financial year but will make this a very different year from previous years. Business as usual means that since Mars left your financial sector last month, all the planetary activity is now on the income side of the financial fence. With Uranus still in retrograde motion and the dwarf planet Ceres having retrograded back in last month, the year starts with things still in review mode.
This focus is still very much on the past, second chances and untapped income potential while Ceres has returned to focus more on better understanding your income needs and priorities. However, change is in the air and you will pick up on this when the Moon makes its first visit to your income sector for the year from 11th January to 13th January. It is just a few hours after the Moon's return that Ceres' direct turn on 11th January will begin to shift the focus away from the rear view mirror. However, it is the following week that a major shift happens.
It happens in one fell swoop on 19th January, starting with Uranus's direct turn just a few hours before the lunar nodes return to your two money houses. The North Node, which will return to your income sector is always focused on the future and new income potential so to return just as Uranus turns direct will see a sudden shift away from the past. For the next 18 months, the lunar nodes will work to maintain a balance between money coming in and money going out, with the South Node's return to your financial sector on the same day acting as a counterbalance, with its focus more on the past and on untapped financial potential.
Health
Because the Moon spent Christmas in your health sector, you begin the year with a real advantage. Christmas and the holiday period is often a time of year when how well we did or didn't punish our bodies over the course of the year comes home to roost while even with the best intentions we can over indulge. To have an intuitive read on what your body was telling you in real time allowed you to stay on top of this and even set some authentic resolutions. The Moon will return for its first visit to your health sector for the year from 21st January to 23rd January, far enough into the year to listen to what your body is telling you but with life getting back to normal.
---
You may also like