Aries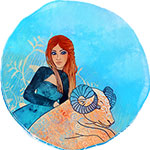 Mar 21 - Apr 19
---
Today's Horoscope
This week
This month
---
Aries horoscope for June 2023
There is a definite shift in focus this month, with 2023 continuing to prove that what you saw at the start is not what you will ultimately get. There have already been some big changes, but one of the biggest happened last month when Jupiter wrapped up a 12 month visit to Aries and returned to your income sector. This brought the foundation year of a new 12 year Jupiter cycle of expansion to an end while the journey itself will continue for another 11 years. Meanwhile, this has brought you to the first full month of your biggest year for income growth and expansion in over a decade, with Jupiter here now until May 2024.
This is something that will get a boost when less than three months after leaving your career sector Pluto will retrograde back in on 11th June, 10 days before the dwarf planet Ceres is due to end her double dip visit to your work sector where she has brought a chance for a deep dive into your needs and priorities on the job front. This makes this an important month across the income, work and career fronts, but there is little danger of life becoming all work and no play. If nothing else changed, a Full Moon in an adventurous part of your chart on 4th June and Mars spending the whole month in a fun, playful, romantic and creatively charged part of your chart would make sure of that.
However, things do change with Venus, the planet of love not only joining Mars on 6th June, but a retrograde turn next month will keep her here until October. Normally only spending 24 days here each year, this will be Venus' longest visit here in our lifetime. Meanwhile, as he always does, the Sun will spend the first three weeks of June in your communication sector before shift turning the solar spotlight onto your home, family and/or property matters on 22nd June. With Venus starting the month in your home and family sector before leaving on 6th June, this will plant seeds that the Sun can follow up on.
Love & Romance
When Mars returned to your romantic sector on 21st May he began the first planetary activity on the romantic front since the Sun left last August, while returning for his first visit in two years. Mars will spend the whole month in your romantic sector and while this may have got off to a bumpy start, it is clear sailing from here and just the start of something special. Mars has returned to fire up your romantic passions and fighting spirit as well as to declare war on roadblocks and barriers, whether real or imagined. Mars returned two months before the Sun was due to turn the solar spotlight onto matters of the heart and all things romantic and will be gone by the time he leaves.
However, it is what comes next that takes this to a whole new level and brings you to the start of not just the most romantically charged months of 2023 but in an unprecedented way. That something is Venus' return on 6th June, something that had this been just the ordinary annual visit that she makes once a year would still be a game changer. Venus will normally spend 24 days here and while this should mean that she would be gone by the end of the month, just having the planets of love and passion together here at the same time would make these the most romantically charged weeks of the year.
However, this is not an ordinary visit and Venus won't be gone by the end of the month and instead, a retrograde turn next month will keep the planet of love here until October, making this her longest visit in our lifetime. The Moon's return from 21st June to 23rd June will see these romantically charged lunar vibes align with both Venus and Mars, amplifying the influence of both while making these some of the most romantically charged days of an already romantically charged month. This is also an important time on the relationship front, with the dwarf planet Ceres returning to your relationship sector on 21st June to resume her deep dive into your relationship needs and priorities, with the Moon returning from 26th June to 28th June to help with that.
Business & Career
Back in March, a day before Pluto left your career sector the dwarf planet Ceres returned to your work sector to begin her first deep dive into your needs and priorities on the job front in four years. This was a timely return as this has ensured that there was planetary activity in at least of your two professional houses, meaning that things never went off the boil. This was important because as Pluto had been in your career sector since 2008, there hasn't been a moment in 15 years that the professional gods weren't active somewhere. However, Ceres was not just keeping the seat warm for when Pluto returns but her time has been a valuable chance to review your needs and priorities on the job front.
Ceres is less focused on work and job matters themselves and more on your needs and priorities and especially when it comes to job satisfaction and a sense of purpose. Ceres had left just before Christmas, before a rush of activity on the career front in the early months of the year, so her return was a chance to review this during the quiet while Pluto was gone. Why what happened back in March is relevant now is that things are about to swap back again, this time with more than just a 24 hour overlap. Nearly three months after leaving Pluto will return on 11th June, but Ceres won't leave your career sector until 10 days later on 21st June. With Pluto back for the rest of the year, those 10 days will allow for some important information sharing.
While the Moon will visit your two professional houses each month, what is significant is that in both cases it will be without planetary activity. The Moon will move through your career sector from 5th June to 7th June, before Pluto returns, while it will move through your work sector from 23rd June to 26th June, after Ceres leaves. In both cases, this will be a valuable chance to check in but on its own, the Moon will bring a chance to just listen to your intuition, instincts and imagination. In both cases, the Moon will also form a friendly aspect to Jupiter in his first full month in your income sector as it moves through.
Money
The Sun's departure from your income sector last month may have taken the solar spotlight off your income situation, matters and options but unlike other years, this has not seen the focus or the potential dial back. Instead, as Jupiter spends his first full month in your income sector things are just getting started. Even Mercury, who returned in early April for what is normally a 14 to 15 day visit is still here, with a retrograde turn keeping him here at a critical point in the year on the income front. Mercury will leave on 11th June, but in the early weeks of your biggest year for income growth and expansion in over a decade you have his smart head for money to draw on from the start.
Mercury's departure will also mark a turning point, for as a planet that returns with the Sun each year, he is part of the annual focus on income matters and therefore his focus is short term and on what you can do now to think on your feet while keeping your head in the game. Mercury's departure shifts the focus onto the long term or the bigger picture, with Jupiter here now until May 2024 and Uranus until 2026. This is also the lunar nodes last full month in your two money houses, with the North Node leaving your income sector and the South Node your financial sector next month. When that happens, instead of the South Node helping to maintain a balance between money coming in and money going out, all the focus will be on the income side of the financial fence.
This makes the Moon's monthly visits to both a lot more important. The Moon will move through your financial sector from 1st June to 3rd June, allowing you to begin the month with your financial instincts and imagination fuelled before returning again on 28th June for what will be the last visit before the South Node and its focus on understanding the past leaves. The Moon's return to your income sector from 14th June to 16th June will be the first since Jupiter returned, with the planet of luck and expansion's influence in play when it returns to sharpen your nose for money and act as a trigger.
Health
Until the dwarf planet Ceres leaves your health sector on 21st June, her deep dive into your health needs and priorities continues, giving you something to work towards when Mars returns next month to usher in a time of action. It is not until after Ceres leaves that the Moon will make its monthly visit, giving you a chance to first focus on your needs and priorities without going into specifics. As it will always do when it makes its monthly visits to your health sector, the Moon will give you an intuitive read on what your body is telling you when it moves through from 23rd June to 26th June. This isn't until towards the end of the month and after Ceres has moved through, making this the perfect time to check in.
---
You may also like