Scorpio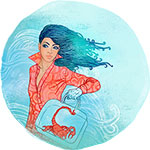 Oct 23 - Nov 21
---
Today's Horoscope
This week
This month
---
Scorpio Weekly horoscope for May 23 to May 29, 2022
While Mars' return to your work sector on Wednesday will kick off the busiest but also the most defining six weeks of the year on the job front or for whatever it is that keeps you busy, he is working until then to ensure life doesn't become all work and no play. Mars has a little help from the Moon, who returned to a fun, playful, romantic and creatively charged part of your chart just before we moved into the new week, joining the warrior planet of the cosmos to make his final days here count. Even if Mars' return to your work sector on Wednesday was not adding to the momentum that is already building after Jupiter's return two weeks earlier, this still would have opened the doors to the busiest weeks since he was here in 2020. Yet by the end of the week, Mars will be catching up with Jupiter, creating the kind of momentum not seen in over a decade. This will continue even after Venus leaves over the weekend, turning her attention onto your relationships instead.
Love & Romance
Just two days after the Sun left your relationship sector over the weekend, Mercury will retrograde back in on Monday for a double dip visit. Over three weeks after leaving, this not only brings the planet of communication back for a second visit but in retrograde motion brings a chance to focus more on giving your relationships, the past and unsaid words a voice. This is something that will get a boost when Mercury moves into a friendly aspect to Pluto in your communication sector midweek. This is the second time that the planets of communication and change have come together but the difference this time is that unlike their encounter last month both are now in retrograde motion. This puts a lot of focus on giving your relationships, the past and unsaid words a voice ahead of Venus, the planet of love's return over the weekend. Meanwhile, you not only begin the week with the Moon in your romantic sector but leaving just a few hours before Mars on Wednesday, is adding fuel to his romantic passions and fighting spirit.
Business & Career
Starting the week with the Moon in a playful and creatively charged part of your chart is a case of perfect time, especially if this can encourage you to keep your work hat off. This is something that even the professional gods are encouraging, making it easier to avoid overthinking things but also to hold back. As you move into the new week it has been 12 days since Jupiter, the planet of luck and expansion returned to your work sector and while Venus will leave over the weekend, there is time to get your bearings. There may even be a sense that you are waiting for something, seeing this as procrastination on your part. Instead, what you are waiting for is Mars' return on Wednesday, something that will not only kick off the busiest six weeks of the year but two weeks after Jupiter's return will finally fire things up. The Moon's return just a few hours earlier will ensure you have an intuitive read on work and job matters from the start, allowing you to sense the sea change at the point that any hesitation flies out the window.
Money
The Sun's return to your financial sector over the weekend is something that will always turn the solar spotlight onto your financial situation and money matters at this time of year. However, this year you have a huge head start and not just because the Sun returned to find Mercury already here but in retrograde motion, with his smart head for money coming with 20/20 hindsight. It was just a week earlier that the dwarf planet Ceres left, having spent the previous 10 months updating your financial needs and priorities. During much of that time, the North Node was in your financial sector, something that has also left you with a sense of financial direction. The Sun returned over the weekend but it is Mercury's departure on Monday that leaves you with a smart head for money and 20/20 hindsight but without him in retrograde motion, this is a chance to start looking to the future and where to from here.
Health
The Moon's return to your health sector midweek brings you to an important point in any month, something that will give you a better read on what your body is telling you. However, the difference this time is the timing, with the Moon returning just a few hours before Mars returns on Wednesday. It has been nearly two years since you last had the warrior planet of the cosmos in your health sector, with his focus less on what you put into your body and more on what you do with it. Mars returns with a chance to become more active, with the Moon giving you a read on this from the start.
---
You may also like