Scorpio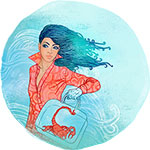 Oct 23 - Nov 21
---
Today's Horoscope
This week
This month
---
Scorpio horoscope for May 2022
While first impressions suggest that this is an ordinary or typical month for this time of year, there are some major changes ahead, including an event that will have a big impact personally. That event is the total lunar eclipse on 16th May in Scorpio, something that will bring you to the halfway point in this current solar year in a more spectacular way than is normally the case. The Sun will always spend the final 10 days of April and the first three weeks of May in your relationship sector, with the solar spotlight always on your relationships at this time of year. It is also a given that at some point while the Sun is here the Moon will return to Scorpio, clashing with the Sun on the other side of the sky to create a Full Moon.
It is that clash that serves an important function on both sides, for as your personal and relationship needs clash it makes both more transparent. At the halfway point in your current solar year, you need this wakeup call as it comes with an opportunity for a reset. At the same time, at the most important point of the year on the relationship front, this allows you to better understand what you want from your relationships and what they need from you. What turns both the Full Moon in Scorpio on 16th May and the New Moon in your relationship sector on 1st May into a lunar and a solar eclipse is having the lunar nodes here.
Meanwhile, is on the job front that things will take an exciting turn when Venus leaves a fun, playful, romantic and creatively charged part of your chart on 3rd May and returns to your work sector, followed by Jupiter eight days later on 11th May. It has been 11 years since the planet of luck and expansion was last here and while Mars will stay on in a playful part of your chart until 25th May, he too will join them to fire things up on the job front. Until then, Mars will continue to fight to maintain a balance between work and play, knowing how busy things could get over the coming months.
Love & Romance
Even though Jupiter has been in your romantic sector since the end of last year and Neptune since 2012, it was only last month that they came together. It wasn't just an alignment between the planets of luck and dreams that gave the spirit of romance a boost but the arrival of Venus and Mars, the planets of love and passion. Even the asteroid Juno, the queen of commitment returned late last month and here now until January 2023, even though this romantic surge will wane she will stay on to keep the dream and a sense of conviction alive. However, things are still at the height as you move into the new month with Venus and Jupiter aligned.
With Venus leaving on 3rd May and Jupiter on 11th May, the planets of love and luck have come together to give the spirit of romance the kind of boost that will have long term implications. Mars will stay on and until leaving on 25th May he will continue to fuel your romantic passions and fighting spirit. This will get a boost with the Moon's return from 23rd May to 25th May, with these romantically charged lunar vibes adding more fuel to Mars' final days here. With the Moon and Mars both leaving on 25th May, this is when this wave will ease off.
However, with Neptune here until 2026 and Juno until January 2023, they will stay on to keep the dream and a sense of conviction alive. Meanwhile, as is always the case the Sun will spend the first three weeks of May in your relationship sector, shining the solar spotlight on your relationships. While Mercury, the planet of communication left on 30th April, he will retrograde back in on 23rd May, two days after the Sun leaves. Mercury left just as the Moon returned, allowing you to begin the month emotionally engaged and connected. Aligned with the Sun to create an eclipsing New Moon, until leaving on 2nd May the Moon will get the month off to a good start.
Business & Career
The Sun's departure from your work sector on 20th April not only took the solar spotlight off your work situation and job matters but brought things back to the status quo. Because the dwarf planet Eris, the warrior princess of the cosmos has been in your work sector for decades and is here now for another three decades things will never go completely off the boil. Eris' warrior and competitive spirit is always there to tap into and after the Sun moves through each year, she is always a lot more energised. Taken in isolation, where things stand at the start of the month is fairly typical for this time of year but that is about to change.
Normally, this would mean that the push to get work and job matters moving and up to speed is over and with nothing else happening for the rest of the year it would then become more about the journey. However, from the start, your gut will be telling you there is more to come. Instead, what you have is a brief chance to pause and catch your breath before a second and much bigger wave begins. It begins with Venus' return on 3rd May and late to return because of a retrograde turn late last year, she will be ready to make up for lost time. Even on its own, here until 29th May and on a mission to fuel your job confidence, attract opportunities and steer things in a lucrative direction, this would still make this one of the best months of the year on the job front.
While that is still the case, this will be dwarfed by Jupiter, the planet of luck and expansion's return on 11th May. It has been over a decade since Jupiter was last here and this opens the doors to months of job growth and expansion. Adding to this will be Mars' return on 25th May, with the warrior planet of the cosmos returning for the first time in two years to fire up your work passions, fighting and competitive spirit. Rather than run their course, as you move into the new month this is a chance to pause before things take off in a way not seen since 2011. Meanwhile, the Moon will make from 7th May to 10th May key days for career matters, while returning to give you an intuitive read on work and job matters from 25th May to 27th May.
Money
While the Sun won't return to your financial sector until 21st May, the point in every year when the solar spotlight will shift onto your financial situation and money matters, things have already started to move on the financial front. This is something that has just happened thanks to Mercury's return to your financial sector in the closing hours of April, with 1st May his first full day here. Mercury will normally spend 14 to 15 days in your financial sector, giving you the smart head for money needed to get your head in the game and your feet on the ground. This would mean that Mercury should be gone by the time the Sun returns but that is not the case.
It is a retrograde turn on 10th May that will not only slow Mercury right down but will see him retrograde back out on 23rd May, two days after the Sun's return. Because Mercury will leave by retrograding back out, when he turns direct next month, this will bring him back for a second visit, returning three weeks later and then not leaving until early July. In other words, Mercury is sticking around and this won't be the usual 14 to 15 day rush to make all the financial choices, decisions and plans you can make in that time.
In such an important month for money matters, it is just as well that the Moon is making two visits. The Moon will move through from 2nd May to 5th May, before returning on 30th May as a New Moon. Each visit will fuel your financial instincts and imagination while offering a chance to check in. Meanwhile, with no planetary activity in your income sector, the Moon's visit from 16th May to 18th May was always going to be important. As well as sharpening your nose for money the Moon can act as a trigger but what makes this monthly visit different is the timing. Venus' return to your career sector on 3rd May and Jupiter's on 11th May will see the Moon move through just as the planets of money and luck are firing things up professionally.
Health
While the Sun left your health sector on 20th April, this annual check in has left you with a new starting point, something that you will get a chance to build on from this month. Just when you think that the focus on your health is waning, this is set to get not one but multiple injections this month. It starts with Venus' return on 3rd May, where until leaving on 29th May she will fuel a desire to look and feel good. It is Jupiter's return on 11th May that will intensify this while bringing the motivation to take back control of all aspects of your health. This will get a further boost when Mars returns on 25th May with the drive to get moving. The Moon's return on the same day will see this coincide with a better sense of what your body is telling you.
---
You may also like