Pisces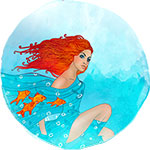 Feb 19 - Mar 20
---
Today's Horoscope
This week
This month
---
Pisces Weekly horoscope for May 23 to May 29, 2022
Just starting the week with the Moon in Pisces is an advantage, giving you an intuitive edge and a chance to be emotionally and intuitively engaged from the start. The Moon returns every four weeks and this is always a valuable chance to check in but the timing makes this an ordinary event that could have extraordinary implications and all because of the timing. The Moon is not only here during Mars' final days but they will align just before they both leave on Wednesday. This will allow you to not only squeeze the most out of the warrior planet's final days in your sign but the journey you have been on since Jupiter returned five months earlier. Two weeks after Jupiter left, this gives you a better sense of where to channel his warrior and competitive spirit. Meanwhile, returning to your income sector within hours of each other will see the Moon and Mars join up with Jupiter and Venus, bringing the planets of war, luck and money together here for the first time in over a decade.
Love & Romance
Starting the week with the Moon having just returned to Pisces is doing more than just allowing you to begin the week more emotionally and intuitively engaged. This is the Moon's first visit since the dwarf planet Ceres' return to your romantic sector and a friendly aspect to her and to the South Node, the force behind last week's eclipsing Full Moon in an adventurous part of your chart will bring the spirit of romance and adventure together. With Mars in his final days in Pisces and aligning with the Moon just before they both leave on Wednesday will bring passion into the mix as well. Meanwhile, with no planetary activity in your relationship sector it is all about having the communication lines open. While the Sun left your communication sector over the weekend, weeks after leaving late last month Mercury, the planet of communication will retrograde back in for a double dip visit on Monday. This time, with a chance to give the past and unsaid words a voice.
Business & Career
As you move into the new week the Moon has just returned to Pisces, something that will always be an advantage in any new working week, ensuring your instincts are sharp and you are emotionally and intuitively engaged. However, returning during Mars' final days here and leaving just a few hours before he leaves on Wednesday, will both add fuel to his passions, drive, competitive and warrior spirit and give you a better sense of where to channel this. With the Moon and Mars both returning to your income sector to add to what is already unfolding and with the most lucrative months of the year stretching out in front of you, this will give you a head start. With the Moon having moved through your career sector last week, your work sector the week before and no planetary activity on either front, Mars has already been able to inject his energy and enthusiasm into both.
Money
Even before the Moon and Mars return to your income sector midweek, the money gods are already smiling on you. As you move into the new week Jupiter, the planet of luck and expansion has only been in your income sector for 12 days and you are still getting a feel for what is the start of the biggest year for income growth and expansion in over a decade. Until leaving over the weekend Venus is working to make her final days here as lucrative as possible but knowing the resources she will leave behind she is also aiming for not just the low hanging fruit, as she aims to leave you wanting more. However, things become a lot more fired up when both the Moon and Mars return on Wednesday, with a nose for money and a drive to fight for what you deserve kicking in at the same time. It has been over a decade since you last had the planets of war, luck and money in your income sector at the same time, changing more than just the dynamics of this financial year.
Health
For some, the weekend is a chance to restore our bodies and having spent time resting and repairing can start the new week with a spring in our steps. For others, the weekend can be so busy that we start the week exhausted, with most of us falling somewhere in the middle. It was over the weekend that nostalgic and reflective lunar vibes brought a call to slow down, something that in Mars' final days in Pisces might be easier said than done. Yet how you feel on Monday is a great litmus test for what body, mind and soul actually need.
---
You may also like