Gemini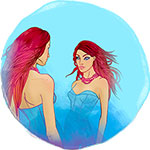 May 21 - Jun 20
---
Today's Horoscope
This week
This month
---
Gemini Weekly horoscope for Dec 5 to Dec 11, 2022
As you move into the first full week of the last month of 2022, many things are starting to draw to a close while others are just getting started. Where you will start to see signs of movement is professionally, for while in his first full day in direct motion in your career sector on Monday Neptune is at a standstill and will be for some time and no longer held back by the past this is allowing Jupiter to move forward. With the planet of luck and expansion moving into his final two weeks in your career sector on Wednesday, the job of bringing this professional year home is underway. This is also a big week on both the personal and relationship fronts, something that could see the two clash during Thursday's Full Moon in Gemini. At the halfway point of both the Sun's month long visit to your relationship sector and of your current solar year, Mars will add to a clash but with it, making both your own and your relationships needs much clearer.
Love & Romance
All the action is on the relationship front this week and while things might get bumpy midweek, this is something that will ultimately empower both you and your relationships. By the time you move into the new week, the Sun is just nearing the halfway point in his month long visit to your relationship sector with Mercury leaving on Wednesday and Venus, the planet of love over the weekend. It is Mercury's final days that are key to everything else that will follow, with a chance to work with the planet of communication to ensure the communication lines are open. This is more important than it might seem at the time, for it is just as Mercury leaves that the Moon will not only return to Gemini but begin the lead up to Friday's Full Moon. Aligned with Mars and clashed with the Sun, this is a Full Moon that can stress test a balance between your personal and relationship needs. From this will come a clearer sense of what you want from your relationships and what they need from you.
Business & Career
Even if the Moon hadn't just left your career sector last week and with your professional instincts and imagination fuelled from the start, your sixth sense would still be sensing that something has shifted. That something was Neptune's direct turn in your career sector on Sunday and while the planet of dreams is still at a standstill and will be for some time this has given Jupiter, who turned direct here 10 days earlier the green light. This comes just as Jupiter is starting to move forward and moving into his final two weeks here on Wednesday and no longer tied to the past, this giving the planet of luck and expansion the freedom to move things forward. Two weeks after the Sun wrapped up all planetary activity on the job front for the year and with the Moon returning for its last visit to your income sector for the year on Wednesday, you have everything you need to move forward with confidence, ready to bring this professional year home.
Money
From the start there could be a new sense of financial confidence in the air, but this is set to only grow as the week progresses. To begin with, this is fuelled by the Moon's return to an intuitive and imaginative part of your chart, something that each month will put it at a friendly aspect to Pluto in your financial sector. However, this comes just as a friendly aspect between Pluto and the dwarf planet Ceres is building, something that will stay strong all week. However, this is more a chance to create the right conditions for Mercury's return to your financial sector on Wednesday and Venus, the planet of money's return over the weekend. With the Sun still two weeks away, Venus and Mercury have returned ahead of time to bring this financial year home and their timing couldn't be better. It is Mercury's smart head for money that allows you to get your head in the game and to think on your feet, while Venus will return to fuel your financial confidence and to trigger the laws of attraction.
Health
As you move into the new week it has been two weeks since the Sun left your health sector, taking the solar spotlight off your health needs, situation and matters. In that time some of the Sun's more black and white reality checks have faded while you have had time to unpack a download of information, insights and messages. This leaves you aware of what you need to do to stay on top of things, while chief amongst that is a need for balance. It was last month's eclipsing Full Moon in particular that put how well you are coping with all that life has to throw at you, recognising that you can't give what you don't have. This leaves you better able to recognise when you need to put yourself first.
---
You may also like