Gemini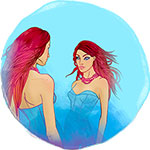 May 21 - Jun 20
---
Today's Horoscope
This week
This month
---
Gemini Weekly horoscope for Jun 27 to Jul 3, 2022
Starting the week with the Moon in Gemini is always an advantage, giving you an intuitive edge and ensuring you are emotionally and intuitively engaged from the start. In any week that would be an advantage but even more so as you move into Venus' first and Mercury's last full week in Gemini. The Moon has come full circle from last month's New Moon and while the Sun left last week, bringing your birthday month to a close, it will be to find that heart and mind are only now on the same page. As well as making it easier to listen to your heart as Venus has returned to finally give it a voice, an alignment with Mercury on Monday will bring together a mix of intuition and logic, imagination and intelligence. Meanwhile, Wednesday's New Moon will get the Sun's first full week in your income sector off to a good start while energising things across the income, work and career fronts in the heart of the working week.
Love & Romance
Starting the week with the Moon in Gemini is a chance to begin the week emotionally and intuitively engaged and the timing couldn't be better. This is the Moon's only visit to Gemini while Venus, the planet of love is here and the last before Mercury, the planet of communication leaves next week. With Venus in her first and Mercury his last full week in your sign, this comes just as heart and mind are finally on the same page. The Moon aligned with Venus shortly after returning over the weekend, giving you a better read on what your heart is telling you but also on the romantic and relationship desires and expectations for the future that she has returned to update. It is the Moon's alignment with Mercury that will make it easier to give your emotional responses a voice, with the focus more on communication. This is something that will get a further boost when the Moon returns to your communication sector on Friday, in time to spend Mercury, the planet of communication's last weekend in Gemini here.
Business & Career
Since his return to your career sector in 2012, dreamy Neptune has spent from June to November in retrograde motion. This makes Neptune's retrograde turn on Tuesday an ordinary annual event but it not only comes with perfect timing but just when you are ready to pull back. After some extraordinary months on the career front so far this year, including the nearly five months that Jupiter spent here and Mars' first visit in two years, it is time to pull back. As the asteroid Juno, the queen of commitment will remain in direct motion for another four weeks, this allows you to still keep one eye on the road ahead, keeping an eye on the things you have already committed to. What makes the timing auspicious is that Neptune will turn retrograde just a few hours before the Moon not only joins the Sun in your income sector but to begin the lead up to a New Moon that will energise things across the income, work and career fronts, right in the heart of the working week.
Money
If the Sun's first full week in your income sector is anything to go by then there is a lot to be excited about. This was evident from the start when the Sun returned last week to find that the dwarf planet Ceres was already over five weeks into her first deep dive into your income needs and priorities in five years. As the solar spotlight shifted onto your income situation, matters and options it also shone a light on those priorities, allowing you to know where to focus from the start. While the Sun's first full week in your income sector is usually more about simply paying attention and being aware, the Moon's return on Tuesday will not only sharpen your nose for money and act as a trigger but begin the lead up to Wednesday's New Moon. This could see early signs of movement, new beginnings or opportunities while creating a lot of positive energy across the income, work and career fronts in the heart of the working week.
Health
It was over the weekend that the Moon crossed the lunar nodes, something that once a month will put how well you know when to keep your work hat on and when to take it off to the test. These nostalgic and reflective lunar vibes bring an invitation to slow down but they also helped to reveal roadblocks and barriers, whether real or imagined. The key to a healthy and happy life is balance and especially when it comes to being active and time to rest and repair. It was the latter that you had a chance to either embrace over the weekend or learn from if you didn't get the chance.
---
You may also like