Gemini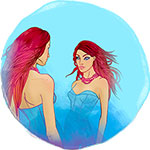 May 21 - Jun 20
---
Today's Horoscope
This week
This month
---
Gemini horoscope for June 2022
With the Sun always spending the first three weeks of June in Gemini, whenever your birthday falls this is your birthday month and the start of a new solar year. When the Sun returns to Gemini each year it brings you back to the energy of your birth while bringing an opportunity for a reset as you move into a new solar year and with it an opportunity for another trip around the block. This year two factors set the year apart from other years. The first is the amount of preparation and the second is just how much time you will have to keep exploring your options on the other side.
It was just last month that the dwarf planet Ceres left Gemini, wrapping up a 10 month deep dive into your needs and priorities that began last July. Normally Ceres will only spend three months here and then not return for another four years but a retrograde phase had kept her here since last July. Mercury's early return means that you already had your head in the game when the Sun returned and while he retrograded back out two days into your birthday month, he will return on 14th June to begin a do over visit. It is two days after your birthday month ends that Venus will return on 23rd June, with a chance to finally give your heart a voice.
Meanwhile, while Mars and Jupiter's departure from your career sector last month has finally ended an adrenaline fuelled five months, this has created more than enough momentum but with it, a chance to finally take your foot off the gas. While Neptune and the asteroid Juno are staying on, allowing you to stay committed to the dream and the journey ahead, they are slowing down. Ahead of Neptune's retrograde turn on 28th June and Juno's next month, the urgency is going to drop even further. Instead, Mars and Jupiter are channelling their energy into personal and professional networking.
Love & Romance
With no planetary activity in either your romantic or relationship sectors, the Moon's monthly visits are always a lot more important at this time of year. However, as well as the Moon's visits Venus, the planet of love will also be making an impact and in particular, will add a sense of romance to the whole month. Venus not only begins the month in a nostalgic and reflective part of your chart but having just returned late last month, she is still in her early days here. Venus has returned to take your heart on a nostalgic trip down love's memory lane, something that she does every year before returning to Gemini to begin a new Venus cycle of love.
Venus is here until 23rd June, with the Moon's return to your romantic sector from 9th June to 11th June set to add to a sense of romantic nostalgia that will hang over the first three weeks of the month. This is something that will allow you to connect to the past but also to the future, awakening old feelings and memories just before new doors are due to open. Venus will still be in this nostalgic part of your chart when the Moon returns to your relationship sector from 13th June to 15th June.
As well as a chance to become more emotionally engaged, it is the Moon's clash with the Sun in Gemini that will turn this into a Full Moon on 14th June. This is a Full Moon that at some point during your birthday month will always put a balance between your personal and relationship needs to the test, making them more transparent. While Venus won't be directly impacted by this, a sense of nostalgia could bring old feelings or emotional responses to the surface. By the time Venus returns to Gemini on 23rd June to look to the future, you should have a better sense of what you want from your relationships and what they need from you.
Business & Career
While things scale back professionally this month, with it comes a chance to take your foot off the gas and let the momentum already created carry things forward. Last month not only played host to an eclipsing Full Moon in your career sector, the most powerful Full Moon here in a decade, but saw Jupiter, Mars, Venus and Neptune come together in your work sector, for the first time in our lifetime. While Venus left earlier last month and Jupiter just a few days later, it wasn't until Mars left in the closing days of May that the adrenaline ride of the previous five months finally ran its course.
The South Node, the force behind last month's lunar eclipse will remain in your career sector for the rest of the year but it will be another five months before this will turn an ordinary New Moon into a solar eclipse. At the same time, with Mars and Jupiter gone from your work sector, the relentless drive forward and constant need to have your foot on the gas is gone. With Neptune and the asteroid Juno, one the planet of dreams and the other the queen of commitment staying on, there is a chance to commit to the dream and the journey ahead.
However, with Neptune already slowing down ahead of a retrograde turn on 28th June and Juno turning retrograde later next month, any urgency is evaporating. It is not just that Mars and Jupiter no longer have their foot on the gas but the fact that Neptune has his on the brake that means things are finally slowing down, but with more than enough momentum to keep the wheels turning. The Moon will return to your career sector from 11th June to 13th June, coming full circle from last month's eclipsing Full Moon while a visit to your work sector from 19th June to 21st June will be another chance to check in.
Money
For the first time this year, you begin the month with planetary activity on both sides of the financial fence and in a way that has things evenly balanced but with the dynamics of this financial year already starting to shift. Until the dwarf planet Ceres' return to your income sector last month there had been no planetary activity on the income side of the financial fence since the Sun left in July 2021. On the other hand, with not only continuous planetary activity in your financial sector but with a mass of planetary activity in the first four months of the year, all the focus has been on your financial situation and money matters.
Your financial sector is the side of the financial fence where the focus is more on what you do with and how you manage the money you have and while this has dominated for much of the last 12 months and especially during the first four months of the year, that is changing. It was in the closing hours of April that Pluto turned retrograde in your financial sector, signalling that money matters were ready to go into review mode. It was just over two weeks later that the dwarf planet Ceres returned to your income sector to begin your first deep dive into your income needs and priorities in four years.
As Pluto settles into his retrograde phase, Ceres is less focused on the money and more on preparing for the Sun's return to your income sector on 21st June. This will kick off the most lucrative and active months of the year on the income front and in the process will shift the balance of power onto the income side of the financial fence. Until then, Pluto and Ceres are keeping things evenly balanced. The Moon's visit to your income sector from 1st June to 4th June will give you a sharp nose for money and a lucrative sense of direction early in the month while its return on 28th June will see it align with the Sun a day later to create a New Moon on 29th June. A visit to your financial sector from 15th June to 17th June will be a chance to check in on money matters.
Health
Because the Sun will always spend the first three weeks of June in Gemini, this is your birthday month and the start of a new solar year. This gives you a lot more vitality while the sunlight itself beaming into your sign can be healing. While you might not be bouncing off the walls with restless energy, a sense that you are holding something back in reserve can work to your advantage. This will take away the pressure of having to throw yourself into everything and you can thank Venus for that. Until leaving a nostalgic part of your chart on 23rd June, the planet that rules the heart is encouraging peace and quiet. It is all about balance and especially when it comes to knowing when to keep your work hat on and when to take it off.
---
You may also like