Pig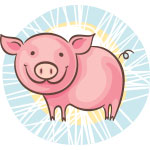 2019, 2007, 1995, 1983, 1971, 1959
---
Nov 28, 2022
Nov 29, 2022
Nov 30, 2022
---
Tuesday, November 29, 2022
You just may have to give a friend a second chance, even though the greater part of your being says it's time to move on. You do however, owe it to yourself and them to make certain that you're not over-reacting. After all, its always a good idea to give a decent person a second chance.
Pig Weekly Horoscope: Nov 28 to Dec 4, 2022
When the month of the Pig ran its course last Tuesday, this brought the foundation month of your new personal 12 month lunar cycle to a close, while bringing you to the point where the real journey begins. It is now, in the first full week of the month of the Rat that there is a chance to start taking the first steps towards turning intentions and resolutions into reality, especially with the Moon still in its waxing or growth phase. While the month of the Rat can be a lucrative month, its real impact comes from its ability to boost your confidence and a belief in yourself, giving you the courage to take bold new steps into the future.
Pig Monthly Horoscope: November 2022
The month of the Pig is underway and well established by the time you move into the new month and until ending on 24th November, there is a chance to look to the future during what is the first month of a new personal 12 month lunar cycle. This is more than just a chance to return to your native energy, with the start of a new lunar cycle a chance for new beginnings and to set new intentions and resolutions for the coming year. This year the month of the Pig began on an eclipsing New Moon, something that gave this extra momentum from the start. By the time the Moon returns on 22nd November, it will be time to bring things home but also to return to some of that initial enthusiasm. It is then that the lucrative month of the Rat will begin.
Power Numbers: 15, 22, 23, 29, 38, 49
Friendly Signs: Snake & Rabbit
Beware of: Pig
Colour of the day: Cornsilk
Born Today: John Ray, Louisa May Alcott, C.S. Lewis, Garry Shandling, Petra Kelly, Kim Delaney, Gena Lee Nolin
---
You may also like