Pig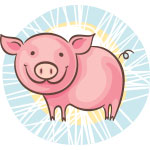 2019, 2007, 1995, 1983, 1971, 1959
---
Jun 28, 2022
Jun 29, 2022
Jun 30, 2022
---
Wednesday, June 29, 2022
Say what you feel, it's easy now and you can do so with little fear of getting into trouble. This is also a time you can better understand what others are trying to tell you at the gut level. Words come easier now and seem to have more meaning, take a risk and extend your normal boundpisces.
Pig Weekly Horoscope: Jun 27 to Jul 3, 2022
A Horse Moon on Monday and Tuesday will not only make it easier to embrace the final days of the month of the Horse and its focus on both matters of the heart and on change and transformation but will make it easier to remain emotionally and intuitively engaged. There is a lot of positive energy around this, giving money matters a boost but also making it easier to make positive changes, financially or otherwise. Meanwhile, right in the heart of the working week Wednesday's New Moon will usher in the adventurous month of the Goat. As the Pig and Goat are part of the same triad of affinity, this is the start of one of the best months of any lunar year, for multiple reasons.
Pig Monthly Horoscope: June 2022
Moving into the month of the Horse, something you did in the closing days of last month can come with a sense of relief and it is likely that you are just now noticing a drop in pressure. For the Pig, the month of the Snake can be a challenging month but purposely so, for halfway between the last month of the Pig and the next its job is to check if you have drifted off course and if you have, push you back onto the right path. On the other side, while the month of the Horse is putting the focus on your financial situation and money matters it is also focused on change and transformation. This is a chance to put any changes identified last month into practice. Meanwhile, this is a month that is saving the best until last with the adventurous month of the Goat starting on 29th June.
Power Numbers: 18, 29, 33, 54, 58, 62
Friendly Signs: Monkey & Rooster
Beware of: Ox
Colour of the day: Light Green
Born Today: Ed Gardner, Nelson Eddy, Gary Busey, Nicole Scherzinger, Richard Lewis
---
You may also like