Aries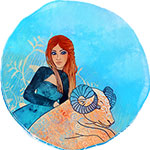 Mar 21 - Apr 19
---
Today's Horoscope
This week
This month
---
Aries Weekly horoscope for May 23 to May 29, 2022
As you move into the new week Jupiter, the planet of luck and expansion has been in Aries for 12 days and while this has brought you to the start of not just an expansive year but of a new 12 year Jupiter cycle of expansion, there will still be a sense that you are holding back or that you are still waiting for something. Yet what you might see as a case of procrastination, is the fact that you really are waiting for something that that something is Mars, your ruling planet and the planet of passion and the warrior planet of the cosmos. It is Mars' return on Wednesday that not only begins a new two year Mars cycle, but this will see his warrior and competitive spirit kick in. With Jupiter and Mars starting to align by the end of the week, there will be a whole new level of motivation by then. Meanwhile, while you are looking to the future Mercury's return to your income sector on Monday will see him once again team up with Pluto, this time focused on the past, second chances and untapped professional and income potential.
Love & Romance
While Venus will leave Aries this week it is not until the weekend, giving you plenty of time to work with the planet of love and the passionate influences she is starting to encounter. Venus has returned to update your romantic and relationship desires and expectations for the coming year but also to start turning desires into reality. Because the Moon has already made its monthly visits to your romantic and relationship sectors since Venus returned, this is something you already have a head start on. What gives Venus and therefore the confidence to follow your heart a boost is a close encounter with the dwarf planet Eris and the return of Mars to Aries on Wednesday. This will bring the planets of love and passion together for the first time in your sign in five years but it comes just a day after Venus' alignment with Eris, the warrior princess of the cosmos. This is helping to fuel your romantic confidence, passions and fighting spirit.
Business & Career
While the Moon left your career sector over the weekend, this has not only left you with your professional instincts and imagination fuelled but there has been time to start unpacking a download of information and messages. Because your subconscious can download information faster than you can process it at the time, while the Moon is here all you can do is trust your gut, trusting that once you have had time to mull things over the messages will become clearer. As you move into the new working week those messages are still making their way to the surface, making it important to keep trusting your gut. This is especially important this time, for the Moon's first visit since Pluto's retrograde turn here comes with a lot more hindsight. This comes just as Mercury's return to your income sector on Tuesday will put him back in a friendly aspect to Pluto, this time with the doors now open to the past, second chances and untapped professional and income potential.
Money
The Sun's departure from your income sector over the weekend may have taken the solar spotlight off your income situation and matters but this was never going to see things dial back. Instead, with Venus and Mars yet to return the most lucrative months of 2022 are still in front of you, with the Sun's job being to leave you with a new starting point. While Venus will return over the weekend and as the planet of money her return can trigger the most lucrative weeks of any year, Mercury's return on Monday brings a chance to first spend time back at the drawing board. Weeks after Mercury left at the end of last month Mercury is not only back for a double dip visit but in retrograde motion, brings a chance to retrace your steps. Mercury returns with a smart head for money, 20/20 hindsight and a chance to retrace your steps before Venus returns to begin the next and more lucrative phase.
Health
This is likely to be a week of two halves, one where you could find that you are running on empty at the start of the week but bouncing off the wall with restless energy just days later. The week begins with the Moon not only in a nostalgic and reflective part of your chart but during Mars' final days here. In the final days of a nearly two year Mars cycle, you will be running on empty, with what you might see as procrastination a wise saving of your resources. That will change with Mars' return to Aries on Wednesday filling your tanks again.
---
You may also like