Aries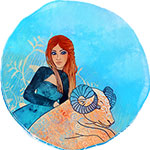 Mar 21 - Apr 19
---
Today's Horoscope
This week
This month
---
Aries horoscope for May 2022
First impressions suggest that this will be an ordinary month, apart from a sense that while your birthday month ended on 20th April something is missing. As always, the Sun will spend the first three weeks of May in your income sector and until leaving on 21st May will keep the solar spotlight on your income situation, matters and options. While Mercury left in the closing hours of April, a retrograde turn on 10th May will see him retrograde back in on 23rd May. Along with Venus' return on 29th May, this suggests that even though the Sun will leave on 21st May the most lucrative weeks of the year are still in front of you.
This will put Mercury's visit to your communication sector on hold but not before spending over three weeks working to get the communication lines open and nearly two of those weeks in retrograde motion, with a chance to give the past and unsaid words a voice. This is something that the Sun will carry on from when he returns to your communication sector on 21st May. Meanwhile, it is in the early days of the month that any thoughts that this is an ordinary month will be shattered when first Venus returns to Aries on 3rd May, followed by Jupiter eight days later on 11th May.
Venus shouldn't even be here, yet a retrograde turn late last year has held her back, meaning that she is late to return to your sign this year but in time to be here when Jupiter, the planet of luck and expansion returns for the first time since 2011. This is the start of a new 12 year Jupiter cycle of expansion, something that Mars' return to Aries on 25th May will help you exploit. It has been two years since Mars was here and to start a new Jupiter and Mars cycle at the same time is rare. Whatever you thought your options were moving into this new solar year is nothing compared to the new doors that Jupiter, Venus and Mars can open.
Love & Romance
After spending the final two months of 2021 and the first two months of 2022 stalled Venus, the planet of love is picking up speed and this month will spend time in three signs. Venus will start the month in a nostalgic part of your chart where a nostalgic trip down love's memory lane is just coming to an end. Held back by a retrograde turn late last year, your birthday month has come and gone but Venus has yet to return to Aries. That will change when Venus returns on 3rd May, bringing a nostalgic trip down love's memory lane to a close while opening the doors to a new Venus cycle of love.
Until leaving Aries on 29th May, Venus will not only work to make these some of the best weeks of the year for both romantic and relationship matters but will help you set your intentions and expectations on both fronts for the coming year. It is while Venus is in Aries that the Moon will make its monthly visits to your romantic and relationship sectors, something that will give both Venus' short and long term mission a boost. It begins with the Moon's return to your romantic sector from 7th May to 10th May, just days after Venus' return to Aries.
The romantically charged lunar vibes will amplify Venus' influence, making these the most romantically charged days of the month but with it a chance to raise the bar on your expectations for the coming year. The Moon will make its monthly visit to your relationship sector from 12th May to 14th May, with a chance to become more emotionally engaged and connected. This will see the Moon clash with Venus, something that can give you a better sense of what you want from your relationships and what they need from you. With Mercury, the planet of communication not only in your communication sector but turning retrograde on 10th May, he will be on hand to give your emotional responses, relationships, the past and unsaid words a voice.
Business & Career
There is likely to be a different feel this month from the start, something that is in stark contrast to where things were at the same time last month. While Venus and Mars both left your career sector in March and this is when the hectic pass that the year began with dialled back, Pluto was still working to capitalise on the momentum gained. Especially from the four months that Venus had spent here and from the six weeks that Mars had spent fuelling your professional passions, fighting and competitive spirit during his first visit in two years. Things started to slowly dial back over the course of April until, at a complete standstill, Pluto turned retrograde on 30th April.
As you move into the new month Pluto is in his first full day in retrograde motion and at a standstill, the professional gods have pushed the pause button. It won't stay that way, with Pluto gradually starting to move again but back across the ground already covered over the last five months. Things have been busy and hectic during that time and where there was only time for quick brush strokes there is now a chance to go back over the same strokes, this time with a topcoat, a chance to fill in the blanks and capitalise on what has already been invested.
This has taken the urgency out of this professional year, at a time when an increase in planetary activity on the income front is offering a chance to benefit financially from what has been invested professionally. This makes the Moon's visit to your work sector from 10th May to 12th May more than just a chance to get an intuitive read on work and job matters. These could be some of the best days of the month across the income, work and career fronts. Meanwhile, the Moon will make its first visit to your career sector since Pluto's retrograde turn from 19th May to 21st May. As well as sharpening your professional instincts this will give you a feel for this retrograde phase and where it is drawing your attention.
Money
Because the Sun will always spend the first three weeks of May in your income sector, the solar spotlight is always on your income situation, matters and options at this time of year. Yet while the Sun will leave on 21st May, in terms of the momentum building and the income potential ahead this is still early days. However, we are starting to see the impact from the lunar nodes' return to your two money houses in January. The month doesn't just begin with the Moon in your income sector but aligned with the Sun as not just a New Moon but a solar eclipse. This is a direct result of having the North Node in your income sector.
Behind the scenes, the North Node is providing a steady and constant lucrative sense of direction and will do until leaving in 2023. This is something that the Sun was able to rely on from the start, as was Mercury when he returned last month. Mercury's departure on 30th April has left you with the smart head for money needed to keep your head in the game and your feet on the ground but he hasn't finished yet. Mercury will retrograde back in on 23rd April, two days after the Sun leaves but ensuring he is here when Venus returns next month and Mars a month later to kick off the most lucrative months of 2022.
Meanwhile, having the South Node in your financial sector also means that the Full Moon here on 16th May will be an eclipse as well, this time a total lunar eclipse. From the Moon's return on 14th May to when it leaves on 16th May this will fuel your financial instincts and imagination while its clash with the Sun will energise both sides of the financial fence. At a point in the year when all the planetary activity is on the income side of the financial fence, this is the push that money matters have been waiting for.
Health
While you are likely to notice an increase in energy, vitality and motivation this month it is likely to happen in incremental steps rather than in one fell swoop. Because you begin the month with five planets in a nostalgic and reflective part of your chart you might feel sluggish or unmotivated to start with. However, as first Venus leaves and returns to Aries on 3rd May and then Jupiter on 11th May, you will find that this starts to shift. However, the full flood of energy won't come until Mars finally returns to Aries on 25th May. Meanwhile, the Moon's return to your health sector from 10th May to 12th May will be a valuable chance to check in with what your body is telling you.
---
You may also like