Aries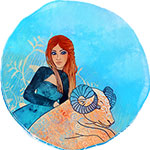 Mar 21 - Apr 19
---
Today's Horoscope
This week
This month
---
Aries horoscope for January 2023
From the start 2023 is going to feel like a breath of fresh air, with a real sense of change, excitement and of new beginnings from the start but also with a sense that there is an opportunity for a do over or a reset. This is all thanks to Jupiter's return to Aries just before Christmas. Jupiter loves being in Aries and you love having him here and after what might seem like a false start last year, this year you are ready to embrace the future and this brand new 12 year Jupiter cycle of expansion. What might lead you to see last year as a false start, is that this wasn't the first time Jupiter returned.
Jupiter had returned to Aries last May, but by the time he returned he was already slowing down and ended up spending half of his time here in retrograde motion. You have been called back to the finishing line but what might have felt like a false start was a chance to plant seeds, get a feel for what you do and don't want to embrace and this means that this time, you can hit the ground running. This time there will be no false starts and Jupiter will have his foot on the gas until leaving in May. However, we do start the year with four planets in retrograde motion and this is helping to put the speed brakes on because by the end of the month every planet in the solar system will be in direct motion and it will stay that way for the next three months.
The first planet to release its brakes will be the dwarf planet Eris, with the warrior princess of the cosmos turning direct in Aries on 12th January. This will be followed just a day later when Mars, your ruling planet turns direct in your communication sector on 13th January, right in the heart of the dwarf planet Ceres' first full month in your relationship sector and of Venus' visit to your friendship sector, from 3rd January to 27th January. The next to turn direct will be Mercury in your career sector on 19th January, a day before the Sun leaves and the last is Uranus, who will turn direct in your income sector on 23rd January.
Love & Romance
While there shouldn't be any planetary activity on the romantic or relationship fronts as you move into the New Year, that changed in the lead up to Christmas. While only a minor player, the dwarf planet Ceres' return to your relationship sector a week before Christmas saw her begin her first deep dive into your relationship needs and priorities in four years. This is something that will be quite a journey, with Ceres here until March before retrograding back out, only to return again three months later. With Mars in your communication sector until March, the two will work in tandem, with communication an important part of the journey ahead.
The Moon will make its first visit to your relationship sector for the year from 13th January to 16th January, something that is always a chance to check in and become more emotionally engaged. As the Moon moves through, as well as aligning with Ceres it will form a friendly aspect to Mars in your communication sector, bringing the two together. These will be important days for getting a better read on your relationship needs and priorities but also for giving your emotional responses and relationships a voice.
Meanwhile, with no planetary activity in your romantic sector, the Moon's first visit for the year will give the spirit of romance a boost from 8th January to 11th January. By then Venus, the planet of love will be in a social and serendipitous part of your chart, where from 3rd January to 27th January she will be working with the laws of attraction and synchronicity to create serendipitous moments and/or encounters. It is on 27th January that Venus will return to a nostalgic and reflective part of your chart, beginning a nostalgic trip down love's memory lane that will end with her return to Aries next month, much earlier in the year than is normally the case.
Business & Career
Because the Sun will always spend the last 10 days and the first three weeks of each year in your career sector, the solar spotlight is always on your career and professional situation, matters and options as you move into the new professional year and this year is no exception. However, the Sun is not on his own and the other planets here, with their different agendas and timeframes add to complicity and different layers that combine to get the year off to a good start. By far the most urgent of those planets is Venus, with the planet of money, desire and attraction not only leaving on 3rd January but then not returning again until 2024.
This makes it important to listen to your heart from the start, as Venus works to fuel your professional confidence, attract opportunities and steer things in a lucrative direction. On the opposite side of the scale is Mercury, who returned just after Venus last month for what is normally a 14 to 15 day chance to work smarter, get your head in the game, ideas on the table and the communication lines open. Instead, a retrograde turn late last month will not only keep him here for the rest of the month but into the first two weeks of February as well. With Mercury not turning direct until 19th January, this gives you a chance to hold back, something that you will ultimately benefit from.
It is just a day later that the Sun will leave, leaving Mercury at a standstill in his first full day in retrograde motion but also alone with Pluto and this is when those weeks spent holding back will be an asset. This has given you time back at the drawing board but also to hold back so that he can give Pluto his full attention and that could be a game changer. For after 14 years the planet of change and revolution is leaving your career sector in March, with a chance to use Mercury's intellectually savvy edge and the insight gained by holding back to start making constructive and planned changes, putting you in the driver's seat. Meanwhile, the Moon will give you more insight into career matters from 20th January to 22nd January and into work and job matters from 11th January to 13th January.
Money
There is something about the Moon's return to your income sector on New Year's Day that sends a subtle message from the money gods to pay attention, with big things destined on this front in 2023. If you didn't know what lies ahead this would be and still is an ordinary monthly visit, which every four weeks can sharpen your nose for money and act as a trigger. Starting the year with this kind of advantage is an omen for while he is still over four months away, Jupiter's return in May will bring you to the start of your biggest year for income growth and expansion in over a decade. However, this is more than just an omen of things to come, with some real advantages now.
The Moon is here until 3rd January, ensuring your nose for money is sharp during Venus, the planet of money's final days in your career sector. With Venus leaving on 3rd January as well, this will make the final days of her mission to fuel your professional confidence, attract opportunities and steer things in a lucrative direction some of the best while getting both this financial and professional year off to a good start. While the Moon will move on, there is growing support between the planets that will stay on in your career sector and Uranus, who is slowing down ahead of his direct turn in your income sector on 23rd January.
This is the point when the brakes will come off and while the real income growth and expansion will come when Jupiter, the planet of luck and expansion returns in May to begin his 12 month visit, a lot of water will pass under the bridge across the income, work and career fronts before then. Because of the Moon's early return to your income sector, it will come full circle again from 28th January to 30th January. By this time Uranus will be in direct motion and four weeks into the new professional year this could have lucrative implications. Meanwhile, the Moon's first visit to your financial sector for the year from 16th January to 18th January will be a more low key chance to check in on money matters.
Health
While the year begins with a need to have one foot on the gas and another on the brake, this should not only be easy to achieve but it comes with confidence and muscle memory and to a point where you don't even know it is happening. You will just automatically know when to push yourself and when you need to slow down and recharge your batteries. It helps that the dwarf planet Ceres only left your health sector late last month, ending her deep dive into your health needs and priorities just before Christmas. As you move into 2023 there is no need to reinvent the wheel, with the Moon's return to your health sector from 11th January to 13th January more a chance to check in and tweak things if need be.
---
You may also like