Tiger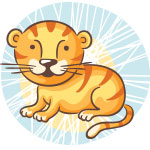 2010, 1998, 1986, 1974, 1962, 1950
---
Jun 4, 2023
Jun 5, 2023
Jun 6, 2023
---
Monday, June 5, 2023
You might find that other people want to interfere in your life just now and those in authority may also be difficult for you.If you're feeling isolated or alone, generating inner feelings of bitterness or frustration will not help your cause.Try to be agreeable rather than angry with people.
Tiger Weekly Horoscope: May 29 to Jun 4, 2023
As you move into the second week of the month of the Snake the focus is still on things close to home, but in the lead up to the weekend's Full Moon everything is building in intensity. This could see your home life become busier or there could be more things on the go on the home, family and/or property fronts. In the lead up to a Full Moon everything is building and expanding, making this a time for investing into and initiating things that you will have time to prune down or focus on at a slower pace on the other side. This can mean starting everything you can and then deciding later what you have the time or the need to follow through on.
Tiger Monthly Horoscope: June 2023
This is a month that is saving the best until last while leaving you with plenty of time to enjoy the shift this will bring. Until the month of the Snake ends on 18th June the focus is on things close to home or anything routine and grounded. The Snake focuses on the things that make the wheels of daily life run smoothly as well as putting the focus on home and family. This can involve duty, investment on your part but also the rewards. A Snake Moon from 14th June to 16th June will be a chance to move into these final days more emotionally and intuitively engaged. It is two days later that the New Moon on 18th June will usher in the playful and creative month of the Horse, with the focus on matters of the heart and all things fun, playful, romantic and creative. This is also one of the best months of any year for the Tiger.
Power Numbers: 5, 24, 30, 52, 54, 66
Friendly Signs: Tiger & Dragon
Beware of: Horse
Colour of the day: Magenta
Born Today: John Maynard Keynes, Federico Garcia Lorca, Alfred Kazin, Bill Moyers, Laurie Anderson
---
You may also like