Tiger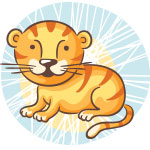 2010, 1998, 1986, 1974, 1962, 1950
---
Oct 2, 2022
Oct 3, 2022
Oct 4, 2022
---
Monday, October 3, 2022
Your ability to do less with more and come out with lasting results will be put in the spotlight, as will be your capacity to sustain your efforts and exercise authority within your personal territory. If you appear to have your act together, this month will be remembered as the time you demonstrated it and will enhance your credibility for some time to come.
Tiger Weekly Horoscope: Sep 26 to Oct 2, 2022
For the Tiger, Monday and Tuesday's adventurous Dog Moon is doing more than just get the week off to an adventurous start. It is Monday's New Moon that ushers in the month of the Dog and while this is something that comes around once a year, this is set to have major implications this time. For the first time in 12 years, this is falling during the Year of the Tiger and as the Tiger and the Dog are part of the same triad of affinity, this will be an especially good month but also an important month in what is the foundation year of a new personal 12 year lunar cycle. As well as ushering in an adventurous month this will give you the confidence to embrace the future and the journey ahead.
Tiger Monthly Horoscope: October 2022
For the Tiger, the adventurous month of the Dog is one of the better months of any lunar year and not just because it puts the focus on the adventurous side of life's fence and on adventure, travel, learning and discovery in general. The Dog and the Tiger are part of the same triad of affinity so are the best of friends, with life flowing more easily and with a lot more support. During the month of the Dog, there will be less pressure and it will be harder the sweat the small stuff. That is the case when the month of the Dog comes around every year but especially during the Year of the Tiger, with the Tiger also there to help the Dog out. The month of the Dog will run through to 25th October, when a New Moon will usher in the competitive and professionally charged month of the Pig.
23

21

8

52

84

73

56

91

83
Power Numbers: 3, 19, 22, 27, 56, 68
Friendly Signs: Pig & Rabbit
Beware of: Snake
Colour of the day: Orchid
Born Today: Pierre Bonnard, Thomas Wolfe, Gore Vidal, Chubby Checker, Stevie Ray Vaughan, Al Sharpton, Ashlee Simpson
---
You may also like