Rat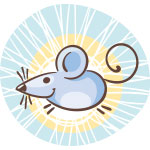 2020, 2008, 1996, 1984, 1972, 1960
---
Nov 30, 2023
Dec 1, 2023
Dec 2, 2023
---
Thursday, November 30, 2023
Your judgment is clouded when it comes to real life problems and decisions. Your imagination is filled with dreams and fantasies that take you far away. You crave a deeper emotional commitment in the romantic sphere of your life.
Rat Weekly Horoscope: Nov 27 to Dec 3, 2023
A Full Moon will not only always bring you to the halfway point in any lunar month, but this is when it reaches its full potency. With the Moon starting under a Full Moon, this could see both a sense of nostalgia deepen but also pushback if life is putting too many demands on your time. This brings you to the halfway point in the nostalgic and reflective part of your chart month of the Pig but also just two weeks away from the month of the Rat and the start of a new personal 12 month lunar cycle. The Pig will be fighting for time to hear yourself think just as we move into what can always be some of the busiest weeks of any year.
Rat Monthly Horoscope: November 2023
As is often the case and especially when the New Moon that will bring one lunar month to a close while ushering in the next falls in the middle of the month, this will be a month of two halves. While that is nothing new, the difference this time is just how different those two halves will be for you. The month begins under the domain of the social and serendipitous month of the Dog. This is a busy and vibrant month, with places to go and people to see and until it ends on 13th November, your time is likely to be in demand. In contrast, as the month of the Dog ends this will usher in the nostalgic and reflective month of the Pig and with it, the four week wind down of your current personal 12 month lunar cycle. This ushers in a time for reflection as you prepare for the month of the Rat and a new 12 month cycle next month.
Power Numbers: 6, 9, 30, 37, 42, 65
Friendly Signs: Dragon & Tiger
Beware of: Dog
Colour of the day: Dark Violet
Born Today: Jonathan Swift, Mark Twain, Winston Churchill, Virginia Mayo, Shirley Chisholm, Dick Clark, Abbie Hoffman, Billy Idol, Ben Stiller
---
You may also like