Rat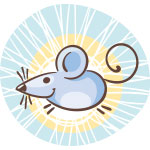 2020, 2008, 1996, 1984, 1972, 1960
---
Jun 4, 2023
Jun 5, 2023
Jun 6, 2023
---
Monday, June 5, 2023
A yearning for the stimulation of new ideas and ideals is emphasized for you now. Others may see the world as it is and ask why, but like Bobby Kennedy, you imagine the world as it could be and ask why not. New friends and an involvement in idealistic groups take on greater importance for you now... the old is suspect; the new seems to hold all the answers.
Rat Weekly Horoscope: May 29 to Jun 4, 2023
The second week of the busy, industrious and work focused month of the Snake was always going to be the busiest and especially as this will start under a competitive and professionally charged Rooster Moon. However, with the weekend's Full Moon not only marking the halfway point but the point when things will start to ease back, this is a week where the more you can invest the more you can reap later. Meanwhile, because the weekend's Full Moon is a Rat Moon, this will be an important chance to check in personally. This is a Full Moon that will always fall halfway between the last month of the Rat and the next and at the halfway point offers a chance for a reset.
Rat Monthly Horoscope: June 2023
While the busy, industrious and work focused month of the Snake will run its course on 18th June and these could be some of the busiest weeks of the year, there is a lot that can be achieved in that time. Whether at work or with whatever it is that keeps you busy, the Snake is working with you to make things happen and get things done. The advances, progress or what you can invest over these remaining weeks will have long term benefits and not just at work, but with whatever it is that keeps you busy or occupies your time. It is when the month of the Snake ends on 18th June that the month of the Horse begins, bringing you to the halfway point in your current personal 12 month lunar cycle. The Rat and Horse are opposing signs and this isn't always the easiest of months but it is the most empowering, bringing wakeup calls just as there is an opportunity for a reset.
96

13

91

49

50

61

69

94

75
Power Numbers: 5, 10, 12, 47, 53, 60
Friendly Signs: Goat & Dog
Beware of: Monkey
Colour of the day: Alice Blue
Born Today: John Maynard Keynes, Federico Garcia Lorca, Alfred Kazin, Bill Moyers, Laurie Anderson
---
You may also like