Rat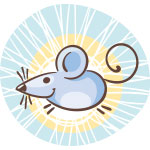 2020, 2008, 1996, 1984, 1972, 1960
---
Oct 2, 2022
Oct 3, 2022
Oct 4, 2022
---
Monday, October 3, 2022
Send requests through channels and things will flow more easily. Feelings and desires may feel like you are on a wild ride, and trying to find balance may be a challenge. Today's beginnings may mature into tomorrow's turmoil's, so don't fly off the handle and don't jump into something you're not sure of.Let the energy settle until tomorrow, then decide on it.
Rat Weekly Horoscope: Sep 26 to Oct 2, 2022
Just starting the week under a social and serendipitous Dog Moon is getting the week off to a good start. However, it is Monday's New Moon that also kicks off the month of the Dog, which for the Rat is a busy, vibrant and socially engaged month. Starting the week on a New Moon means that the Moon is also just starting its growth phase, creating a week where there are likely to be places to go and people to see. For the first time in 12 years, the month of the Dog is falling during the Year of the Tiger, something that not only makes it easier to communicate but where things are likely to flow more smoothly, knowing that they are natural allies.
Rat Monthly Horoscope: October 2022
The social and serendipitous month of the Dog has only been underway for a few days by the time you move into October, bringing you to the start of what is a vibrant and socially charged month, with places to go and people to see. This is a month that is going to keep you busy and on the go, with a lot of focus on your social life, friendships, teamwork and networking. While the month of the Dog comes around once a year, for the first time in 12 years this is falling during the Year of the Tiger and that has two major implications. The first is that as the Tiger is all about communication, this will make it easier to connect. At the same time, as the Tiger and Dog are the best of friends, everything will flow more smoothly. Meanwhile, the New Moon on 25th October will bring a significant shift, ushering in the nostalgic and reflective month of the Pig and with it the wind down of this current personal 12 month lunar cycle.
60

79

45

72

48

8

82

77

52
Power Numbers: 3, 9, 29, 36, 54, 57
Friendly Signs: Tiger & Dragon
Beware of: Snake
Colour of the day: White
Born Today: Pierre Bonnard, Thomas Wolfe, Gore Vidal, Chubby Checker, Stevie Ray Vaughan, Al Sharpton, Ashlee Simpson
---
You may also like