Pig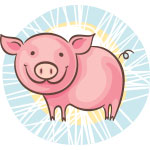 2019, 2007, 1995, 1983, 1971, 1959
---
Nov 30, 2023
Dec 1, 2023
Dec 2, 2023
---
Thursday, November 30, 2023
It is all plain sailing at work at the moment. You are able to handle all instructions and challenges you are assigned effortlessly and therefore gain lots of credit and acknowledgement of your ability. Carry out new projects within a team if possible as you get along with your colleagues magnificently and are able to achieve a lot together.
Pig Weekly Horoscope: Nov 27 to Dec 3, 2023
Monday's Full Moon brings you to the halfway point in the month of the Pig and with it the wind down of this current lunar cycle. While the month of the Pig has another two weeks to run and you will continue to explore your options and set your intentions and resolutions as you move into this new personal 12 month lunar cycle, this is a reminder that this is drawing to a close. It was over the weekend that a Snake Moon might have brought some wakeup calls, but as the Snake and Pig are opposites this would have pointed out where things were out of balance. This will also have helped to explore your real needs and priorities.
Pig Monthly Horoscope: November 2023
The New Moon on 13th November will do more than just make this a month of two halves, for it is not just one lunar month ending and another starting but a brand new year. For the Pig, the nostalgic and reflective month of the Dog is more than just a chance to spend more time in the slow lane and instead, this has brought you to the end of your current personal 12 month lunar cycle, with a chance to close old doors and reflect on the journey this has taken you on. Meanwhile, the New Moon that ushers in the month of the Pig also brings you to the start of a new personal 12 month lunar cycle, with a chance over the next four weeks to lay down the foundations for the journey ahead. This is also a chance to update and reassess your needs and priorities.
53

76

31

15

92

64

65

58

89
Power Numbers: 7, 21, 28, 30, 36, 37
Friendly Signs: Goat & Rabbit
Beware of: Pig
Colour of the day: Dark Green
Born Today: Jonathan Swift, Mark Twain, Winston Churchill, Virginia Mayo, Shirley Chisholm, Dick Clark, Abbie Hoffman, Billy Idol, Ben Stiller
---
You may also like