Pig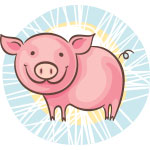 2019, 2007, 1995, 1983, 1971, 1959
---
Jun 4, 2023
Jun 5, 2023
Jun 6, 2023
---
Monday, June 5, 2023
Now is an ideal time to express your ideas to others. Your communication skills are at or near their peak, so persuading others to take your point of view should be relatively easy. Should new opportunities arise don't wait for others to lead you towards realizing them. You take the lead and let others follow you.
Pig Weekly Horoscope: May 29 to Jun 4, 2023
The weekend's Full Moon will bring you to the halfway point of the month of the Snake, which in turn has brought you to the halfway point of your current personal 12 month lunar cycle. This is a time of year when there is an opportunity for a reset and it is a Pig Moon from Thursday to Saturday that brings you to a point when you are as close to understanding your personal needs and priorities as it gets. This is the chance that you get every four weeks to check in, but with a lot more significance this time. This is not only a chance to listen to your intuition, instincts and imagination but to take action.
Pig Monthly Horoscope: June 2023
While for the Pig the month of the Snake can be the most challenging month of any 12 month lunar cycle, this is also the most empowering. Halfway between the last month of the Pig and the next, this is a chance to check in and push the reset. This would be an opportunity lost if the Snake, opposing sign to the Pig didn't push some buttons and bring some wakeup calls. It is when you feel stressed or under pressure that there is a chance to look beyond what is or isn't happening to what needs within you that this is giving a voice to. It is when the month of the Snake ends on 18th June that the month of the Horse will take over, with a month that is more about change and transformation able to build on from that what this exposed. This is the point when you get to take your power back.
46

76

14

60

5

63

25

49

31
Power Numbers: 5, 38, 50, 51, 53, 58
Friendly Signs: Snake & Rooster
Beware of: Horse
Colour of the day: Firebrick
Born Today: John Maynard Keynes, Federico Garcia Lorca, Alfred Kazin, Bill Moyers, Laurie Anderson
---
You may also like