Dog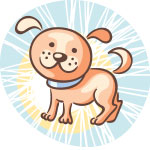 2018, 2006, 1994, 1982, 1970, 1958
---
Nov 30, 2023
Dec 1, 2023
Dec 2, 2023
---
Saturday, December 2, 2023
You'll find it rather more difficult than usual to concentrate on the business at hand. You've to force yourself to do something worthwhile. With such an attitude pervading your thoughts, it probably best that you to focus on the most important assignments that you've to complete today and make sure that these are accomplished satisfactorily, in order to avoid any unnecessary trouble.
Dog Weekly Horoscope: Nov 27 to Dec 3, 2023
Monday's Full Moon brings us to the halfway point of the month of the Pig and while this means there are just two more weeks to go, this is also when it reaches its full potency. For the Dog, the month of the Pig, which will always follow on from the month of the Dog, is a chance to put many of the intentions and resolutions made last month into practice. This can be a lucrative month, but it is not just about the money. The Pig's main influence is going to be on your confidence and a belief in what you deserve and as you can't attract what you don't believe you deserve this is a month when you are going to attract more across all the currencies in your life. This also gives you the confidence to walk the talk.
Dog Monthly Horoscope: November 2023
As you move into the new month you are already in the second half of the month of the Dog, but until it runs its course on 13th November you are still laying down the foundations of this new personal 12 month lunar cycle. The month of the Dog is more than just a chance to return to your native energy but is an opportunity for a reset that comes from a chance to reconnect with your personal truth. This is something that will evolve from year to year and rather than taking a cookie cutter approach this is a chance to reassess your needs and priorities. Meanwhile, the New Moon on 13th November that will bring the month of the Dog to a close will usher in the month of the Pig, a month that makes it easier to attract what you deserve across all the currencies in your life.
31

37

59

66

10

18

49

73

81
Power Numbers: 2, 24, 36, 44, 50, 52
Friendly Signs: Rat & Dog
Beware of: Rooster
Colour of the day: Dark Cyan
Born Today: Georges Seurat, Nikos Kazantzakis, Ruth Draper, Maria Callas, Julie Harris, Lucy Liu, Britney Spears
---
You may also like