Dog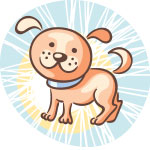 2018, 2006, 1994, 1982, 1970, 1958
---
Jun 4, 2023
Jun 5, 2023
Jun 6, 2023
---
Monday, June 5, 2023
There are times when being slightly vague about what you're doing does not pay off, but this is not one of them. You may find that embroidering the truth with appealing imagination will be just what it takes to get others to accept what they might otherwise refuse.
Dog Weekly Horoscope: May 29 to Jun 4, 2023
The second week of any lunar month is always the most expansive and a time when you can invest as much as possible and then, on the other side of the Full Moon start to narrow down your focus. In this case, the month of the Snake is not only putting the focus on change and transformation but on your financial situation and money matters, with the two sometimes overlapping. This makes this a good week for implementing any changes you might want to make on the financial front but also on the personal front as well. Starting the week under a Rooster Moon will make it easier to prioritise.
Dog Monthly Horoscope: June 2023
This is one month that is saving the best until last. Not that the month of the Snake and its focus on change and transformation and on your financial situation and money matters is challenging and more that what comes next is one of the most exciting months of any lunar year. Until the New Moon on 18th June the focus is on the Snake and after the more challenging month of the Dragon delivered its wakeup calls, this is a chance to make the kind of changes this drew your attention to, whether personally or financially. With that over, there will be a chance to embrace the lighter side of life when the New Moon on 18th June ushers in the adventurous month of the Horse. It is not just that the Horse puts the focus on adventure, travel, learning and discovery, but as the Dog and Horse are part of the same triad of affinity life itself will flow more smoothly.
Power Numbers: 3, 5, 24, 32, 57, 59
Friendly Signs: Dragon & Horse
Beware of: Monkey
Colour of the day: Light Cyan
Born Today: John Maynard Keynes, Federico Garcia Lorca, Alfred Kazin, Bill Moyers, Laurie Anderson
---
You may also like