Dog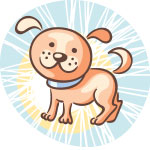 2018, 2006, 1994, 1982, 1970, 1958
---
Dec 5, 2023
Dec 6, 2023
Dec 7, 2023
---
Wednesday, December 6, 2023
You should not try to change your routine in any way. Do not ask for a promotion, vacation, or begin a new project. Use your patience and diligence to get through this time, and remember that your problems are not as bad you think they are.
Dog Weekly Horoscope: Dec 4 to Dec 10, 2023
The last full week of the lucrative month of the Pig is a chance to get the most out of its influence. While the Pig does make it easier to attract what you deserve and especially when it comes to the money and even more so during the busy, industrious and work focused Year of the Rabbit, it is not just about the money. The Pig's main focus is to boost your confidence and foster a sense of self confidence. As you can't attract what you don't believe you deserve, the Pig's focus is on fostering that sense of belief across all the currencies in your life. You can't believe in yourself in one aspect of your life and not in another, with a rising tide lifting all boats.
Dog Monthly Horoscope:
Power Numbers: 6, 15, 24, 36, 49, 60
Friendly Signs: Monkey & Dog
Beware of: Rat
Colour of the day: Gold
Born Today: Evelyn Underhill, Lynn Fontanne, Ira Gershwin, Alfred Eisenstaedt, Dave Brubeck, Jobeth Williams, Cindi Wafstet
---
You may also like