Dog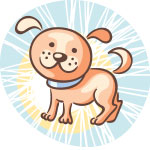 2018, 2006, 1994, 1982, 1970, 1958
---
Oct 2, 2023
Oct 3, 2023
Oct 4, 2023
---
Find out more about Dog
Dogs are loyal, truthful and live by their own uncompromising code of ethics. While very trustworthy, they do find it difficult to trust others. Dogs are faithful friends and exceptional listeners. They are the caped warriors of the Chinese Zodiac in that they will fight injustice and side with the underdog anytime, anyplace.
Dogs can be very rigid in their thinking and behavior. They also tend to be moody and need time alone to sulk and revitalize. Dogs are slow to trust, but with time and evidence that someone is trustworthy they will warm up to them.
Dogs need physical activity to be happy. They will champion any cause they deem worthy.
In the pursuit of love, Dogs may be their own worst enemy. They can become so anxious from engaging in the mating ritual that they create too much stress in their potential partners for their dance of love to be successful.
Dog in love
Honest, Dependable, Diligent, Perceptive, Selfless, Caring, Moody, Fun-loving, Adventurous.
Famous Dogs Include
Brigitte Bardot, Candice Bergen, David Bowie, Kate Bush, Naomi Campbell, Cher, Petula Clark, Jamie Lee Curtis, Sally Field, Zsa Zsa Gabor, Ava Gardner, Michael Jackson, Sophie Loren, Shirley MacLaine, Madonna, Liza Minnelli, David Niven, Sydney Pollack, Elvis Presley, Prince, Sade, Claudia Schiffer, Slyvester Stallone, Sharon Stone.
Ideal Jobs
Priest, Nun, Trade union leader, Teacher, Charity worker, Nurse, Doctor, Judge, Lawyer, Scientist, Researcher, Social Worker, Lawyer, Community worker.
Lucky Numbers
1, 4, 5, 9, 10, 14, 19, 28, 30, 41, 45 and 54.
Equivalent Western Sign
Libra
Most Compatible With
Tiger or the Horse.
---
You may also like