Capricorn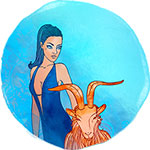 Dec 22 - Jan 19
---
Today's Horoscope
This week
This month
---
Capricorn horoscope for January 2022
It is a given that the Sun will always spend the last 10 days and the first three weeks of every year in Capricorn, making you the only sign that will move into a new solar year and a new calendar year at the same time. However, this year the lines between the past, present and future are a lot more blurred and while your birthday month will end on 20th January, it might not be until the end of the month that you are fully ready to embrace the journey ahead. This is partly because Venus will remain in retrograde motion in Capricorn until 29th January and partly because Mars will begin the year in a nostalgic and reflective part of your chart before returning on your sgn 25th January.
Even Mercury, who will leave Capricorn on 2nd January just as the Moon returns to begin the first New Moon of 2022, will retrograde back in on 26th January, ending the month in retrograde motion here. While this is slowing down the launch of this new solar year it is also extending it through to Venus and Mars' departure in March. This is giving you months rather than weeks to explore your options for the coming year. Meanwhile, it is on 2nd January that Mercury will not only join Saturn in your income sector but just days after Jupiter left on 29th December.
As well as giving you the smart head for money needed to get your head in the game and to think on your feet, this is a chance to regroup ahead of the Sun's return on 20th January. It is here that Mercury will turn retrograde on 15th January, something that apart from a short dip back into Capricorn will keep him here until March. While Jupiter's time in your income sector will have an ongoing impact, the planet of luck and expansion begins the month alongside Neptune in your communication sector, making 2022 an important year for communication and connecting. Helping with that is the South Node's return to your sector of friendship, teamwork and networking on 19th January, where it will spend the next 18 months.
Love & Romance
There are some exciting developments on the romantic and relationship fronts this month, getting the year off to a good start on both fronts. There is a lot of romantic nostalgia in the air this month and that means the doors will also be open to the past and second chances. This is because you not only start the year with Uranus and the dwarf planet Ceres in retrograde motion in your romantic sector but Venus, the planet of love in retrograde motion in Capricorn. To begin with, the three planets responsible for the spirit of romance will all be in retrograde motion, putting a lot of focus on the past and second chances.
However, one by one this will change, starting with Ceres' direct turn on 15th January. While not a major player, as Ceres is focused on your heart's needs and priorities, this is when you will start looking to the future rather than the past. It is just four days later that Uranus will turn direct on 19th January, the same day that the North Node returns to your romantic sector for the first time in 18 years. As well as setting the scene for a series of eclipses over the next 18 months, the North Node is always looking towards the future. However, it is not until Venus turns direct on 29th January that you will be ready to close the doors to the past.
A month that begins with all the romantic focus on the past will start to see new doors open, while the love gods will leave old doors open for as long as they can. The Moon will make its first visit to your romantic sector for the year from 11th January to 13th January, while the focus is still on the past and a sense of romantic nostalgia still dominates. Meanwhile, the Moon will not only make its first visit to your relationship sector for the year from 16th January to 18th January but to create the first Full Moon of 2022. As well as a chance to become more emotionally engaged and connected, this will be a chance to better understand what you want from your relationships and what they need from you.
Business & Career
While this professional year gets off to a measured start, with the North Node leaving your work sector on 19th January there is a sense of direction, purpose and momentum from the start. For the last 20 months, the North Node has not only been providing that sense of direction and purpose but has been behind the eclipses here during that time as well as working with the South Node to police how well you know when to keep your work hat on and when to take it off. The North Node's departure will take away any pressure while leaving you with a sense of direction and the kind of momentum that can keep things moving until the Sun returns in May.
Fortunately, the North Node will still be here when the Moon makes its first visit to your work sector for the year from 13th January to 16th January. This is the Moon's second visit since the lunar eclipse this created in May but also the first since the dwarf planet Ceres retrograded back out last month. As well as giving you an intuitive read on work and job matters, this is a chance to pick up on a better sense of your needs and priorities that Ceres left you with and the sense of direction, purpose and momentum the North Node is working to leave you with.
The North Node's departure will leave you with no ongoing cosmic activity in either of your two professional houses, for the first time since early 2020. This will give you a much deserved chance to rest on your laurels and let things play out. As things dial back on the job front they are just picking up on the income front, something that will help to keep the momentum going while allowing the hard work of the last two years to bear fruit. It is from 23rd January to 25th January that the Moon's first visit to your career sector for the year will bring a chance to get your bearings while creating what could be a positive few days across the income, work and career fronts.
Money
For a brief moment on 1st January, Saturn is on his own in your income sector after Jupiter left on 29th December and before Mercury returns on 2nd January. This is a chance to stay in the moment as you get a read on the planet that throughout 2022 will give you the resolve, grit and the determination needed to stay focused, doing whatever it takes for as long as it takes. While Saturn was there throughout 2021, the focus was more on Jupiter as he worked to establish the framework for future growth over the coming years. Until leaving on 29th December, Jupiter continued to fuel a sense of what's possible.
This is something that you are still adjusting to as you move into the New Year but with Mercury returning on 2nd January, this is when a more practical phase will begin. Saturn will still be there in the background but planets that are here for just a few weeks rather than the years that he is here will get your attention, with their time here more urgent. Returning on 2nd January, Mercury will get this new financial year off to a good start, returning with the smart head for money needed to get your head in the game and to think on your feet. This is the point when Jupiter's sense of what's possible and Saturn's resolve become the backdrop for a more immediate approach to income matters.
Mercury will still be here when the Sun returns on 20th January, something that will always turn the solar spotlight onto your income situation, matters and options at this time of year. However, a retrograde turn on 15th January will see him starting to backtrack by then, turning the focus onto untapped income potential before retrograding back out on 26th January. The Sun will keep the momentum going until Mercury returns next month, something that will keep him here until Venus and Mars return in early March. Meanwhile, with no planetary activity on the other side of the financial fence, the Moon's return to your financial sector from 18th January to 20th January will be a valuable chance to get in with money matters.
Health
Until the North Node leaves your health sector on 19th January its focus is to point you in the right direction. The North Node's focus isn't to give you the answers, help you with decision making or even focus too much on your specific health needs and priorities and simply to say, this is the direction you need to be moving in. You don't need to overthink your needs and priorities because Ceres spent five months delving into them before leaving your health sector last month and will return to them next month. The Moon will make its first visit to your health sector for the year from 13th January to 16th January, giving you a better read on what your body is telling you but also of the North Node's sense of direction before leaving just a few days later.
---
You may also like