Capricorn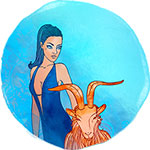 Dec 22 - Jan 19
---
Today's Horoscope
This week
This month
---
Capricorn horoscope for January 2023
Because the Sun will always spend the last 10 days and the first three weeks of every year in Capricorn, you will always move into a new calendar and a new solar year at the same time. No one except those born with their Sun in Capricorn knows what that feels like, but it gives you a unique chance for a fresh start. Whether you are a December or a January born Capricorn, you own this time of year and with it a chance to take your power back. This year there is also a greater chance for real change as after 14 years Pluto, the planet of change and revolution is preparing to leave Capricorn in March. He will return later in the year and again next year, but only for a few months at a time and only to tie up loose ends.
This makes starting the year with Venus in Capricorn a chance to listen to your heart from the start and while she will leave on 3rd January, to focus on the 'what' rather than the when, where and how. Helping with this is Mercury, who after returning for what is normally a 14 to 15 day chance to get your head in the game, ideas on the table and the communication lines open is not only still here but is in retrograde motion until 19th January. Mercury will turn direct in the last full day of your birthday month, staying on after the Sun leaves on 20th January to work with Pluto well into next month.
It is then that the Sun will follow Venus into your income sector, weeks after the planet of money joined Saturn here on 3rd January. Venus will return five days before Saturn moves into his final two months here, will be here when Mars turns direct in your work sector on 13th January and as the dwarf planet Ceres settles into her first full month in your career sector in four years. While until leaving on 27th January Venus will be working to get the year off to a lucrative start, she will also be responsible for bringing together planets across the income, work and career fronts that will have a major impact on the first three months of 2023.
Love & Romance
Starting the year with Venus, the planet of love in Capricorn is not a guarantee, but when it happens it needs to be seized. With Venus leaving on 3rd January and then not returning until 2024, it is during the very early days of the month that you are setting your romantic and relationship desires and expectations for the coming year. Of course, this is never meant to be set in stone and is more a wish list or a need to pay attention to your heart's deepest desires. This is something that has been underway since Venus returned to your sign early last month and a lot has already gone into just getting you to this point.
While the only chance that the planet of love had to look at your relationships was when the Moon made its last visit to your relationship sector for 2022, she spent time at a friendly aspect to both the North Node and Uranus in your romantic sector in the days leading up to Christmas. This may mean that your relationship expectations for the coming year are more vague but that works to your advantage. This allows you to keep an open mind ahead of a Full Moon in your relationship sector on 7th January that will give you a better sense of what you want from your relationships and what they need from you.
Things will be a lot clearer on the romantic front, with the Moon not only returning to your romantic sector on New Year's Day but until leaving on 3rd January will align with the North Node and Uranus here and form a friendly aspect to Venus before leaving. This gets the month and the year off to a romantically charged start. With Uranus not turning direct until 23rd January, while Venus is looking to the future the doors are still open to the past and second chances. It is the Moon's first visit to your relationship sector for the year from 6th January to 8th January that will create the Full Moon that could evoke some strong emotional responses. With Mercury, the planet of communication not only in Capricorn but in retrograde motion, he will be on hand to give your emotional responses, relationships, the past and unsaid words a voice.
Business & Career
Each year follows its normal pattern and while the Sun's return to your income sector on 20th January will always turn the solar spotlight onto your income situation, matters and options at this time of year, there is rarely any planetary activity in either of your two professional houses to fully capitalise on this. In that case, let me introduce you to 2023, a year that is breaking the mould professionally and financially. There is also a pregnant pause as you move into the month, as though the money and professional gods have their collective finger on the cosmic pause button, ready to release it.
There is a sense of promise and anticipation in the air from the start but also a sense that you are waiting for something. As you move into the New Year Saturn is still on his own in your income sector, Mars is still in retrograde motion in your work sector and the dwarf planet Ceres is still in her early days in your career sector. Across the heavens the gods are lined up, waiting for the starter's gun so that they begin what is destined to be an extraordinary race across the income, work and career fronts. For with Mars, Ceres and Saturn all leaving in March, a dream team has assembled to get this year off to an exciting start.
What will break the stillness is Venus' return to your income sector on 3rd January, something that will see her team up with Saturn to get the year off to a lucrative start while putting her in harmony with Ceres on the career and Mars on the job front. Venus will be here when Mars turns direct on the 13th January, something that will give the warrior planet of the cosmos the green light while setting him free. Rest up until then, because this will be the start of the busiest two months of Mars' epic seven month visit. This will have a ripple effect across the income, work and career fronts.
Money
While it is business as usual as you move into the new financial year, all your senses will be alert to the fact that everything is about to start coming together. After returning to your income sector in May 2020, Saturn's nearly three year visit is now in its final months and due to leave in March he is ready to bring things home. Whatever challenges you have had to face, the lessons learnt or what you have invested, everything is paused and ready to come together. Saturn has helped you put in the hard work and now it is a combination of factors that all come together to make this the month when you can start seeing the results.
Since his return to your work sector in August Saturn has been fostering a partnership with Mars, who after months in retrograde motion will turn direct on 13th January. It was also just before Christmas that the dwarf planet Ceres returned to your career sector for her first deep dive into your professional needs and priorities in four years. This saw all the pieces start coming together, something that has locked in a partnership between planets across the income, work and career fronts. All you are waiting for now is the right trigger, something that can get things moving on the income front and start capitalising on everything that has already been invested.
That trigger is Venus, with the planet of money not only returning to your income sector on 3rd January but two months earlier than she did last year. Until leaving on 27th January Venus will not only work with Saturn but will form a friendly aspect to Mars and Ceres as she moves through, bringing the different forces into play across the income, work and career fronts into an even tighter alignment. Venus' return to your income sector can make these the most lucrative weeks of any year but rarely with this kind of powder keg of potential. This is something that the Sun's return to your income sector on 20th January and the Moon's return two days later as a New Moon will capitalise on. Meanwhile, with no planetary activity on the other side of the financial fence, the Moon's return to your financial sector from 8th January to 11th January will be a chance to check in on money matters.
Health
If you have made New Year's resolutions geared around becoming more active or starting up a new fitness or exercise goal, you might want to wait a few weeks. The mind might be willing but with Mars not only still in retrograde motion in your health sector but slowing to a crawl and then a standstill, the body not so much. However, Mars is slowing down in order to turn direct and it is once he turns direct on 13th January that you will find that the body is more willing as well. Mars is here until March and still at a standstill for most of the month, this is more when the tide starts to turn. The Moon will make its first visit to your health sector for the year from 3rd January to 6th January, while Mars is still in retrograde motion. By the time the Moon returns on 30th January, you should have more get up and go.
---
You may also like